Nunavut – 10 Years of Progress
By Mike Rodger – Exclusive to Resource Investing News On April 15, I attended the Nunavut Mining Symposium in Vancouver, Canada. The event was billed as an opportunity to "Learn about the benefits and opportunities that Nunavut provides for exploration and mining". Video, slides and text from the presentation is available at the link above. … Continued
By Mike Rodger – Exclusive to Resource Investing News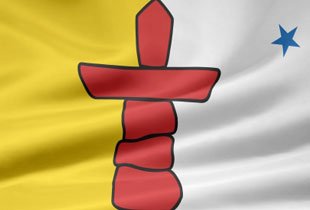 On April 15, I attended the Nunavut Mining Symposium in Vancouver, Canada. The event was billed as an opportunity to "Learn about the benefits and opportunities that Nunavut provides for exploration and mining". Video, slides and text from the presentation is available at the link above.
The brainchild of Mark Kolebaba of Diamonds North (TSXV:DDN), the event coincided with the 10th anniversary of the establishment of Nunavut. Nunavut separated from the Northwest Territories in April 1, 1999 and became a separate Canadian territory. Nunavut is the largest territory in Canada with a land area similar to Western Europe, but with a population of only 32,000 people.
There is a significant history of mining in the area that is now Nunavut. The Lupin Mine extracted gold from 1982 to 2005. From 1982 to 2002, the Polaris Mine processed 19 million tonnes grading 3.72% lead and 15.81% zinc. Going forward, Agnico Eagle is planning initial production in 2010 at its Meadowbank gold project which has reserves of 3.5 million ounces and is projected to produce 350,000 ounces per year when production is in full swing.
The event featured speeches from the Honourable Peter Taptuna, Nunavut's Deputy Premier and Minister Responsible for Mines and David Coffin, Editor, HRA (Hard Rock Analyst) Publications. Minister Taptuna's background includes 10 years in oil and gas drilling in the Beaufort Sea and hands on work at the Lupin Mine. David Coffin is the "geology side" of HRA with his brother Eric providing the financial analysis. David Coffin has worked in Nunavut and stressed the knowledge of the indigenous Inuit people. One example he gave was being told the best way to find copper in Nunavut was to listen for the sound made by native copper deposits "clinking" in the morning as they warmed more quickly than the surrounding rock.
Taptuna's speech focused on some of the efforts the territorial government is putting into promoting and supporting mining exploration in the territory. To date, geomapping has improved the understanding of the Archean greenstone belts and the South Hampton Island oil and gas fields. There will be an additional $75 million put towards geosciences mapping by the federal and territorial governments in the Geomapping for Energy and Minerals or GEM initiative over the next five years.
Coffin also talked about the strides Nunavut has made in developing a modern regulatory process which works. Coffin said that in the 10 years since it has been formed, Nunavut has worked with mining companies to work through the entire mine development process.
Coffin also talked about a "knowledge bridge" which he describes as a bridge between traditional knowledge of the people who live in the territory and modern exploration knowledge. Despite the huge area and low population density, Coffin says exploration starts by talking to the local population. "If you want to begin the process of prospecting in Nunavut, you start by talking to the people," said Coffin. "That makes a large area much more simple to deal with."
Coffin briefly touched on highlights from some of the sponsor companies. Diamonds are a strong focus in Nunavut. Arctic Star Diamond (TSXV:ADD), Diamonds North (TSXV:DDN), Indicator Minerals (TSXV:IME), Peregrine Diamonds (TSX:PGD), Shear Minerals (TSXV:SRM) and Stornorway Diamond (TSX:SWY) are all working on diamond projects. Coffin thinks that these companies will reignite interest in the Canadian diamond mining story overall. CBR Gold (TSXV:CBG) and Commander Resources (TSXV:CMD) are both working on gold projects. Bayswater Uranium (TSXV:BAY), Forum Uranium (TSXV:FDC), Kivalliq Energy (TSXV:KIV) and Uranium North (TSXV:UNR) all focus on uranium projects and Starfield (TSX:SRU) is working on a platinum group metals project. Australian OZ Minerals (ASX:OZL) has a significant amount of land through their acquisition of Wolfden Resources which they say is prospective for base metals, gold and diamonds.
Talking with Nancy Curry of Diamonds North before the presentation, she said Nunavut has been a good jurisdiction to work in. Claim processing that would take months in next door Northwest Territories takes weeks in Nunavut. John Gomez of Bayswater Uranium reiterated this. "All of the indigenous land claims issues are resolved in Nunavut," explained Gomez. "Security of tenure allows us to plan and carry-out exploration programs without worry about delays".
After the presentations, I got a flavour of what it is like to work in the territory from Tony Williamson of Forum Uranium. Tony is Forum's Project Manager for Nunavut and as such he headed the work camp in there during last year's exploration. "Nothing grows taller than a beer glass, so you lack a sense of the scale of the landscape" he said, holding his glass for an example. "That means a small hill which looks fairly close is actually a very large hill much farther away". Tony said Forum works with local people and companies wherever possible and that they are very supportive of exploration and mining in general. "You hear more about the negative aspects of development when you are in Vancouver than when you are in Nunavut. People working with us are all excited about the development." He went on to say that locals he has encounted working in Nunavut are happy to be working there, rather than having to travel to other parts of Canada to get similar work.
Tony Reda of Kivalliq Energy talked about building strong relationships with Nunavut Tunngavik Incorporated (NTI) for mutual benefit. NTI was established to receive the lands and financial compensation under the Nunavut Land Claims Agreement. Controlled by the Inuit of Nunavut, it invests in its subsidiaries and affiliates, and represents the collective Inuit political interests. Kivalliq did a deal with NTI giving them an equity stake in return for combining NTI property with surrounding property staked by Kivalliq. As a result, the company is sitting on a major district with potential for uranium, rather than a piece of a district.
This is a message that both Taptuna and Coffin touched on as well. Because of the relative lack of exploration and the advances in exploration technology, companies are able to claim significant land positions, often covering entire greenstone belts or prospective districts. As a result, there is the potential for discoveries of significant size.
The territory of Nunavut covers a huge amount of land and like any other area or country, most of it will have no mineral value. However, modern exploration techniques and the relative lack of historic exploration means there will be significant finds in this young jurisdiction. Given the progressive regulatory framework and local support, significant wealth will be created here from new mines coming into production. As with any area play, there are likely real companies and opportunists. With some careful selection and a little patience, companies operating in Nunavut should provide some significant investment returns.