Coal 101: An Overview of Bituminous Coal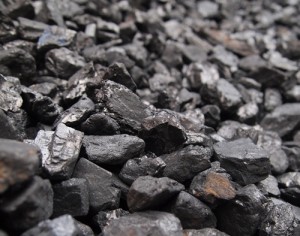 Bituminous coal is a relatively soft, black coal that is formed by the diagenetic and submetamorphic compression of peat bog material. It is of a higher quality than lignite coal, but is lower-quality than anthracite; it also produces more energy than lower-quality coals. 
It is made up of between 60 and 80 percent carbon, while the rest of it is a combination of water, air, hydrogen and sulfur; it contains a tar-like substance called bitumen, hence its name. There are two types of bituminous coal, thermal and metallurgical, both of which are explored below.
Thermal coal
Also known as steam coal, thermal coal is a key source of energy that is often used by power plants around the world, according to ATCL Grain, a steam coal exporter. Such plants burn the coal for steam, which is used by electric grids to generate electricity and by various industrial users, including chemical plants, paper manufacturers and the cement industry.
The world's main producers of thermal coal include: Australia, Colombia, China, Russia, the United States, Indonesia and South Africa. China, Japan and India are main importers of thermal coal, as are Taiwan, Japan, Pakistan and other Asian countries like Malaysia and South Korea.
India is overtaking Japan as the second-largest thermal coal importer, Energy Global states. Between 2008 and 2009, India imported 39 million tonnes of thermal coal, but that number grew at a 32-percent compound annual rate to reach 118 million tonnes by 2012 to 2013. The country's growing power sector accounts for 75 percent of coal import demands.
Two companies focused on thermal coal:
Anglo American (LSE:AAL) is a diversified mining company that focuses on the production of thermal and metallurgical coal, as well as iron, manganese, copper and more. The company's thermal coal operations are in South Africa and Colombia.
In South Africa, Anglo owns and operates nine mines, six of which produce 23 million tonnes per year of thermal coal for the local market and for export purposes, as per the company's website. Anglo's New Vaal, New Denmark and Kriel coal mines in South Africa supply about 30 million tonnes per year to Africa's largest electricity provider, Eskom.
Anglo's Colombian operations include a 33-percent working interest the Cerrejón Coal open-cast mine, which has a capacity of 32 million tonnes per year.
South African thermal coal producer Continental Coal (ASX:CCC) operates the Vlakvarkfontein mine. The thermal mine project is expected to deliver 1.55 million tons of run-of-mine coal in 2013, Mining Weekly reported earlier this year. If Continental reaches that goal, it will beat its previous thermal coal production record; it will also see a 23-percent increase on the amount of thermal coal it produced in 2012 and a 70-percent increase on the amount of coal it produced in 2011.
Metallurgical coal
Metallurgical coal, which is also called coking coal, is used extensively in the steel industry. It is applied as a reducing agent in blast furnaces to harden iron ore into steel products.
Coke is made from metallurgical coal via a process known as caking. It involves heating coals in a coke oven until they become plastic, fuse together and then solidify into coke particles. It is this caking ability that sets metallurgical coal apart from other types of coal, according to coal producer Aspire Mining (ASX:AKM). That's because it is a specific property that is needed to create coke suitable for manufacturing steel.
Major metallurgical coal-producing countries include the United States, Canada and Australia. As with thermal coal, China and India are the top importers. By 2035, overall demand for metallurgical coal is expected to rise to 394 million tons, up from 261 million tons in 2012, Jim Truman, an analyst at Wood Mackenzie, predicted at the Met Coal World Summit 2013, according to TribLive.
During those two decades, Australia will produce the majority of the coking coal needed, while India is expected to surpass China as the largest user of this type of coal, TribLive also states. That is because China's steel industry is likely to decline in the future as real estate overbuilding cannot continue.
Two companies focused on metallurgical coal:
Aspire Mining is an Australia-based mineral exploration and development company that focuses primarily on coal projects. The company's wholly owned Ovoot coking coal project, located in Northern Mongolia, spans 166 square miles and includes the JORC-compliant coal resource and coal reserve area, as well as the Hurimt and Zuun Del prospects.
Aspire completed its exploration program at the project area last year and has focused on commercialization activities in 2013. The project's open-pit mine has probably reserves of 247 million tonnes of coal and its underground mine has probable reserves of 8 million tonnes, according to the company's website. Aspire's website also states that coke oven testwork indicates that the type of coking coal that will be produced from the project is a premium blending coal.
Mining giant BHP Billiton (ASX:BHP,NYSE:BHP,LSE:BLT) produces high-quality coal, among other resources. Its Queensland operation, known as the BHP Billiton Mitsubishi Alliance, includes seven mines in the coal-rich Bowen Basin, situated in Central Queensland. The project mines are open cut. Illawarra Coal, BHP Billiton's coking coal project in New South Wales, includes three underground coal mines. The project is 100-percent owned by BHP.
The company also has underground thermal coal mines in the Gunnedah Basin in Northwestern New South Wales.
Related reading: 
Introduction to Coal Investing