5 Top Industrial Diamond-producing Countries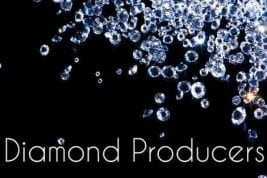 What are industrial diamonds? And what were the top industrial diamond-producing countries of 2017? Get the answers here.
While the average person is familiar with diamonds only in the context of jewelry, the world's hardest substance also has applications well outside the world of fashion.
In fact, about 80 percent of mined diamonds are unsuitable for gemstone use. Called industrial diamonds, these gems are used to create super-durable cutting tools and abrasives, and represent the majority of the diamond trade. Demand for these diamonds is rising in the US and around the world, largely due to infrastructure projects where slicing through asphalt and other hard surfaces is required.
Synthetic industrial diamonds
People buying diamond jewelry often prefer natural diamonds over synthetic diamonds, but that's not the case for industrial diamonds — indeed, in the US alone, 98 percent of the industrial diamond market is synthetic, and worldwide that percentage rises to 99 percent.
Synthetic industrial diamonds are favored partially because it's cheaper to produce them than it is to mine natural industrial diamonds. Furthermore, the quality of synthetic industrial diamonds can easily be tweaked to meet various companies' specific needs.
Of all the synthetic industrial diamond-producing countries, China produces the most. It put out 4 billion carats last year, as per the US Geological Survey's most recent report on industrial diamonds. The US is also a major producer of synthetic industrial diamonds, as well as a key consumer. All in all, about 15 countries have the ability to produce synthetic industrial diamonds.
Natural industrial diamonds
As the above information shows, the vast majority of industrial diamond trade centers on synthetic diamonds; however, natural diamonds still hold a place in the industrial diamond industry. While there are deposits in over 35 nations, not all of them are diamond-producing countries today.
Below are the five top natural industrial diamond-producing countries of 2017, using statistics from the US Geological Survey report mentioned above.
1. DRC (Kinshasa)
Mine production: 19 million carats
First on our list is the DRC. In 2017, its natural industrial diamond output jumped to 19 million carats from 11 million carats the year before. Aside from being the top producer of these stones, the country also holds the second-largest reserves at 150 million carats.
However, the DRC's incredible mineral wealth comes at a cost — the country is also home to widespread corruption and political turmoil, issues that gave birth to the term "conflict minerals." Put simply, much of the DRC's diamond production comes from rebel-owned mines that do not adhere to global standards for labor or human rights. The workers in these mines are treated poorly and the money brought in by diamonds produced there is used to fund further rebel action.
2. Russia
Mine production: 18 million carats
Russia's natural industrial diamond production remained flat in 2017 at 18 million carats. Excitement hit the Russian diamond space in 2012, when the country revealed the discovery of the Popigai asteroid crater. The discovery is noteworthy for those interested in natural industrial diamonds because the gems contained in the crater are reportedly particularly hard and ideal for industrial use.
That said, Engineering and Mining Journal points out that they may nevertheless be less appealing than synthetic options. Furthermore, while the discovery was revealed just a few years ago, the crater was actually discovered in the 1970s — it's thus possible that it will be a long time before anything comes of it. Out of all the natural industrial diamond-producing countries, Russia has the largest amount of reserves, coming in at 650 million carats.
3. Australia
Mine production: 14 million carats
Next on our list is Australia. Its natural industrial diamond output also remained flat in 2017, coming in at 14 million carats.
According to Australian Mines Atlas, it's no surprise that the country is a major producer of natural industrial diamonds — Australia's diamond production is heavily weighted toward lower-quality diamonds that are well suited to industrial applications. Rio Tinto's (ASX:RIO,LSE:RIO,NYSE:RIO) Argyle mine is a major source of both gem-quality and industrial natural diamonds in the country.
4. Botswana
Mine production: 6 million carats
Botswana saw its production of natural industrial diamonds remain steady in 2017 at 6 million carats. The country's economy is tremendously dependent on the diamond trade (both gem quality and industrial), and while in the past Botswana has reaped benefits from its diamonds, it's now beginning to suffer due to stagnation in the gem-quality diamond space. The African nation is looking to diversify away from the diamond trade to bolster its economy moving forward.
5. South Africa
Mine production: 2 million carats
Last on our list is South Africa. In 2017, South Africa's natural industrial diamond production was flat, coming to 2 million carats, the same as the previous year.
In 1871, the De Beers mine and the Kimberly mine were discovered in the country. The latter was the world's richest mine for nearly a century, and today De Beers, owned by Anglo American (LSE:AAL), is the the world's largest diamond producer. Some were surprised when De Beers, having coined the iconic phrase "diamonds are forever" launched its own synthetic diamond line.
Out of these diamond-producing countries, and the companies therein, where would you invest?
Don't forget to follow us @INN_Resource for real-time news updates.
Securities Disclosure: I, Amanda Kay, hold no direct investment interest in any company mentioned in this article.