UAE Nuclear Program Granted Funding While Iran Standoff Escalates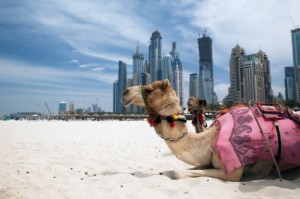 Last week, the US Export-Import Bank (Ex-Im Bank) announced that it would lend $2 billion to state-controlled nuclear power company Barakah One. The company, located in the United Arab Emirates (UAE), will use the funds to pay for US equipment and services for the construction of the UAE's — and the Arabian peninsula's — first nuclear power plant. Once completed, the plant is expected to be one of the largest in the world.

Barakah One plans to construct four nuclear-power-generating units about 137 miles from the city of Abu Dhabi. The first of the four reactors is expected to come online in 2017, with all four producing 5,600 megawatts by 2020.
The Ex-Im Bank, a US federal agency, said it conducted a "detailed and extensive" risk assessment before awarding the financing.
Meanwhile, the US and several other world powers have imposed strict sanctions against Iran in an effort to thwart the nation's nuclear activities. On Friday, European Union nations announced they are considering new sanctions against Iran.
IAEA report on Iran's nuclear program sounds alarm bells
On August 30, the International Atomic Energy Agency (IAEA) issued a report on the state of Iran's nuclear program showing an increase of 31 percent (417.6 pounds) of the country's stockpile of medium-enriched uranium, in May. However, the UN agency says it's "unable to provide credible assurance about the absence of undeclared nuclear material and activities in Iran, and therefore to conclude that all nuclear material in Iran is in peaceful activities."
Iran's leaders continue to play fast and loose with the IAEA, making it hard for the world to swallow the line that it intends to use its nuclear know-how only for energy production and medical purposes. Iran has denied agency inspectors access to the inner workings of the more than 2,000 centrifuges intalled at the Fordo uranium enrichment facility. Iran's cool defiance lends further credence to analyst theories that Fordo was designed as a "breakout" facility to hide Iran's weapons development under the cloak of a civilian nuclear program. The centrifuges are used to enrich uranium to a purity of 20 percent, which experts say is a short step from producing 90 percent-purity, weapons-grade material.
Iran also continues to deny IAEA inspectors access to its Parchin military site, where the UN suspects Iran has carried out atomic bomb research. During a news conference on Monday, IAEA Director General Yukiya Amano expressed his frustration with Iran's lack of transparency and compliance.
On Tuesday, word hit the wires that anonymous IAEA diplomats have "new and significant intelligence" that Iran has advanced nuclear weapons research; for example, by using computer models to calculate the destructive power of an atomic warhead. The information has yet to be deemed credible by the UN agency, but the reports gave Israel a fresh reason to beat its war drums.
By Wednesday, even China and Russia, Iran's staunchest allies in its bid for nuclear power, were backing the call from the US, France, Germany and Britain to submit a resolution of rebuke against Iran to the IAEA. The countries are pushing for the nation's immediate cooperation with IAEA inspectors, especially in regard to possible military involvement in its nuclear program.
Elbegdorj, president of uranium-rich Mongolia, tours Iran nuclear facility
While Iran won't grant full access to IAEA inspectors, Mongolian President Tsakhia Elbegdorj was recently given a grand tour of Iran's main uranium enrichment facility in Natanz. With the help of Russia, Mongolia plans to build its own nuclear power plant by 2020. The Central Asian nation boasts substantial known uranium resources.
Elbegdorj's visit may imply future nuclear agreements with Iran, but the fact remains that a United Nations resolution made in June 2010 bans the sale of any stakes in uranium mines to Iran. The sale of shares in any commercial operations linked to the production of nuclear materials or technology is also banned.
Iran has stake in one of the world's largest uranium mines
Stakeholders in the Rössing uranium mine are still trying to encourage Iran to divest its 15 percent share in the mine, which is is located in the Namib Desert, Namibia and is the world's third-largest producing uranium oxide mine.
Rössing sells its uranium to nuclear power plants in North America, Europe and Asia. The mine is operated by mining giant Rio Tinto (LSE:RIO,ASX:RIO,NYSE:RIO), which holds a 68.6 percent interest. The Industrial Corporation of South Africa owns 10 percent, the government of Namibia owns 3.38 percent and the remainder is held by 13 individual Namibians associated with the deposit's discovery. The Namibian government has said it is in talks with the Kern Trust, which represents some of the minority Namibian shareholders, to buy the stakes of those shareholders.
In December 2011, Namibia sent high-ranking officials to Tehran to discuss taking over Iran's shares in order to show full compliance with the UN sanctions. No word yet on whether Iran will agree to give up its holdings.
Securities Disclosure: I, Melissa Pistilli, hold no direct investment interest in any company mentioned in this article.