Out of the Shadows: Mozambique's Natural Gas Attracting Attention
The US Geological Survey estimates that the coastal areas of Mozambique and Tanzania could hold more than 250 trillion cubic feet of gas. After decades of being overshadowed by other gas-rich areas, this Southern African nation is proving a rich hunting ground for natural gas exploration.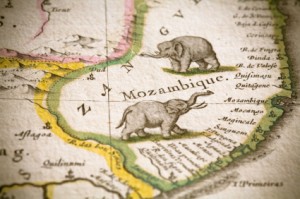 After decades of being overshadowed by North and West Africa, Mozambique is proving to be a rich hunting ground for companies pursuing natural gas exploration.

The US Geological Survey estimates that the coastal areas of Mozambique and Tanzania could hold more than 250 trillion cubic feet (Tcf) of gas in addition to 14.5 billion barrels of oil. While this potential should be more than enough to justify exploration, it is the past success of explorers that is attracting more and more investor attention.
The success rate of companies looking for gas offshore is phenomenal: of the 27 wells drilled in the last two years offshore Tanzania and Mozambique, 24 have yielded discoveries, according to a report by Control Risks. In 2012, operators in Mozambique announced as much as 100 Tcf of natural gas discoveries, positioning the country as a major player in the sector over the coming decades, a SPTEC report notes.
"Compared with the heavily explored areas elsewhere on the continent, East Africa is practically virgin territory: by 2010, only 600 wells had been drilled, compared with 14,000 and 20,000 in West and North Africa respectively," the Control Risks report states.
History
Exploration for hydrocarbons in Mozambique dates back to 1904, when early explorers discovered thick sedimentary basins onshore, according to an Extractive Industries Transparency Initiative (EITI) report on Mozambique. Poor technology and lack of funds halted early exploration attempts, but from 1948 onwards, "international oil companies moved into Mozambique and carried out extensive exploration, mainly onshore with limited activity offshore."
The Pande gas field was discovered in 1961, followed by Búzi (1962) and Temane (1967) before exploration activity declined in the early 1970s on the back of political unrest, the EITI document explains. New activity was established in the early 1980s and extensive work was carried out to map and appraise the Pande field. An extensive drilling campaign was conducted in 2003; it included exploration and production wells in the Pande/Temane block, with the result being an expansion of gas reserves and the discovery of the Inhassoro gas field.
Government, location and infrastructure
Mozambique is a country in Southeast Africa that is bordered by the Indian Ocean to the east, Tanzania to the north, Malawi and Zambia to the northwest, Zimbabwe to the west and Swaziland and South Africa to the southwest.
It is ideally located from a gas export perspective as it borders the energy-starved South African market, which is desperately in need of supplies. Meanwhile, analysts suspect that Southeast Asian countries will likely look to Mozambique's offshore gas reserves as a viable option to diversify their energy sources in the future. Japan and Mozambique have signed a memorandum of understanding aimed at supplying energy to the Asian country. The deal will allow Japan to tap the African country's natural resources to replace nuclear energy as its main power driver.
Mozambique's government has made a concerted effort to attract investment interest, and its spectacular gas discoveries in the Rovuma Basin have put the country's potential high up on gas exploration target lists. The government is aware that tax revenue derived from companies operating in the oil and gas sector is likely to reduce donor dependency; however, the country's lack of infrastructure has proven challenging in attracting large-scale investment. That said, the potential of recent discoveries and regional and international demand for gas have now prompted foreign companies to take the lead on infrastructure development.
Challenges
Although Mozambique is touted as a future heavyweight in the natural gas export market, it is likely to be a number of years before the country is able to challenge or overtake existing exporters.
Corruption and limited oil and gas infrastructure will pose significant challenges to operators in the short to medium term. Adding to these factors, the time frame for gas production and export to be fully up and running is long. The Control Risks report notes that current estimates place the first gas flow at 2018. International donors have repeatedly called on the national government to tackle corruption or risk a freeze on budgetary support and donor aid, but until now, very little has been done.
There are also a number of obstacles standing in the way of the development plans, including a lack of technical know-how. A daunting task facing the government is ensuring that local citizens take part in the development of the natural gas sector. However, given the limited experience of Mozambique in this sector, it is little surprise that human capital is undeveloped.
Natural gas potential
There are three onshore gas fields, namely Pande, Temane and Buzi-Divinhe, states an article published in Petroleum Africa. Pande has reserves estimated to be in excess of 2.1 Tcf, Temane's reserves are in the order of 1 Tcf and Buzi has recoverable reserves in the order of 10 billion cubic feet (Bcf).
One of the country's most exciting new developments is the Rovuma Basin, a resource-rich geological region located along the border of Tanzania and Mozambique that could potentially hold up to 150 Tcf of gas. Between the two major companies involved in discoveries on the Mozambican side of the basin, namely Anadarko Petroleum (NYSE:APC) and Eni (NYSE:E), there are currently 77 Tcf to 112 Tcf of declared reserves, according to an overview of the basin by Global Business Reports.
"To put things into perspective, this is far bigger than the North Sea. Anadarko's discovery alone could likely hold up to 100 Tcf. Taking into consideration that this company is a publicly listed American company, the reserves are likely to be around 150 Tcf, a world-class reserve by any standard. Most specialists are predicting that Mozambique will likely be ranked second or third in the world in terms of liquefied natural gas (LNG) prospects," explained Paul Eardley-Taylor of Standard Bank, oil and gas coverage, Southern Africa.
Companies operating in Mozambique
While Mozambique is fast making a name for itself amongst the gas investing fraternity, its lack of infrastructure has meant that access to exploration has remained limited to well-funded larger companies.
Anadarko estimates its reserves off Northern Mozambique at 50 Tcf, almost as much as Libya's proven gas reserves, while Eni has stated that its neighbouring exploration block may hold 52 Tcf of gas, according to a report by Reuters. Other large players, such as BG Group (LSE:BG), Ophir Energy (LSE:OPHR), ExxonMobil (NYSE:XOM) and Statoil (NYSE:STO) lay claim to reserves of approximately 20 Tcf each.
India's state-run firm, Oil India, has shown increased interest in Mozambique since the national government noted that a proposed energy policy will allow stakeholders to ship out their share of gas to their respective countries, according to the SPTEC report. This interest was underlined last week when the company, along with another state-run entity, Oil & Natural Gas, made a joint bid for a 20-percent stake in a Mozambique oil and gas field operated by Anadarko. If the bid is approved, it could be India's largest foreign deal in the oil and gas sector to date, according to a report by The Wall Street Journal.
A much smaller player is Wentworth Resources (LSE:WRL), which has operations in Mozambique and Tanzania. The company is focused on an area in Northeastern Mozambique bordering the Rovuma River to the north and extending east into the Indian Ocean. It has a concession area west of and adjacent to Anadarko's Offshore Area 1 concession that boasts estimated gas resources of between 30 and 60 Tcf.
While a lack of infrastructure and low gas prices have helped keep natural gas-focused juniors on the sidelines, increasing demand and large-scale infrastructural investments are likely to alter this landscape moving forward. If majors follow through on plans to begin exporting gas by 2018, a number of juniors will likely be joining the rush to take advantage of this underexplored natural gas hub.
Securities Disclosure: I, Adam Currie, hold no direct investment interest in any company mentioned in this article.
Related reading: