Oil Exploration in Nunavut
Nunavut is bound to have some piece of the estimated 160 billion barrels of crude oil believed to be locked up in the Arctic – the challenge is finding it.
By Robert Sullivan – Exclusive to Oil Investing News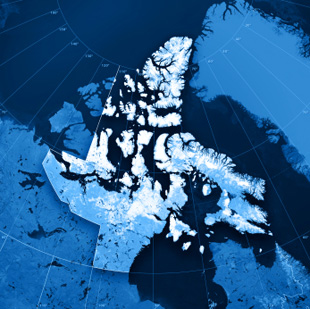 Canada's largest territory – Nunavut – whose main claim to fame is being home to the northernmost permanently inhabited settlement in the world, could soon be well-known for something quite different: oil.
Interest in the Arctic, granddaddy of all untapped oil reserves, has been piqued over the past few years as 'easy' oil has proven harder and harder to come by. In 2009, the US Geological Survey (USGS) estimated that the Arctic could hold as much as 160 billion barrels of crude oil, the equivalent of 5 years of global oil consumption.
These tremendous reserves have long been locked up under the Arctic seabed, virtually untouchable. A combination of melting ice and recent advances in engineering, however, has finally started to open it up to exploration. And with 160,935 square kilometres (62,137 square miles) of territorial water in the Arctic, Nunavut figures to have at least a small piece of the estimated 160 billion barrels of Arctic reserves.
Exploration in Nunavut
How much oil Nunavut may in fact have though, remains unknown.
With poor infrastructure on most of its northern islands and a climate too harsh to operate in for a majority of the year, headway on pinpointing where commercial quantities of oil may lie has been slow.
Keith Dewing, who leads a team of government scientists searching for promising energy reserves in Northern Canada, explained to Reuters in a recent interview how difficult the task has proven to be in Nunavut.
"Our level of understanding up there is just not all that great in so many areas…If someone came to you and said 'Hey, is there a resource there?,' it's embarrassing but you have to say 'You know what? I'm really not sure.'"
One region of Nunavut that is known to hold oil is Ellef Rignes island in the northernmost reaches of the province, but operating in the ice-clogged waters around the island is an engineering and logistical nightmare, to say the least.
"It's a terrible place to get to," notes Dewing. "It's a bad location; it's just a really difficult place to work."
Cairn Energy pioneering arctic exploration
Those in the business of oil exploration, however, have made a name for themselves by tackling these sorts of engineering challenges, and for those with the financial and technological muscle, it should only be a matter of time before drilling in places such as Ellef Rignes becomes feasible.
One company who is already pushing ahead with Arctic exploration in far more hospitable waters near Nunavut is Cairn Energy PLC (LSE:CNE). Edinburgh-based Cairn is one of the only companies actively exploring the West Greenland-East Canada basin, which is estimated by the USGS to contain upwards of 17 billion barrels of crude oil.
Results from the 11 blocks Cairn was awarded by the Greenlandic government in 2007 though, have unfortunately proven to be disappointing thus far. Cairn drilled 3 wells in Baffin Bay and the Davis Strait last year, all of which turned up dry, and they have already plugged and abandoned 3 of the 4 wells drilled during their $600 million 2011 exploration campaign.
Despite these setbacks, Cairn CEO Simon Thomson has reiterated that he remains "encouraged" and "optimistic" moving forward, no doubt because of the prospect of striking some of the estimated 17 billion barrel West Greenland-East Canada basin reserves before the heavy-hitters in the oil world move in and get their exploration programmes underway.
Offshore exploration in Greenland: "Something we can learn from"
If oil is eventually found off of western Greenland, exploration of Nunavut's waters could soon follow in earnest.
Premier Eva Aariak, however, is not prepared to commit Nunavut to off-shore drilling just yet, preferring to watch how things play out in the short-term.
"We're not ready for any kind of oil drilling yet. I think we're many years away as yet," Aariak told the CBC recently. "But what is happening in Greenland now is something that we can learn from."
Disclosure: I, Robert Sullivan, hold no direct investment interest in any company mentioned in this article.