Tellurium Miners Welcome Price Rise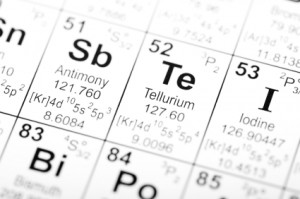 Slumbering solar markets and sluggish manufacturing numbers have kept tellurium markets in a funk for much of this year. But a recent revival in the manufacturing numbers out of China has sparked renewed attention for tellurium in Chinese and European markets in the past few months.
This autumn, tellurium prices, which bottomed out at around RMB 900/kg midway through the summer, have climbed up to the RMB 1,200 to 1,300/kg level for 99.99-percent-grade tellurium. European prices responded in line with Chinese demand and jumped from $125 to $150/kg up to the $140 to $160/kg range.
Gains have been attributed to Chinese stimulus spending as China's government attempts to jump start a deflated manufacturing sector.
Demand for cadmium-telluride solar panels, refrigerators and computing components — key manufactured goods in China — has been a key driver of China's tellurium consumption in recent years.
"In China, about 50 percent of the material [tellurium] goes to the tellurium-bismuth industry to make water dispensers and refrigerators," a Guangdong province tellurium producer told Metal-Pages.
Demand for these products has stagnated in recent months as momentum in both manufacturing and service markets has restricted buying by China's growing consumer middle class.
HSBC's Flash China Manufacturing Purchasing Managers' Index (PMI) — a measurement of manufacturing growth — increased in October to 49.5, HSBC reported, indicating a small but decreasing contraction in production.
Hongbin Qu, HSBC's chief economist for China, wrote in a note accompanying the release of the report on the Flash PMI that the growth has been "helped by the filtering-through of the earlier easing measures."
"However," he noted, "external challenges are still abound and the pressures on job market are lingering. This calls for a continuation of policy easing in the coming months to secure a firmer growth recovery."
The rebound in China's manufacturing numbers serves as a reminder of the importance of Chinese manufacturing to tellurium markets.
The same "external challenges" noted by Hongbin are likely shared concerns of buyers who are now cutting back on tellurium purchases, Metal-Pages reported.
"It is too early to say whether the market has rebounded. Supply is plentiful but demand has not improved," a Hunan tellurium producer said.
In the meantime, tellurium-focused companies are busy scouring the world for tellurium resources.
Operational updates
Deer Horn Metals (TSXV:DHM) recently announced the completion of a 10-day prospecting program on its Deer Horn property in Northwestern British Columbia. The primary result of this was an expansion in the overall length of the known near-surface, high-grade gold–silver-tellurium vein system; it was increased to almost 2.5 kilometers.
Deer Horn spent much of the summer expanding its property assessment through airborne surveys, including the evaluation of the potential western extension of the Main Vein and Contact Zone gold-silver-tellurium vein system.
Tyrone Docherty, Deer Horn's president, said the discovery of "new showings close to the historic high-grade tungsten showing" and "a previously unknown copper zone" is "very encouraging."
The company also recently concluded financing that saw a total of 5,700,000 units and gross proceeds of $152,000 and $133,000. Recent financing efforts by the company have been directed toward expanding exploration of the Deer Horn property.
California Gold (OTCBB:CLGL), a junior gold and tellurium explorer, recently completed the majority of its 2011-12 season of exploration drilling at its AuroTellurio project near the town of Moctezuma in Sonora, Mexico. Currently CalGold is investing up to US$3 million on exploring the project in four tranches of at least US$750,000 per year.
Satisfied by the drilling results, CalGold is now planning a drilling program to follow up on the exploration results generated to date. The 2011-12 drilling program resulted in the delineation of two target areas in the company's mining concessions.
CalGold will continue to explore Target 1 (the La Bambolla Extension) for gold-tellurium mineralization in quartz-pyrite veins and silica-rich zones similar to those found at the original La Bambolla deposit explored by the company.
Target 2 (the Deep-seated Intrusive area) was delineated by a gravity survey performed in the winter of 2011. The survey confirmed earlier exploration at the same site.
One of CalGold's strongest appeals is likely its proximity to the active La Bambolla gold and tellurium deposit owned by solar manufacturer First Solar (NASDAQ:FSLR). Beyond the potential of sharing geological features with La Bambolla, strong assay results from previous and current drilling programs indicate a high potential for extraction should further exploration prove these results across a wider area of the company's 12,653-acre property.
Brigadier Gold (TSXV:BRG) has also been pursuing gold and tellurium deposits at its Incamayo property in the Northwest corner of Argentina. The property is comprised of a high-sulfidation gold and copper mineralized system, with local deposits of a number of elements, including tellurium.
Trench sampling carried out on the property in the late 1990s revealed a number of continuosly mineralized gold zones. Brigadier is currently looking to develop the results encountered by the furthest northern drill hole on its property, which had significant copper-silver-tellurium-gold mineralization.
Brigadier has been in the process of finding financing for continued exploration activities. In early October, the company announced the granting of 3.1 million stock options at $0.15 per share for directors, officers or consultants of the company.
Brigadier Gold currently has 59,644,303 outstanding common shares traded on the TSX Venture Exchange.
Securities Disclosure: I, James Wellstead, hold no direct investment interest in any company mentioned in this article.