Scientists Devising Method to Recycle Rare Earths from Wastewater
A new recycling technology involving a nanomaterial could strip out diluted rare earths from wastewater.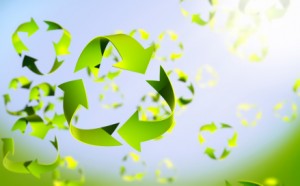 Mineral exploration companies have long been intent on breaking the Chinese monopoly on rare earth metals, but a new recycling technology could help to relieve the tight supply of some REE metals that is causing anxiety in the West — due to their necessity in high-tech applications like cell phones and green technologies.
Oilprice.com reports that Chinese researchers set out to understand how effective a nanomaterial called nano-magnesium hydroxide, which can remove metals and dyes from wastewater, would be in removing diluted rare earth elements as well.
"Recycling REEs from wastewater not only saves rare earth resources and protects the environment, but also brings considerable economic benefits," said the researchers quoted by the publication. "The pilot-scale experiment indicated that the self-supported flower-like nano-Mg(OH)2 had great potential to recycle REEs from industrial wastewater."
According to Oilprice.com, supplies of metals like terbium, used in magnets and superconductors, and dysprosium, could only last another 30 years. Attempts to recycle them so far are either too expensive or impractical, with a major challenge being that the elements are usually very diluted in wastewater.
Company news
Russian billionaire Alexander Neiss is placing a bet on rare earths in his home country, South China Morning Post reported. According to SCMP, Neiss, who made his fortune from banking, and mining precious metals, plans to produce rare earth metals from material Russia used to make atomic bombs in the 1940s. His holding company ICT has joint ventured with state-owned Rostec to "fast-track production of rare earths, using thorium-bearing concentrate kept stockpiled for more than 60 years," reported the Post. "The partners also plan to bid for Tomtor in the Siberian republic of Yakutia, a deposit that has more than 150 million tonnes of ore containing rare earths and is among the largest in the world."
Ucore Rare Metals (TSXV:UCU) is finalizing the feasibility study and operational plans for its Bokan-Dotson Ridge rare earths project in Alaska, Petroleum News reported last week. Ucore acknowledged that at 0.4 percent total REO cutoff grade, the deposit is not particularly high-grade, but noted it has two distinct features: "roughly 40 percent of the rare earths in the resource are the higher value heavy rare earth oxides; and the REE mineralization is concentrated in a swarm of steeply dipping veins." The 1,500-tonnes-per day underground operation would produce 2,250 tonnes of rare earth oxides per year during the first five years of production, including dysprosium, terbium and yttrium.
Prices update
Prices for most rare-earth elements were either flat or falling this past week, according to data from Metal-Pages. Dysprosium metal FOB China was down 4.2 percent to between $660 and $710 a kilogram, while Chinese europium oxide slipped 4.8 percent to $950 to $1,000/kg.
Chinese lanthanum and ferro-dysprosium were also down, by a respective 4 and 0.94 percent. Terbium oxide in China was hit by a 6.78 percent decline while Chinese terbium metal slipped 4.5 percent. Praseodymium oxide in China declined 1.72 percent. Prices of the other rare earth metals and oxides were unchanged from the previous period.
Metal-Pages reported that with most buyers absent from the market, suppliers are hoping to lower prices to attract more purchasers. The publication noted that Baosteel Rare Earths (SHA:600111) published prices last week for a number of rare earth oxides, the implication being that the company is preparing for the upcoming round of Chinese REE stockpiling.
Securities Disclosure: I, Andrew Topf, hold no direct investment interest in any company mentioned in this article.
Related reading:
Magnesium, Aluminum at Crux of New Wastewater Treatment Method