Rare Earth Exploration Hotspots
A brief look at 3 rare earth exploration hotspots outside of China.
By Robert Sullivan – Exclusive to Rare Earth Investing News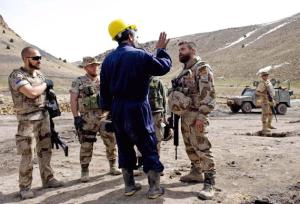 Prices for rare earths may have slumped in recent weeks, dragging down stocks in mining companies including big names such as Molycorp Inc. (NYSE:MCP) and Lynas Corp. (ASX:LYC), but the hunt for deposits outside of China continues unabated.
China's domestic production cap (93,800 tonnes) and export restrictions (30,184 tonnes) have sent supply fears through rare earths markets for most of the year, and with no hint that Beijing will change track anytime soon, mining companies have been looking elsewhere in hopes of loosening China's stranglehold on the rare earths trade.
Both Molycorp and Lynas operate well-known mines in the US (Mountain Pass) and Australia (Mount Weld), and at present are producing a majority of the supply outside of China.
Looking forward, however, other emerging hotspots may provide interesting plays if proven reserves can back up some impressive initial indications.
Mongolia
Although classifying Mongolia as a hotspot is a slight reach considering its deposits are essentially an extension of some of the largest and most extensively developed rare earths mines in the world across the border, a lack of development in the sector has left nearly all of its substantial reserves untouched.
In 2009, the US Geological Survey (USGS) estimated that Mongolia held roughly 31 million tonnes of rare earth reserves, which would put them second only to China with 16.77 percent of total global reserves.
Kazakhstan
Known better as the top uranium producer in the world, Kazakhstan figures to make a foray into the rare earths sector beginning in 2012.
From an initial first batch of 1,500 metric tonnes next year, Kazakhstan hopes to eventually develop a rare earths industry that can fill some of the anticipated shortfall in global supply over the coming years should China continue to cap production and exports.
No reliable estimates on the possible size of Kazakhstan's reserves have been put forward as of yet, but an agreement on joint exploration and evaluation of reserves in the country was signed in late September between Kazatomprom, the state nuclear company, and the French Bureau for Geological and Mining Research (BRGM).
Kazatomprom have also signed joint venture agreements with two Japanese firms – Sumitomo Corp. (TYO:8053) and Toshiba Corp. (TYO:6502)
Afghanistan
Ironically, the final destination of so much refined rare earth in the form of high tech military equipment may now also contain some of the world's largest reserves of the raw stuff.
A brief survey conducted by the USGS this earlier this year turned up deposits of lanthanum, cerium, and neodymium in Southern Afghanistan, close to the border with Pakistan, and preliminary estimates put the reserves at 1 million metric tonnes.
Analysis of the samples the survey was able to collect also showed a concentration of light rare earth elements similar to some of the top sites in China.
Unfortunately, hopes of a follow-up study by the USGS, let alone more extensive development are many years off due to the ongoing war in Afghanistan and security situation in neighbouring Pakistan.
But Robert Tucker, lead author of a USGS report released on September 14 detailing the team's findings, believes that Afghanistan could be the real deal if and when the security situation in the country does ease.
"I fully expect that our estimates are conservative. With more time, and with more people doing proper exploration, it could become a major, major discovery."
Disclosure: I, Robert Sullivan, hold no direct investment interest in any company mentioned in this article.