Molycorp to Challenge China with Production Boost
US rare earth producer Molycorp has a plan to double production capacity. But could the production boost increase America's dependence on China instead of lessening it?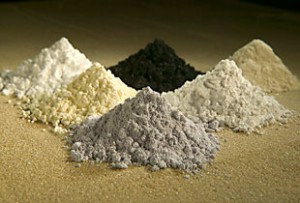 Molycorp (NYSE:MCP), the US company that earlier this year restarted its rare earth mine at Mountain Pass, California, has put more skin in the game with a plan to dramatically scale up output, according to recent media reports from China.
Beijing's Global Times said Molycorp announced that it is increasing its global marketshare of rare earths from 4 percent to 30 percent. The Colorado-based company plans to spend US$895 million on doubling production capacity from 20,000 tons to 40,000 tons annually. A time frame was not provided.
The news comes at an interesting time for Molycorp, which earlier this month announced poor second-quarter results and said it needs more financing to cover its capital expenditures this year. Low rare earth prices have battered Molycorp's stock over the past 12 months, and the company is now valued at a fraction of its market cap ($1.24 billion), a far cry from mid-August 2011, when Molycorp was changing hands at $59 a share. On Friday the company closed at $12.90 in New York.
Key to the bleak financial picture painted by Molycorp in Q2 — it suffered a loss of $67 million compared to a profit of $47.8 million in Q2 of 2011 — is its acquisition of Neo Material Technologies for $1.3 billion, a move that blew a fairly large hole in the company's bottom line.
While some may ask how Molycorp, which lacks the capital to cover capital expenditures this year, plans to raise the cash for a significant ramp-up in production, RareMetalBlog notes that "this should not be seen as a problem. In capitalism, it is not incongruent to be seeking additional capital and Molycorp appears to have chosen the debt instrument method rather than issuing more shares; some would call it a conservative strategy."
The blog goes on to chastize Wall Street heavyweights — like JP Morgan — that laid into Molycorp for its disappointing Q2, noting that "Wall Street appears to have missed the fact that Molycorp can extract rare earths and also make its own special magnets destined for cars, mobile phones, wind turbines, radars, and far beyond." The last item in the list refers to the ability of Toronto-based Neo Material, now a Molycorp subsidiary, to process a range of rare earth elements (REEs) from facilities in 10 countries.
The big question created by the ramp-up announcement is how much pressure it will put on China's rare earth exports, particularly given the reliance of the US and Japan on Chinese supply. Chen Zhangheng, with the Chinese Society of Rare Earths, told Global Times that "[t]his would definitely influence China's rare-earth exports in the future and help the US rare-earth industry reduce its reliance on Chinese exports."
Indeed, data from China's Rare Earth Information Center indicates that Chinese rare earth exports are already seeing some pressure, with US purchases of Chinese rare earth cut in half from 16,000 tons to 8,000 tons between 2004 and 2008. But Zhangheng also said that Molycorp's supply influx is unlikely to have much impact on China's rare earth exports as most of its REE output will go into domestic consumption.
Another interesting point is that Molycorp already has a toehold in China through its Neo Material acquisition. It is possible that by adding more production, Molycorp, through Neo, could actually be helping China export more refined rare earth. Neo gets half of its revenues from China, which sells Neo concentrates to make products like rare earth oxides, alloys and magnets that power electric cars.
According to the American Resources Policy Network (ARPN), a blog that seeks to inform Americans of the need to lessen their dependence on foreign-sourced critical metals, it's still an open question as to whether the Neo deal is better for US or Chinese rare earth end users:
"To be sure, it's possible that REEs mined in California could be shipped to China for refining, and then shipped back to U.S. and non-Chinese users under the terms of Neo Materials' current export quotas. It's also possible, however, to envision a situation in which REEs mined in California and refined in China — a country that currently consumes 70% of total REE production — could be impacted by future policy developments that would make it difficult or even impossible to bring them back into the global market."
Some observers, like Ed Richardson, president of the US Magnetic Materials Association, believe the deal could make the United States even more dependent on China for its rare earths. However, Molycorp CEO Mark Smith thinks that sending more rare earths to China will reduce production costs in the US and boost supply of the metals for industrial users, writes ARPN, quoting a Wall Street Journal article.
What is clear is that China has the power to move the rare earth market in powerful and sometimes unpredictable ways. Last week the country said it is planning to shut down about 20 percent of its rare earth production capacity by implementing new rules — a move that analysts predict could slow the current price declines seen for many rare earth oxides.
That decision was followed on Friday by the launch of a national pricing system supposedly designed to "allow the leveling out of price volatility of rare earths in the world market," an official told China Daily.
China's trading partners, however, remain nervous about the country's REE export restrictions. The same official announced that because only 5,000 tonnes of rare earths were shipped from China in the first six months of this year, the 2012 export quota could hit just 10,000 tonnes, well shy of the 31,000 tonnes expected to be exported.
The ongoing dispute over Chinese rare earth element (REE) export restrictions was in the news again last month when the World Trade Organization (WTO) said it will examine China's export quotas and tariffs on REEs following complaints from the US, European Union, and Japan that the restrictions break global commerce rules.
Securities Disclosure: I, Andrew Topf, hold no direct investment interest in any company mentioned in this article.