GeoMegA Resources: Physical REE Separation Outside of China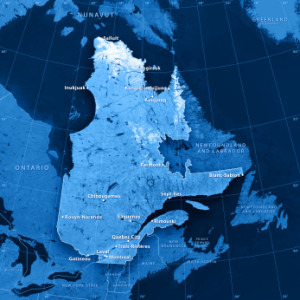 China is well known for having a monopoly on the production of rare earth elements (REEs), but what those involved in the space may not realize is that it's also difficult to process REEs outside the Asian nation.

As Simon Britt, president and CEO of GeoMegA Resources (TSXV:GMA), a junior REE company based in Quebec, explained to Rare Earth Investing News (REIN), that's largely due to the method China uses to separate REEs.
That method is solvent extraction, an approach that is "chemical intensive" and expensive to undertake outside of China. Indeed, "no one can be competitive with China using that same solvent extraction method," according to Britt.
Why separate?
REEs are generally found together, with any given mineral containing all or many of them. However, as end users want a pure product, separation is a key component of REE processing.
Processing usually includes three steps: beneficiation, hydrometallurgy and separation. Put very simply, the first stage involves crushing and grinding, while the second sees the mineral concentrate resulting from beneficiation broken down using thermal and chemical agents.
Those steps are relatively easy, but the third, separation, presents problems as REEs are chemically not very different from one another. Indeed, as industry expert Jack Lifton has said many times, "the real problem in REE processing is separation — and that is the issue that most REE juniors have not solved in a cost effective way."
GeoMegA, however, believes it is on the way to solving that problem. To find out more about how the company plans to do so, REIN went to Britt with a few questions. Here's what he had to say.
REIN: How does GeoMegA's REE separation technology differ from the technology used in China?
SB: For us, the thinking was if we can't compete with solvent extraction, which is a chemical approach, we need to do [the extraction] physically, or at least use the physical properties of the lanthanide series to bypass the majority of solvents, if not all of them. We needed to cut the solvents out of the equation.
So we focused on physical properties. At the beginning, we looked at magnetic properties, but subsequently started working with REE ions in solutions. We discovered that [REEs] move at different speeds, which is based on electrophoresis mobility. With that knowledge, [process engineer Pouya Hajiani] designed a process that combines a free-flow approach and a perpendicular electric field to create separation.
Later we realized that this has been done for over 60 years, and it's called free-flow electrophoresis (FFE). So the foundation is not new, which was very encouraging for us.
REIN: Are you still partnered with FFE Service in Germany? How has that relationship contributed to the development of the technology?
SB: They have state-of-the-art small FFE machines. We developed our own last summer in Montreal, but they have something much more precise. So in terms of calibration and optimization, we felt we'd be better off with a smaller, more precise machine. Material and testing conditions are set by Pouya, and they do the testing.
REIN: Could you give me the highlights of last month's press release on the company's separation technology? What should investors really pay attention to?
SB: The highlight is the fact that we separated all REEs and impurities from a commercial mixture. The product was not purchased in China, but most likely comes out of China.
The test was performed to benchmark our technology. With a single separation step, all the REEs were separated simultaneously, and also impurities; the impurities are flushed out at the beginning. There's a good separation between all elements, and specifically between the light and the heavy rare earths. This confirms the fact that [the technology is] applicable on a commercial mixture, and as we move towards development, we will showcase improvements both in concentration and separation purity with additional separation steps.
REIN: In addition to developing that technology, GeoMegA has a project, Montviel, in Quebec. Could you tell me a little about it? Why should investors be excited about it?
SB: The updated resource for Montviel is a couple of weeks away, which is significant. The initial resource estimate was published back in September 2011. Since then, we have drilled an additional 26,000 meters and identified a REE and niobium enrichment zone within the Core Zone and a heavy REE zone in the south wall rock of the Core Zone. What you want to look for there will be the cut-off grade, which is an educated estimate of the operating cost per tonne that should be reflected in the PEA.
The PEA will be on a concentrate base case, and if we can package the separation results and prove it before and after, specifically with the Montviel concentrate, then I think we'll disclose all the possibilities that the resource holds. Timing of the release will be disclosed as we progress through the summer vacation period.
REIN: So Montviel is a REE and niobium project. Can you tell me a little about niobium?
SB: Niobium enhances steel strength, so it's more of a structural material. Basically you powder some niobium into iron, and by doing that you're able to increase its strength and therefore decrease the amount of iron that you need for a particular weight or resistance. So it's more of an enhancer. It's also used in specialty alloys for turbines and jet engines.
Niobium is a good by-product for Montviel. It is found together with the REE mineralization and there is a good grade correlation between the REEs and niobium.
REIN: Last month, GeoMegA adopted a shareholder rights plan to encourage fair treatment of shareholders in the event of a takeover bid for the company. Do you anticipate that happening?
SB: Right now it's a bit too speculative. But if we are successful in scaling up our separation technology I expect that it'll happen. We waited to be in the six-month window prior to the AGM because [the plan] needs to be ratified by the shareholders.
REIN: There's been a lot of speculation about what China's endgame will be now that the World Trade Organization has ruled that its rare earth export restrictions aren't kosher. What's your take? Do you see China's actions impacting GeoMegA?
SB: China's actions will impact REE prices. That will have a direct effect on us because that's the basis of the revenue stream. But that's about it. I don't expect the ruling to affect China's policy making or decisions going forward.
China needs to control illegal mining, for some reason they're having a hard time controlling that. And until that is done, I don't think you will see strength come back into the market with an increase in REE prices.
REIN: Anything else you'd like to add?
SB: There are more developments coming that we haven't disclosed, and we've never been in such good shape.
Securities Disclosure: I, Charlotte McLeod, hold no direct investment interest in any company mentioned in this article.
Editorial Disclosure: GeoMegA Resources is a client of the Investing News Network. This article is not paid-for content.
Interviews conducted by the Investing News Network are edited for clarity. The Investing News Network does not guarantee the accuracy or thoroughness of the information reported. The opinions expressed in these interviews do not reflect the opinions of the Investing News Network and do not constitute investment advice. All readers are encouraged to perform their own due diligence.
Related reading: