Commerce Resources CEO Chris Grove Sees Demand Rising for Magnet Rare Earths
To learn what Commerce Resources is up to this year, Resource Investing News spoke with Chris Grove, president and director of the company.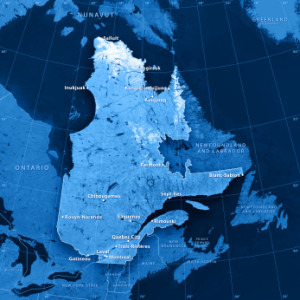 Commerce Resources (TSXV:CCE) has certainly been busy so far this year. The exploration and development company initiated a drill program at its Ashram rare earth project in Northern Quebec, and also started a flotation mini pilot plant at the deposit using bulk sample material.
To get a bit more insight into the company, Resource Investing News caught up with Christopher Grove, president and director of Commerce Resources. While some companies are targeting a vertically integrated approach to the rare earths market, others — such as Commerce — have plans to produce a mixed rare earths concentrate to sell to existing processors. Grove spoke about the benefits of that approach and about what led the company to take that route.
Grove also discussed the company's plans for the Ashram project this year, and touched on his own views on the rare earths market. Overall, he sees demand for magnet materials increasing, and also suggested that Commerce could be poised to benefit from changing rare earth magnet designs.
RIN: Your pilot plant, which was initiated this February, aims to produce a marketable mixture of rare earth concentrates. Which rare earths are included in these concentrates? Who buys them, and do they need further processing to be usable by end users?
CG: The process will produce essentially the full range of rare earth elements as they are distributed in our deposit. However, we don't ascribe economics to at least five of those, right from the get-go — even though they will be in certain concentrates we will produce, they're not expected to have any kind of economic importance.
We believe that in terms of the different concentrates that we are targeting, these are the kinds of concentrates that are bought as feedstock [by] the rare element processors globally right now. I'm talking about Chinese processors, American companies in the rare elements sector and the world's largest rare element processor, which is the Belgian-French company Solvay (EBR:SOLB). I'm also talking about Japanese companies that have customers who are processors.
All of those kinds of companies have expressed an interest in receiving a sample from us, and each group typically deals with a slightly different concentrate. Very simply, you can make a mixed rare earth element carbonate concentrate, a mixed rare earth element oxide concentrate, a mixed rare earth element chloride concentrate — those are three broad classes. Then you can have either a full range in those concentrates or in specifics. With Solvay, their specifications for a sample are the tightest; I believe it's a mixed rare earth element carbonate concentrate that has the cerium, lanthanum and the thorium removed, so that is what we would be targeting for them. All in all, there are at least three, if not four, different kinds of concentrates that we'll be producing from this pilot plant.
RIN: Why did Commerce decide to take that approach rather than attempting to separate rare earths from Ashram through a vertically integrated approach as some other companies in the space are taking?
CG: Essentially, we've targeted producing something that we believe would a) have a lower capital expenditure to produce, and b) be saleable into the market today because of the potentially significant excess capacity of processing right now.
I would say that at a certain point, we may be targeting going through to the production of separated oxides. But at this point in time, that's not the business plan. The business plan is as you have identified it, which is to produce a saleable rare earth element concentrate.
RIN: Could you speak a bit more about what you mean by "excess capacity on the side of the processors"?
CG: Well, for example, with the world's largest rare element producer, again, Solvay, their facility that we toured last September, is running at about 25 percent to 30 percent capacity. They have the ability to process about 12,000 tonnes a year, but they're probably only processing about 3,500 tonnes per year right now. That's my estimate. So, that would be for them, but … you would also have excess processing capacity, say, within China.
Three years ago, when we first were active with Deloitte and their global mining group, we met essentially all of the processors of rare earth elements in China prior to the [election] of President Xi. So, in early 2012, having met all of the Chinese processors, I can confirm that they are all looking for new sources of feedstock.
RIN: What about other rare earths companies that are looking to bring projects online and send concentrates to rare earths processors? There is excess capacity now, but are you at all concerned that there might not be enough capacity in the future?
CG: No, I'm not worried. Given that at best, rare earth elements [have] a very opaque market, it's difficult to be definitive that there will be capacity, or that there will be demand when we're looking to be in production.
However, I would say the important thing to look at is how much those other companies have the ability to produce and for what time period. Focusing on Ashram, our current production scenario as was estimated by SGS in our preliminary economic assessment (PEA) is actually a fairly low-production scenario. The extraction rate is only 4,000 tonnes per day, and the actual production of a mixed rare earth element concentrate is just over 16,000 tonnes a year. That may sound like a lot, but the thing is, we could do that for the next 300 years.
Your question is very fair. If company A and company B get into production before Commerce Resources, will they take over that whole section of the market or will they be able to supply that section of the market or how long will we be able to supply that section of the market?
The other thing about Ashram as well is that we can produce the highest-grade concentrate at potentially the lowest cost, and ultimately, that's the more important thing to really grapple with and understand. There are other companies out there that can make a concentrate that is better than 30 percent. I would argue that a minimum of a 30 percent concentrate would be required before you would be able to sell to the processors, but there's very few companies that are able to do that.
We can produce a 44 percent concentrate and then you bring in the next concern — ultimately the most important one — which is "what is the cost to produce that concentrate?" It's all great to say that company A and company B and company C can produce some kind of concentrate, but you really need to look at the cost of production, and whether or not those companies would be economic with the prices where they are right now today.
Certainly, I think we can all agree that Lynas (ASX:LYC) and Molycorp (NYSE:MCP) are in the camp of not being economic today. That is another consideration when you look at the other juniors. Arguably, with our low-cost processes, we would be economic.
RIN: What are your costs?
CG: The cost estimate in the PEA adjusted for the foreign exchange right now would be US$6 to produce a kilogram.
RIN: And how much does the concentrate sell for?
CG: Well, we would suggest the value of what we would produce for a kilo would be in the range of, say, $28. That is the data that we have released at this point in time. That is just from the PEA from 2012 and we are redoing all of that with the prefeasibility study.
RIN: So, speaking of concentrate, Commerce recently reported a significant reduction in flotation reagents in metallurgical development at the bench scale for its pilot plant. Why was that important?
CG: These reagents themselves, obviously they have a cost to them, and with an 80-percent reduction in three reagents, that just represents lower operating costs. With an 80-percent reduction of three reagents in one part of the circuit, what that actually breaks down to in terms of a percentage reduction in the overall operating costs, I don't know, but that is certainly something that we will be looking at in the prefeasibility.
RIN: Okay. And you're expecting to produce several kilograms of rare earth concentrates in Q3, what's the next step after that?
CG: Well, the target would be to hopefully finish the prefeasibility study. Part of the importance of the production of the samples is on the marketing basis, but the actual data is then used to finish the prefeasibility study. We are hopeful that we would be able to finish the prefeasibility by the end of this year.
RIN: In January, at the Vancouver Resource Investment Conference, you mentioned that Commerce would be open to a joint venture for either its Ashram or Blue River projects. You also said that the company is aiming to secure an offtake agreement for production from those projects. Have you had any progress on that front?
CG: Yes, we've got progress on both fronts. It is complicated to talk about, because on the one hand, the company interested in our tantalum project is under a non-disclosure with us, and then on the other side, I was in Japan just over a month ago, having a second meeting with a Japanese major. I can certainly say that. So yes, on both sides we have seen some progress.
RIN: Ashram is located in Quebec, where there has been some push from First Nations groups for rare earths to be included in a moratorium on uranium mining in the province. How does that affect Commerce, and what sort of work are you doing with First Nations communities?
CG: In terms of the First Nations that have essentially voiced their concerns about uranium, those are mostly First Nations in the south half of Quebec. We're in Nunavik, and the First Nations in Nunavik are specifically the Inuit and the Naskapi. I'm not saying they're not concerned about it, but there's more vocal concern about that coming from the Cree or the Innu in the south of Quebec. However, fortunately for us, we essentially have extremely low uranium, [approximately] two parts per million.
We have a moderate amount of thorium in Ashram, and in terms of that, all of the protocols are in place for dealing with that radioactive element, which would be in our concentrate. We would use all of the approved protocols in terms of handling the concentrate when it needs to be moved or shipped or transported.
In terms of processing it, that is one of the things that we will be looking at doing in the next couple of months — processing out that radioactive element, the thorium, at a hydrometallurgical facility at some site somewhere along the Saint Lawrence Seaway. That would be done in consultation with the different communities that we are talking to.
Certainly, that kind of process is already being done at different sites in Quebec and in other provinces along the Saint Lawrence Seaway. So there is an understanding and an acceptance of it currently. I'm not going to say that we have the approval to do it yet, or the social license to do that yet, but that is certainly something that we would want to secure when we discuss the location of such a hydrometallurgical facility.
In terms of community relations with the First Nations, we have just had two months ago our first meeting with the Chief of the Naskapi. They're based just east of Schefferville in a town called Kawawachikamach. We will continue to update the Naskapi on our activities. We have been doing that since essentially 2007 with the Inuit, primarily out of their most populous community which is Kuujjuaq, which is at the mouth of the of Ungava Bay.
We've also always, in the last eight years, expedited out of Kuujjuaq. We've had Kuujjuaq Inuit working on our property since 2007, and I would say at this point we have a good work relationship with the Inuit in Kuujjuaq. We had not met the Naskapi before January of this year, and I am very glad that we have. They certainly seem to be interested as well in any kind of employment opportunities that there might be with us.
RIN: Despite some of the positives you've mentioned, Commerce's share price is actually down about 30 percent in the past six months and 23 percent year-to-date. Why do you think that is?
CG: Well, I think the Venture Exchange right now is still bumping along near its all-time lows. So that's a major factor. The Venture Exchange has corrected by at least 40 percent from where it was as of September 1, 2014 when it was at 1,025. Now, it's around 675. So you've seen at least a 35-percent correction on the Venture itself.
But in terms of the market for rare earth element juniors, that has also have been in essentially a downward trajectory. For us those two major factors, I think, would have [had] an effect.
The third thing would be specific to us. We were extremely fortunate in raising $11.1 million last year. However, that was about 80 percent flow through, and flow through typically does come back out of the market after the four-month hold comes off.
So, we have traded a fair amount of volume that could be related to us securing potentially more capital than most of the companies out there on the Venture Exchange. Currently, that doesn't necessarily make all shareholders happy, but ultimately we believe that the most important thing is actually advancing the project, and that is what we're doing.
RIN: What other milestones can and investors expect to see from Commerce in 2015?
CG: Investors will see more results from the pilot plant, and they will see drill results. This is primarily infill drilling, so it may not have any surprises, but we will report on a very significant amount of drilling that we will be doing this year.
RIN: Okay. Is there anything else you would like to add?
CG: Well, I was interested to see significant price increases really for the first time in four years for two rare earth elements, and a modest price increase for a third one. It was terbium and dysprosium that saw price increases around the beginning of February, and then neodymium saw a modest price increase.
It is my opinion that we will see a future of tighter supplies of rare earth elements and higher prices. I am looking forward to hopefully seeing that happen.
I also think the biggest sector we're going to see increased demand from is the magnets. Really, over the last four years, there has been no effective substitute found for rare earth element magnets, so I expect to see that demand continuing, and potentially growing. Our distribution of our deposit is very well enriched with those magnet materials.
RIN: That's interesting. I have heard people mention that while there's no effective substitute for various magnets, it is possible to work around it using a different technology. Some end users have already done so, as they've gotten used to not having a reliable supply. Are you worried about that at all?
CG: No. I think to some extent that is accurate, but it all comes down to cost. With dysprosium where it was in 2011, at $2,400 a kilogram, the real drive was to find a magnet design that was more economic. But with dysprosium now being around $400 a kilogram, that impetus, that reason for finding a better design, it doesn't exist. Also, in the four years of this R&D process, nothing was found to replace the rare earth element magnet.
Now, the balance in a rare earth element magnet has been altered so there is lower dysprosium in most designs of rare earth element magnets. However, for every percentage reduction in dysprosium, you have a concomitant increase in the percentage of either neodymium or praseodymium.
This is another interesting factor because for a project that has good neodymium, good praseodymium and good dysprosium levels as we do, we can benefit from that reduction in overall dysprosium demand. Our economics are not living and dying on the field of dysprosium — we can benefit from this new magnet design.
RIN: Thank you for joining me today.
CG: Thank you.
Securities Disclosure: I, Teresa Matich, hold no direct investment interest in any company mentioned in this article.
Editorial Disclosure: The Investing News Network does not guarantee the accuracy or thoroughness of the information reported in the interviews it conducts. The opinions expressed in these interviews do not reflect the opinions of the Investing News Network and do not constitute investment advice. All readers are encouraged to perform their own due diligence.