Chris Grove of Commerce Resources Talks Rare Earth Processing and the Ashram Deposit
Nov. 16, 2015 04:30PM PST
Critical Metals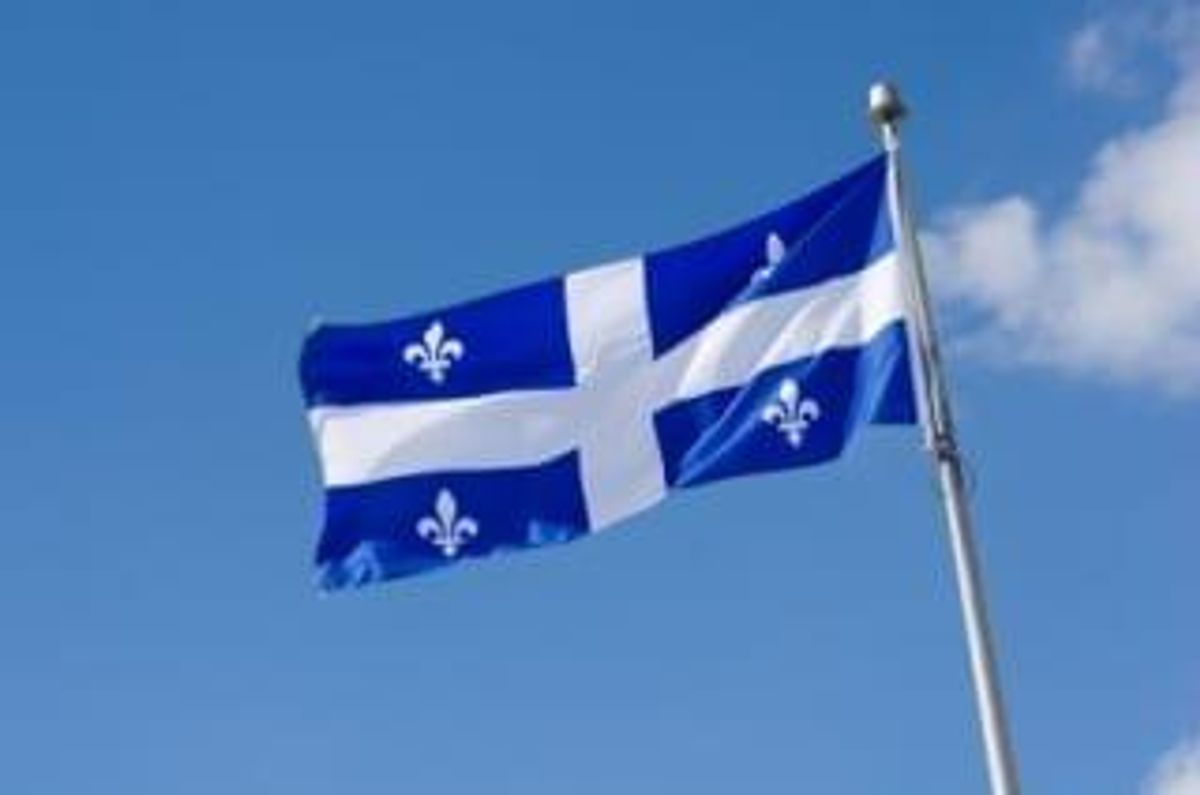 Grove talks about what the company has been up to lately, and also delves into some specifics regarding Commerce's Ashram rare earth deposit.
The rare earth market has yet to see a turnaround, but a few companies in the space, including Commerce Resources (TSXV:CCE) are still working hard to keep their projects moving forward.
"In recent weeks we have released some great drilling results, several metallurgical milestones, received the E3 Plus Award from the AEMQ for excellence in environmental work, hosted a site visit for Investissement Quebec and the Societe de Plan Nord to the project, and hosted a visit to Hazen Research for a representative of the magnet majors in Japan – Kazuo Machida to see the operation of our pilot plant," said Commerce President and Director Christopher Grove.
In the interview below, Grove talks a bit more about what the company has been up to lately, while also delving into some specifics regarding Commerce's Ashram rare earth deposit.

Recent advances
Certainly, there's been a downturn in the market lately, and Commerce shares have not been exempt. The junior miner is down over 50 percent since the start of the year, although it's share price has seen a few peaks in recent months.
As Grove has said previously, he believes that part of that fall was due to a number of flow-through shares becoming free-trading after a four month holding period ended in April, although he also concedes that things have been tough for the sector overall.
Still, he said that things are going well at Commerce's Ashram rare earth deposit.
"We have essentially the best flowsheet in the rare earth elements sector right now," he said. "There is still room for optimization to improve our results, but we can produce the highest grade sample at the highest recovery rate in the sector, and we do that at the lowest cost."
No doubt, that's largely due to some of the benefits mentioned above. Delving a bit into what Commerce has been up to recently, Grove mentioned that the company had announced a production of a 46 percent TREO rare earth element concentrate at a 71 percent recovery rate. Subsequently, it recorded a 76 percent recovery rate for the production of a 41 percent TREO rare earth concentrate, which is looking to be the better of the two.
"The higher recovery rate, while still achieving a better than 40 percent concentrate grade, is actually the most attractive set of results," he said. "So that essentially is the highest recovery rate, and the highest grade mineral concentrate produced by anyone in the rare earth element sector and at the lowest cost."
The 98 percent
Ashram's processing costs are expected to come in around C$95.20 per tonne of ore treated, or about C$7.91 (~US$6.25) per kilogram of rare earth oxides produced. According to Commerce, that puts the processing cost for the deposit below all other advanced stage rare earth deposits.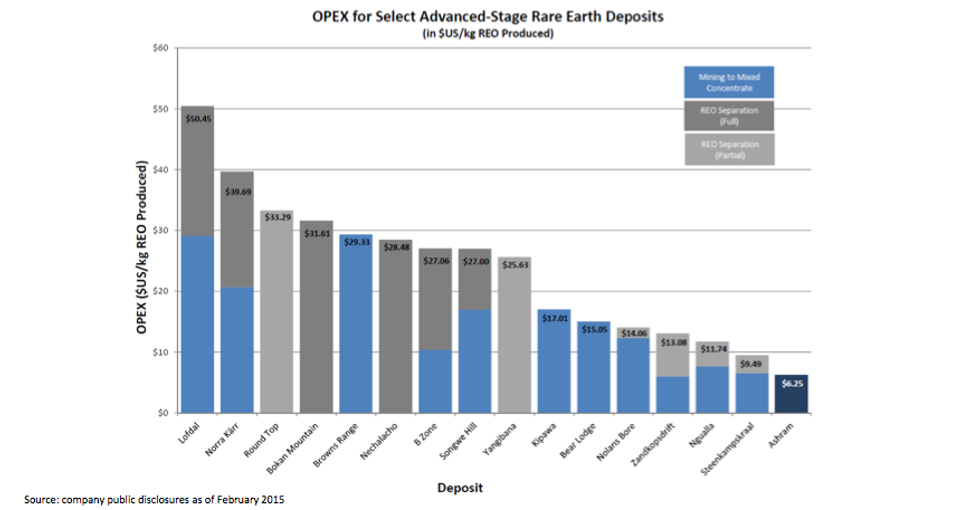 Source: Commerce Resources
What makes costs at Ashram so low? "Everyone focuses on the rare earth element component, but a very big part of your processing cost is something related to obviously the majority of your orebody, which is waste," Grove explained. "If you're fortunate, as we are, your waste is just less problematic to separate your target commodities from."
The Ashram rare earth deposit only has a grade of about two percent, meaning that about 98 percent of its orebody would be waste once it is processed. However, when it comes to rare earths, separating the minerals you want from the impurities you don't can be the biggest issue, and it's on this point that Grove says the Ashram stands out.
"You could think about it being 'cleaner' in a general sense, in that we have to undergo fewer steps in cleaning and desliming than would be the norm, for even other rare earth element projects hosted by the same minerals."
Certainly, that's an important consideration for those looking at the economics of rare earth projects.
One of the few
Grove stated that the challenges that often come with rare earths production would be fewer at Ashram since rare earth mineralization at the deposit is hosted by the three minerals conventional rare earth processing already works for.
"Everybody who produces rare earth elements in the world, everybody processes these three minerals; bastnaesite, monazite, xenotyme. The only real wildcard is Molycorp Silmet in Estonia that processes loparite and this mineral is only found in one deposit in Russia," he said. "Commerce Resources isn't smarter than anybody else out there. It's just that we're hosted by three minerals everybody processes. Whether its Solvay, China NonFerrous, Chinalco, Jiangxi copper or Bautou, they all process the same three minerals."
That's important, as Grove added that rare earth deposits can be hosted by around 200 different minerals. Certainly, there are companies trying to develop deposits hosted by minerals other than the four that are already commercially processed, but this means that there'll be more complicated mineralogy to deal with.
"Just for the record, the only company that comes out and also says 'we're hosted by minerals that are not currently commercially processed,' is Arafura (ASX:
ARU
)," Grove said, adding that he believed the company should be applauded for making this clear.
"At the end of the day, it gives the investor an opportunity to say, "OK, well I still like the management, I still like the project, I still like their chances." But that is the reality, and that's the only time I've ever seen a rare earth element project with complicated mineralogy admitting they have complicated mineralogy."
Drill results
Another important factor to keep in mind is the distribution of different rare earth elements within a given deposit. Speaking to some of the latest drill results released by Commerce, Grove briefly explained the "mid to heavy rare earths" (MH-T) term used in some of the company's recent press releases.
"This is a number that drills down to really what is important in terms of comparing ourselves to other majors in the REE sector," he said. "Correcting for grade, we would have double the amount of middle heavies that say, Mountain Pass has. And that's significant. That's the stuff that has a value."
This includes the percentage of total rare earth oxides in a deposit made up of samarium oxide, europium oxide, gadolinium oxide, terbium oxide, dysprosium oxide, holmium oxide, erbium oxide, thulium oxide, ytterbium oxide, lutetium oxide and yttrium oxide. As Grove notes, several of these materials are important for rare earth magnets, which is "where the market has interest right now."
He pointed to Commerce's July 24 press release, which states that the company had intersected 18.5 percent MH-T, while its 2012 resource estimate, which had 11.3 percent MH-T. In comparison, some of the world's largest rare earth deposits, including Mountain Pass, Bayan Obo, Weishan, and Maoniuping, hold MH-T percentages of 1.4, 1.9, 1.4 and 2.9 respectively.
Correcting for grade by tripling the number for Mountain Pass (Grove explained that this is necessary since Mountain Pass has a grade of 6 percent while grades at Ashram come in around 2 percent) the MH-T percentage at Ashram is still better than double. Overall, he stated that the company's July results were "very exciting," due to the increased MH-T percentages present, "where we had intersections of over 18 percent MH-T and for over 30 metres."
What's next?
In terms of what investors should be looking out for from Commerce, Grove stated that the company is focused on completing its next financing. "Upon completion of our current financing, our goal is to complete production of samples for the rare earth element majors who have requested these samples, including Solvay," he stated. "our pilot plant is currently focused on producing them a sample, and we are also producing samples for Mitsubishi (TYO:8058), Innovation Metals, and another company that is under NDA with us."
Commerce has been in talks with others as well. As mentioned above, the company hosted a visit to Hazen Research for Kazuo Machida, a representative of the magnet majors in Japan, to see the operation of their pilot plant..

"This visit to Hazen was very positive, and now Kazuo completely understands why we have fewer processing steps, and subsequently why we can upgrade our material better (higher) and cheaper than any other REE  project in the West," Grove said.
"Directly following, Kaz strongly suggested we now come to Asia to meet a selection of companies he has connections with. We have now just come back from meeting several of these majors and we now have two more requests to add to our list from potential joint venture partners, including one from a German major."

Grove added that investors will be able to look out for more drill results from the company's Ashram deposit.
Commerce has lost 51 percent since the start of 2015 and is now trading at $0.09 per share. It has a market capitalization of 19.48 million and has traded within a 52-week range of $0.06 – $0.22.
 
Securities Disclosure: I, Teresa Matich, hold no direct investment interest in any company mentioned in this article.
Editorial Disclosure: The Investing News Network does not guarantee the accuracy or thoroughness of the information reported in the interviews it conducts. The opinions expressed in these interviews do not reflect the opinions of the Investing News Network and do not constitute investment advice. All readers are encouraged to perform their own due diligence.
Investing News Network websites or approved third-party tools use cookies. Please refer to the cookie policy for collected data, privacy and GDPR compliance. By continuing to browse the site, you agree to our use of cookies.