What is a Magnesium-air Fuel Cell?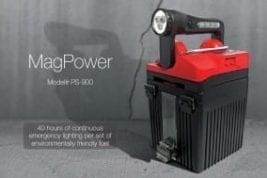 The Investing News Network spoke with Chris Hilliard of MagPower Systems to learn what goes into a magnesium-air fuel cell.
Lithium-ion batteries may be all the rage, but they're certainly not the only game in town. Magnesium-air fuel cell technology is something else that investors may want to keep an eye on.
While the technology is certainly at an earlier stage than it is for lead-acid or lithium-ion batteries, magnesium-air fuel cells have distinct advantages that are worth considering. The Investing News Network spoke with Chris Hilliard, chairman and managing director of MagPower Systems, to get a bit more insight into what goes into a magnesium-air fuel cell and why investors should be paying attention.
MagPower is a private company developing magnesium-air fuel cell technology, and is focused on securing research and business partnerships to help move its operations forward.

How it works
Essentially, magnesium-air fuel cell technology has the same components as any other battery technology. There's a magnesium anode and a gas-diffusion (air) cathode, with salt water as the electrolyte. "Simplistically, it's what is technically called an oxidation-reduction reaction," Hilliard stated. "All we're doing is using the oxidation-reduction reaction that occurs between the magnesium and the water."
Hilliard further explained that the air cathode "is the current collector" for the system. "The air cathode is a membrane that breathes, and allows oxygen from the air to enter the cell to facilitate the oxidation-reduction reaction," he said.
Why magnesium?
Certainly, magnesium-air fuel cells have a number of advantages. Hilliard noted that MagPower's battery has a higher energy density than other systems, meaning more electricity for less weight. The battery also produces no toxic by-products, unlike its lead and lithium counterparts.
Hilliard added that there's no self degradation for magnesium-air fuel cells, making them the perfect candidate for disaster-preparedness products. "It's got an indefinite shelf life," he said. "If you put a normal battery on a shelf in a flashlight and you come back to it two years later, the battery will have corroded, and the flashlight will not work. Our system can sit on the shelf for years, and if you take it down and pour salt water in it, it will turn on."
Still, Hilliard admitted that there are some drawbacks for magnesium-air fuel cells compared to other types of batteries. While MagPower's batteries have high energy density, lead-acid batteries have a higher power density.
"[That's] why we use them to start our cars," he explained. "Our battery works best in low-amperage environments. So it's not good at moving things, but it's very good at recharging systems, and it's very good at lighting systems."

Why investors should care
"The issue of toxicity resonates. The higher energy density resonates because those things are what will appeal to end users," Hilliard said. And while he admitted that new technologies can take a long time to get to market, he suggested that MagPower has already taken a great deal of risk out of the equation.
"We've spent a great deal of time and millions of dollars to get the technology to the point where we are just about ready to be a commercial entity," he stated. "A lot of the research and development is behind us."
MagPower isn't the only company focusing on magnesium-air fuel cells. Hilliard mentioned Aqua Power Systems (OTCQB:APSI) in Japan and another company based in China as two others looking to make moves in the space. Aqua Power is already commercially producing its products.
What's next for MagPower?
Hilliard stated that MagPower is still looking to secure licensing agreements with a number of parties. The company is targeting businesses that are already producing batteries, and that would be interested in adding MagPower's technology to their arsenal.
To give one example, Hilliard stated that MagPower is in talks with a US company that is interested in magnesium-air fuel cell technology for military applications. "Because our system is very light, it has very interesting applications from a military perspective," he said. Meanwhile, in China and Japan, end users are looking for long-life redundant backups for telecommunication systems. "Those are ongoing discussions," he said.
Certainly, things are still very early stage for magnesium-air fuel cell technology — and for metal-air fuel cell technology in general. Still, Hilliard stated,"there's a lot of indication that metal air … may very well represent the next generation" in terms of battery technology. It will be interesting for investors to keep an eye on the space as it develops.

Securities Disclosure: I, Teresa Matich, hold no direct investment interest in any company mentioned in this article.
Related video:
MagPower Systems' Chris Hilliard on their Magnesium Air Fuel Cell Technology