Weekly Round-Up: Bulls Seen Outpacing Profit-Taking in Commodities
Profit-taking may be pushing markets lower for now, but the bulls are on the run in the longer term as the US economy picks up and Europe shows signs of stabilizing.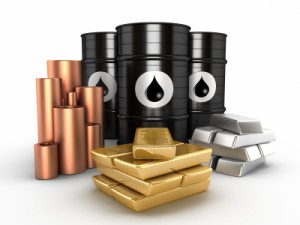 A slew of indicators pointing to a rebound in the US economy was released this week, offsetting concerns about Europe's debt woes which have been looming over industrial commodities for the past few months. While profit-taking has put a dent in some gains, the near-term outlook for both copper and energy appears to be robust, while gold is seen trending lower as traders take a wait and see approach before shoring up safe haven assets.
With US jobless claims falling to their lowest level since April 2008 and factory output rising to its highest level in over a year, there is growing optimism about the United States finally getting out of the economic doldrums. Meanwhile, China's GDP falling to its weakest level in over two years has increased speculation that Beijing will have no choice but to ease its monetary policy to ensure that its economy continues to expand at a steady clip, which in turn would encourage further demand in country.
As for Europe, the hope is for Greece to reach a bond swap deal by January 23 in order to ensure that it can access further aid before it needs to come up with 14.5 billion euros in bond repayments which are due in March.
In mid-morning trade Friday, Brent crude is down 0.9 percent at $110.54 a barrel, while copper is also 0.9 percent lower at $3.76 a pound, and gold is 0.1 percent weaker at $1,653.00 an ounce.
Granted, some analysts are concerned about the current bullish sentiment, not least TD Securities' head of commodity strategy rates and foreign exchange research Bart Melek. In a conference call with reporters, Melek said that the current market rally is "defying gravity and defying the naysayers," adding that the current rally is still premature.
Oil
Still, it has been anything but smooth sailing in the energy market this week, not least as President Barack Obama rejected TransCanada's (TSX:TRP) proposed $7 billion Keystone XL pipeline. Political considerations rather than economic concerns ultimately led the White House to reject the plan, and the Calgary-based company was quick to point out that it has a slew of other projects including renewable energy while it will be reapplying for moving forward with the project once it comes up with a proposal to avoid the state of Nebraska.
Meanwhile, oilfield services giant Schlumberger (NYSE:SLB) reported fourth quarter profit rising 36 percent from a year ago on the back of higher crude prices, even as it had to write off some assets in Libya.
Nonetheless, political risks continue to weigh on the energy market, with the European Union's foreign ministers meeting Monday on whether and how to impose an oil embargo on Iran. A supply disruption from Iran would not only impact global crude prices, but also may lead to a reaction from Tehran, while China, South Korea, and Japan may continue to be the biggest importers of Iranian oil regardless of actions from Brussels and Washington.
In Italy, meanwhile, the government is expected to force the country's largest oil group Eni (NYSE:E) to sell its 5.9 billion euro stake in natural-gas distribution network Snam Rete Gas in order to increase competition. Analysts believe that the sale will give all operators equal access to the distribution system, while the break up will also free Snam from antitrust limits and allow the company to buy stakes in other European network operators.
Copper
Turning to the copper market, traders are the least bearish in a month as the metal has its best start to a year since at least 1987 and stockpiles tracked by the world's biggest metals exchange were poised to slump to the lowest in over three years, according to Bloomberg.
With the earnings seasons in full swing, copper producing giant Freeport-McMoRan Copper & Gold (NYSE:FCX) reported fourth quarter profit and revenue that beat analysts' estimates after sales of the metal surpassed expectations. The company, which has suffered from a three-month-long strike at its Grasberg mine in Indonesia since last September, said that the mine will be fully operational before the end of the first quarter.
Gold
As for gold, the decreased panic about Europe's outlook has diminished investors' appetites for precious metals, and China in holiday mode as it celebrates the Year of the Dragon has slowed down market activity. A stronger dollar too has contributed to a decline in the yellow metal's value.
On the corporate front, Newmont Mining (NYSE:NEM) said capital expenditure for 2012 will reach between $3.0 billion and $3.3 billion this year, including spending on it Akyem project in Ghana and Peru's Conga project. Newmont is currently awaiting a ruling by the Peruvian constitutional court on whether the Conga gold and copper mine continue to go ahead despite protests by local residents about the environmental impact of the project.
I, Shihoko Goto, have no interests in the companies mentioned in this article.