South Africa Aims to Get Manganese Production Back on Track
Big railway investments — including a new train dedicated to manganese — may help the country finally realize its production potential.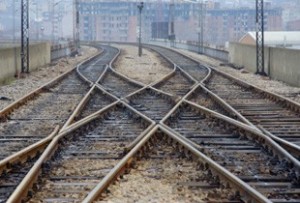 This week South Africa took a first step toward fixing the transportation problems that have long plagued its manganese mining industry.
The country assembled and loaded its first-ever distributed power train for the metal at a new rail siding at the Tshipi Borwa mine in the Northern Cape province. The 2.23 kilometer manganese train is powered by 18 diesel locomotives and carries 208 wagons. The locomotives are controlled by the same radio-distributed power technology that state-owned railway operator Transnet uses on the current iron ore line between Sishen and Saldanha, which handles 342 trains.
On September 17, Transnet conducted a trial run by shipping 13,000 tonnes of manganese from Tshipi to Port Elizabeth, Metal-Pages reported. However, the ore itself was not produced at Tshipi, which is scheduled to start up later this year.
South Africa has long punched below its weight in the manganese market
South Africa was the world's biggest manganese producer in 2011, with 3.4 million tons of output, ahead of second-place China, with 2.8 million tons, according to the US Geological Survey. That figure may sound impressive, but the country has the potential to produce much more of the metal, considering that it's home to 75 percent of the world's identified manganese reserves.
In an effort to tap into that vast potential, a number of producers are developing new projects in the country. Aside from Tshipi, these include privately-owned Asia Minerals' Kudumane open-pit/underground mine, also in the Northern Cape province, near the city of Hotazel. When it reaches full production by the end of 2013, it will produce 2 million tonnes a year. The addition of the underground portion of the mine should boost that to 2.5 million tonnes by 2019.
The company says the open-pit mine should last 10 to 15 years, with underground mining continuing for 30 years after that.
As well, Kalagadi Manganese, a joint venture between ArcelorMittal (NYSE:MT) and South Africa's Kalahari Resources, is getting set to start production at its manganese project in the Northern Cape province. Over the next 18 months, the mine will build up to its full production of 3 million tons. The project also relies on dependable rail transport, as Kalahari is building a ferromanganese smelter complex at the port of Coega, just east of Port Elizabeth.
However, progress has been slowed due to ongoing disagreements between Kalahari and ArcelorMittal over corporate governance issues at Kalagadi. That prompted Arcelor to withhold 241 million rand (US$28.7 million) of development funds.
All of this new production is likely to weigh on manganese prices, which are down sharply in the past year. European spot prices for manganese flake, for example, have declined from around $3,650 a tonne to around $2,625 a tonne. Even so, the country's miners are clearly aiming to profit from an expected longer-term rise in steel production from the current annual level of 1.4 billion tons to 2.5 billion tons in the next 15 to 20 years. Manganese is a key element in steelmaking.
However, it could all come to naught if Transnet is unable to follow through on its plan to provide sufficient capacity to get all that new manganese ore to port.
Rickety railways are a big drag on South Africa's manganese output
Currently, manganese from mines in the Northern Cape province is shipped over a 1,200 kilometer line to Port Elizabeth in the south. However, the line is over 50 years old and is forced to give way to passenger trains in some areas.
That's creating major headaches for some producers. For example, South African firm United Manganese of Kalahari said it will be forced to ship about half the ore it produces in 2012 — some 1.35 million tons — by truck.
"You can't continue to truck a million tons of material a year to the ports," CEO Johan Kriek recently told Mining Weekly. "It's not only very bad for South Africa's roads, but it's also very expensive."
In all, the current railway hauls some 4.5 million tons of manganese a year. Transnet now has plans to boost that to 18 million tons. Much of that new capacity will come in the form of a new dedicated line to Coega. The new line is part of Transnet's 300 billion rand (US$35.7 billion) plan to speed up resource shipments with new railway capacity, new and improved port facilities and upgraded fuel pipelines.
South Africa's track record on building effective new infrastructure is less than impressive, with projects often going way over budget or being delayed. According to a recent Bloomberg article, for example, the country's government only spent 68 percent of its 260 billion rand infrastructure budget in the year through March 2011.
New train highlights the strong potential of South Africa's new manganese projects
Still, few would contest that the trial run of the new manganese train is a step in the right direction. And the Tshipi project, South Africa's newest manganese mine, is a suitable backdrop for highlighting the country's rising manganese production.
When it goes into production this year, the open-pit operation will be run by South African firm Tshipi é Ntle Manganese Mining, which has a 50.1 percent stake in the project. Jupiter Mines (ASX:JMS), which is headed by former BHP Billiton (NYSE:BHP,ASX:BHP,LSE:BLT) CEO Brian Gilbertson, owns the other 49.9 percent.
The mine is slated to start production later in 2012. It's expected to produce 2.4 million tons of manganese ore annually for the next 60 years. Tshipi is located next to the Mamatwan mine, which is operated by BHP.
The mine is built on a deposit that is 30 meters thick on average and consists of 163 million tons of ore grading 37 percent manganese. In some spots, the deposit is up to 46 meters wide. "That's like standing beneath a 16-storey building, glancing up and saying, right, that's solid manganese ore," said Tshipi Director Finn Behnken, reported Mining Weekly.
Securities Disclosure: I, Chad Fraser, hold no positions in any of the companies mentioned in this article.