Manganese Miners and Indonesia's Export Ban
Indonesia, one of the top mineral exporters in the world, has been in the news more than usual since January 12, when its controversial ban on mineral exports came into effect.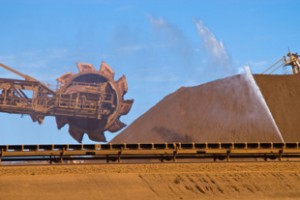 Indonesia, one of the top mineral exporters in the world, has been in the news more than usual since January 12, when its controversial ban on mineral exports came into effect. The country is hoping to boost its economy in the long term by forcing mining companies to build domestic processing smelters. However, the reaction from international miners thus far does not bode well for the island nation's plans.
For one thing, many miners failed to build smelters within the five-year lead time before the ban took effect, forcing President Susilo Bambang Yudhoyono to soften the blow slightly by signing off on last-minute changes that would allow continued international exports until 2017 for zinc, lead, copper, manganese and iron, albeit with strict regulations.Specifically, the regulations have set minimum concentrate grades (49 percent for manganese), as well as high and progressive export tariffs rising from 20% this year to 60% in 2017. After January 11 2017, the minerals will need to be 99 percent purified before they may be exported.
Japan has sent a letter to Indonesia's foreign trade minister and will likely complain to the World Trade Organization about the ban and tariff structure, while copper industry heavyweight Freeport-McMoRan Copper & Gold (NYSE:FCX) has already signaled it may fail again to have a smelter ready by the extended deadline.
For many mineral companies, smelters are not economically viable, as the ban has weakened commodity prices and left miners with less to invest in refineries, according to Reuters. News surrounding the new rules has focused mainly on copper and nickel, with the ban actually helping the latter metal since China depends on Indonesia as a source. However, for those willing to take the financial plunge to , Indonesia has its benefits, especially when it comes to manganese.
It is worth noting that the island nation is exceptionally well positioned in terms of shipping. Although China, Brazil, South Africa and Australia lead the world in manganese production, Indonesia's proximity to alloy producers in countries like India and China makes its location a boon for the industry. Furthermore, as Australian miner Asia Minerals points out, Indonesia contains some of the highest commercial-grade manganese deposits in the world, with ore grades of higher than 50 percent.
So what does compliance mean for mining companies that want to continue manganese projects under Indonesia's export ban?
As mentioned above, miners may continue to export high-grade manganese concentrate for now, but they must prepare to show the Indonesian government they have committed to converting to domestic ore processing before 2017. For example, Asia Minerals, currently the only approved exporter of manganese from Indonesia, has already broken ground for the construction of a ferromanganese alloy smelter and plans to complete the facility within three years. Furthermore, miners will still be required to pay increasing export duties on manganese concentrate until non-purified exports are cut off in three years.
Similar to other commodities, mining and exporting Indonesian manganese will undoubtedly be more difficult under the country's new regulations. However, it can still be done, and those with the time, resources and willingness to invest in Indonesian manganese projects could stand to reap long-term benefits.
Securities Disclosure: I, Teresa Matich, hold no investment interest in any companies mentioned.