Stolen Cobalt Alloy in Zambia Probably Headed to China For Refining, Experts Say
Zambia is the globe's second largest producer of cobalt. Theft of cobalt in the country does happen and the stolen alloy heads to the black market.
By Karan Kumar – Exclusive to Cobalt Investing News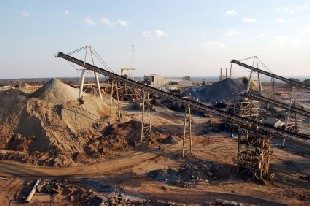 Zambia is the globe's second largest producer of cobalt, accounting for about a fifth of the world's supply. The metal is used for a variety of purposes from super-alloys used to make aircraft to iPhones to rechargeable batteries. But theft of the metal, though it happens less frequently these days, still occurs, creating problems for producers.
Times of Zambia reported in August that three musicians, who acted together with two more people, stole 978.3 million Kwacha ($185,000) worth of cobalt, allegedly on a truck used to transport the cobalt alloy from Chingola to Durban in South Africa. In August 2009, two Ndola businessmen and four security guards were arrested in connection with stolen cobalt. An internet search reveals other instances of theft.
"The thieves would sell the cobalt to the black market at a substantial discount, where I would guess it would most likely end up in a Chinese smelter," said Rick Honsinger, Vice President of Corporate Communications at Formation Metals Inc.(TSX:FCO), a Vancouver-based mineral exploration, development and refining company which has interests in base and precious metals and uranium projects in Canada, the United States and Mexico.
"There used to be a lot of smuggling of heterogenite ore (cobalt bearing) across the border of the Democratic Republic of Congo sold to the Chinese to feed their refineries, which was never reported in world consumption figures," Honsinger added. "Obviously the motive for theft and black markets is money."
The Cobalt Development Institute (CDI), a UK-based association of producers, users and traders of cobalt, says that cobalt is usually produced as a by-product of another metal, mostly nickel or copper. The Democratic Republic of Congo is an important source of cobalt representing about 50 percent of mine supply and almost 50 percent of known worldwide cobalt reserves. The primary mining activities that produce cobalt take place in the southern province of Katanga, which geologically extends into Zambia.
"It is a lot more difficult these days to steal cobalt as warehouses recognize it," an industry source based in London, who requested anonymity, told Cobalt Investing News. "It is a rarer thing. We do not see it quite so much. While it can be sold in the black market, I mean these days you'd find problems getting rid of it."
The source added that his "instinct is it would go to China … Obviously you have refineries in Africa. You've got two big refineries in the region, but I think in all likelihood most of the refineries are in China. A lot of cobalt raw material is exported to China and refined into metal and other products there, so it is the largest legitimate market for the material. However getting it out through customs would be difficult."
The theft of about $185,000 worth of cobalt is not a big enough amount to disrupt cobalt prices. The CDI reported this month that cobalt production amounted to 40,749 tons of cobalt in the first half of 2011. The amount included 16,893 tons from CDI members, which operate in 12 countries, from Zambia to Finland to Canada to India, and 23,856 tons from non members.
"It (the theft) would affect the particular producer. But it is not going to affect the price at all," the industry source said. "The black market is smaller than it was in the past. Systems are a lot tighter and the industry is better regulated."