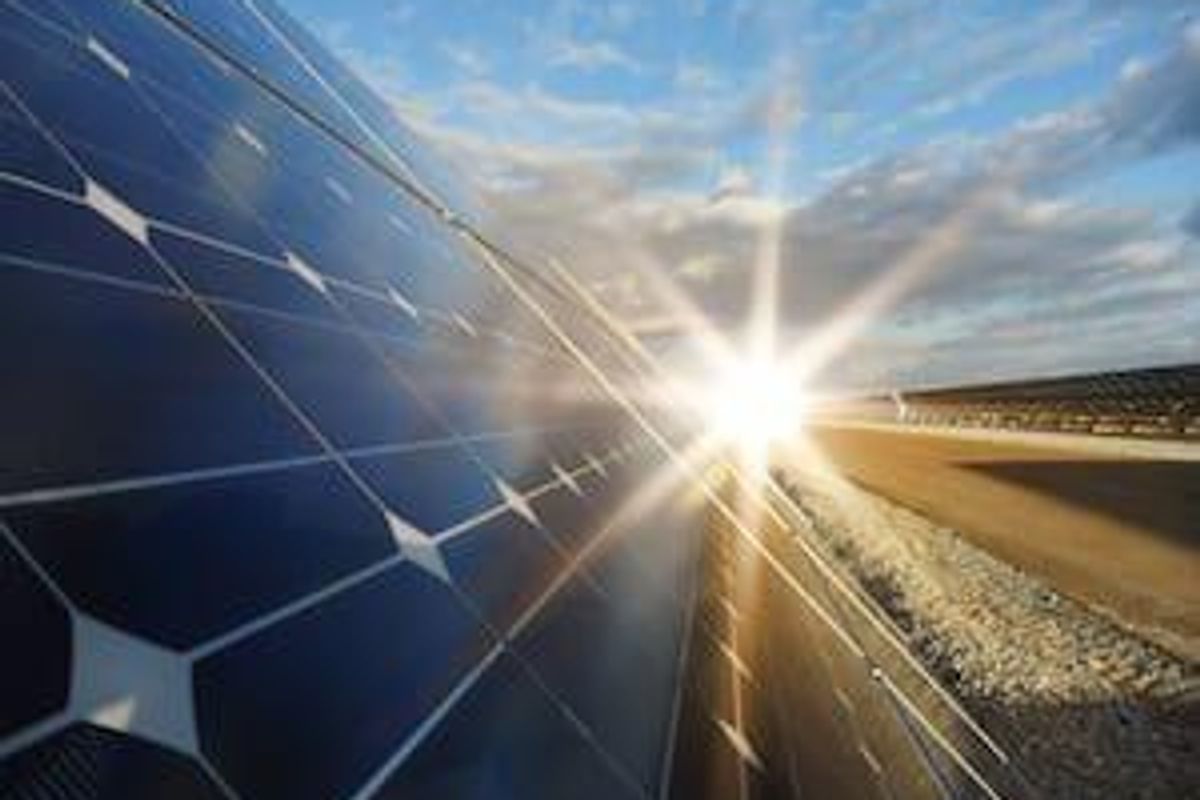 Solar and wind renewable energy sources require massive energy storage systems but zinc air battery technology offers a viable alternative solution.
The large-scale adoption of solar and wind, two of the most popular renewable energy sources, requires massive energy storage systems. And the high-cost of energy-related metals like cobalt, vanadium and lithium makes it expensive to produce storage batteries. But zinc air battery technology offers a viable alternative solution.
Growing Demand for Renewable Solar Energy
The demand for clean, renewable energy in North America and around the world is as strong as ever. A new report from research firm DGA on the growing demand for renewable energy finds that 83 percent of major U.S. and global manufacturers have set targets on greenhouse gas reduction, and 25 percent of manufacturers have already established renewable energy. The report finds that leading companies like Anheuser-Busch InBev, Nestle, Nike, Unilever, and VF Corporation have 100 percent renewable energy commitments already in place.
Manufacturers that buy renewable energy from nearby solar and wind farms can increase the resilience of the grid and help support local economic development. The ten year global trend of solar capacity shows an increase to almost 400 GW in 2017, from under 10 GW in 2007, according to the International Renewable Energy Administration. And if a change in public sentiment towards renewable energy isn't enough to drive solar demand even higher, President Trump's protectionist decrees surely will.
Trump recently imposed a 30 percent tariff on imported solar panels in an attempt to protect American jobs. The tariffs have been equally criticized and applauded. While an increase in consumer prices is expected, so is an increase in domestic production, which would add to the "new era of power generation" that saw solar power become the world's fastest-growing source of new energy in 2017.
"What we are witnessing is the birth of a new era in solar photovoltaics [PV]," says Dr. Fatih Birol, executive director of the International Energy Agency.
"We expect that solar PV capacity growth will be higher than any other renewable technology up to 2022."
Challenges in Large-Scale Energy Storage
Storing energy on a mass scale is among the challenges that come with the growing demand, and production, of solar energy, as well as demand for transparent ceramics needed to transport energy sources.
Developed western nations often account for the largest portion of the demand for transparent ceramics because of their increased use in the aerospace and defense industries. Most transparent ceramics production facilities find it difficult to expand geographically because of the high transportation and logistics costs. This is aggravated by the fragility of ceramic materials, so safe transportation of these materials is a concern.
"Intermittency" is also known to be one of the main barriers to large scale solar deployment. It's the variability of energy output from solar sources that inevitably produce irregular or disrupted patterns of electrical output. For instance, solar energy needs light to operate at maximum capacity, which isn't always available. The one way to compensate for intermittency is by backing up solar energy with an alternative energy supply, like battery storage.
But issues with traditional battery components lithium, cobalt and vanadium, leave the solar industry looking for an available, low-cost solution.
Lithium, Cobalt and Vanadium
Lithium-ion technologies accounted for more than 95 percent of new energy-storage deployments in 2015, and Goldman Sachs projects demand for lithium will triple to 570,000 tonnes by 2025. While lithium-ion battery consumption grew 73 percent from 2010 to 2014, production only increased 28 percent, according to a 2017 study published in the energy research journal Joule. It's estimated that over the next 15 years, production of lithium-ion batteries could slow down if supply chain issues aren't fixed.
Cobalt is one of the main components of lithium-ion batteries—which is increasingly vulnerable to supply chain issues because of volatility in the Democratic Republic of Congo where most of the world's cobalt is produced.
"Current cobalt chemical demand is set to outpace supply should electric vehicle adoption really become a significant portion of the global auto fleet—perhaps 10 to 15 percent by 2025," says Chris Berry, analyst and co-author of the Disruptive Discoveries Journal.
Cobalt is often mined under torturous labor conditions. In 2016, the Washington Post found miners, including children, worked around the clock using hand tools to extract cobalt. Of the 123,000 tonnes of cobalt produced globally in 2017, the DRC accounted for 66,000 tonnes.
Vanadium is also used in large-scale battery systems. Roughly 85 percent of the world's vanadium is produced by China, Russia and South Africa. But the bulk of the metal is either mined or produced as a by-product of steelmaking, meaning that changes in iron ore and steel market dynamics impacts vanadium production.
The recent closure of the Kuranakh mine in Russia resulted in vanadium production cutbacks, and the closing and subsequent reopening of the Highveld Steel and Vanadium mine in South Africa, the country's second-largest steel plant, impacted the structure of the vanadium supply chain.
While lithium-ion batteries are the current option for large scale battery storage, lithium can't compete with the storage size and cost effectiveness of its alternative, zinc air.
Why Zinc Air Batteries are a Low-Cost Solution
Regenerative zinc air flow batteries efficiently store energy in the form of zinc particles and contain none of the traditional high-cost battery commodities found in lithium, vanadium, or cobalt.
Conventional batteries have a fixed energy/power ratio, but zinc air batteries, and specifically the technology created by ZincNyx Energy Solutions, a 100 percent owned subsidiary of MGX Minerals (CSE: XMG),  uses a fuel tank system with flexible energy/power ratios and scalability. The storage capacity is directly tied to the size of the fuel tank and the quantity of recharged zinc fuel, making scalability a major advantage of the flow battery system.
Additionally, the ability to charge and discharge simultaneously, and at different maximum charge or discharge rates, are advantages of zinc air flow batteries. Other types of standard and flow batteries like lithium-ion are limited to a maximum charge and discharge by the total number of cells, as there is no separation of the charge and discharge components.
"MGX Minerals is proud to be a part of a fundamental shift from traditional high cost and difficult to acquire commodities such as lithium, vanadium and cobalt, to low cost zinc in residential, remote and mass storage applications," says MGX Minerals President and CEO Jared Lazerson.
"ZincNyx is looking to produce 1,000 zinc air battery units annually by early 2019."
Market Opportunity for Zinc Air Battery Systems
The zinc air battery market is currently positioned between two major, and unique, developments: the increased global demand for solar power (the fastest-growing source of new energy in 2017) and the diminishing supply of zinc after the recent shutdown of many of the world's largest zinc mines. When supply is low, and demand is high, opportunities arise.
The global shift toward clean energy has caused strong demand for zinc and zinc air battery systems. Investors have an opportunity to align with companies that are leading the way in developing zinc air flow battery systems for efficient energy storage.
This article was written according to INN editorial standards to educate investors.
Investing News Network websites or approved third-party tools use cookies. Please refer to the cookie policy for collected data, privacy and GDPR compliance. By continuing to browse the site, you agree to our use of cookies.