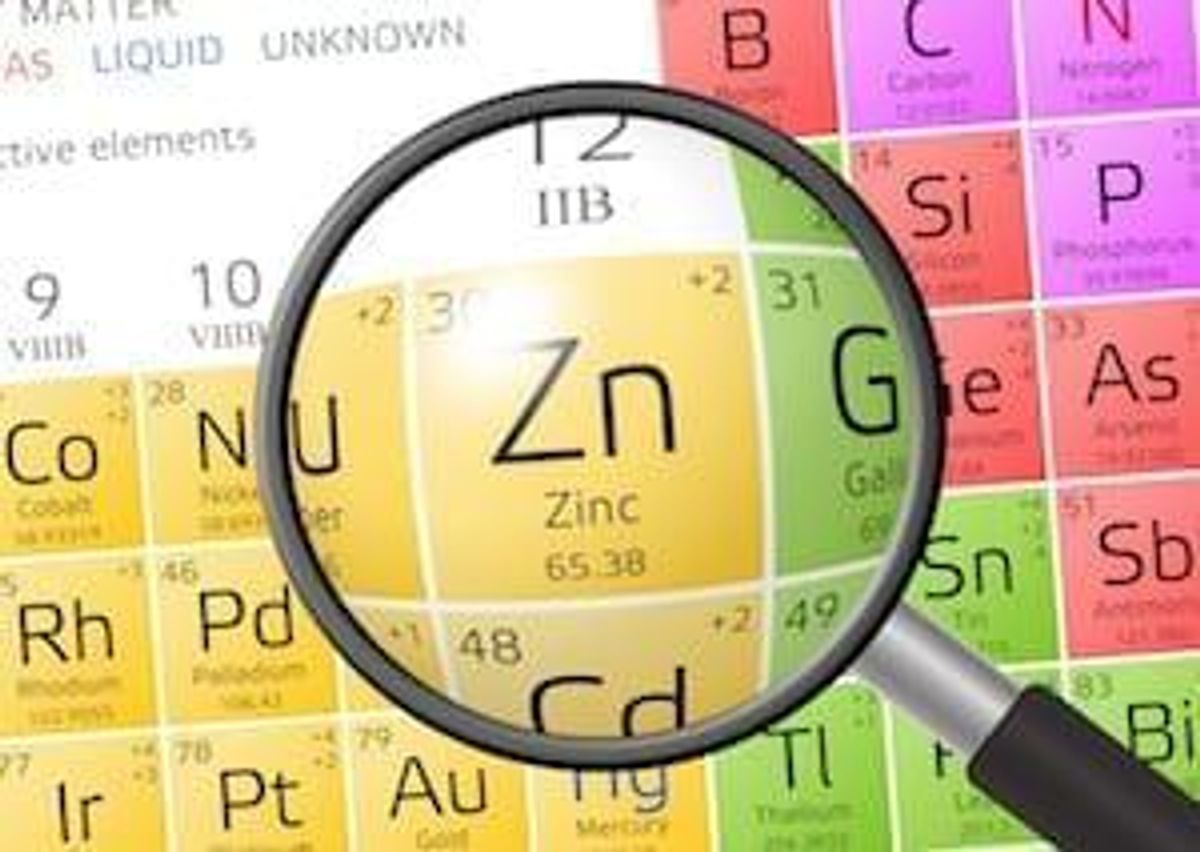 Zinc oxide is considered a niche market, but its range of industrial applications is widening. Find out more about why it's important in this article.
Whether it's the rubber and tire industry, ceramics like cookware and tableware, cement and paint, sunscreen and ointments or galvanized steel in our bridges and buildings, zinc oxide is a part of our everyday lives.
So why do we know so little about a compound that we come in contact with so often?
Zinc oxide is the most widely used zinc compound, and it plays an important role in a multitude of applications. World usage of zinc oxide is estimated at over 1.5 million tonnes. The galvanization of steel products accounts for half of global zinc consumption due in large part to the metal's critically important corrosion-resistant properties. Zinc oxide is also a critical material in the manufacturing of tires, where it increases resilience and elasticity, literally putting the bounce in rubber.
Ceramics is another major market for zinc oxide. The compound's durability is what makes up many of today's ceramic tiles, cookware and tableware. Sunscreen and skincare companies rely on zinc oxide for its UV-absorbing properties and the protection it provides from the sun. Its regenerative effect on the skin makes it an integral component in baby creams and wound-care ointments.
Analysts are forecasting that the global zinc oxide market will grow at a CAGR of 3.94 percent between 2017 and 2021. A prominent trend in this market is growing demand for zinc oxide in the semiconductor industry. "Global sales of semiconductor reached more than $325 billion in 2016 and are expected to grow during the forecast period, which will drive the demand for zinc oxide," says a recent Research and Markets report. Another driver is growing demand for nano zinc oxide, a specialized nanomaterial that displays physio-chemical characteristics such as anti-corrosion, catalytic and UV-filtering properties.
Zinc oxide in the next generation of transparent electronic devices
Zinc oxide is a wide-band-gap semiconductor with several favorable properties — including good transparency, high electron mobility and strong room-temperature luminescence — that make it an excellent material for emerging applications, such as transparent electrodes in liquid-crystal displays, energy-saving windows and thin-film transistors in electronics.
Analysts at 360 Market Updates forecast that the global wide-band-gap power semiconductor device market will grow at a CAGR of 37.9 percent between 2017 and 2021. This significant growth is seen being driven by rising demand in the electronic devices market for transparent displays, smart windows and concealed circuits that require translucent components.
Researchers at the Saudi Arabia-based King Abdullah University of Science and Technology (KAUST), a world-recognized leader in science and technology research, have designed a strategy for creating fully transparent 2D electronic devices and circuits such as transistors, inverters, rectifiers and sensors.
The KAUST research team has integrated aluminum-doped zinc oxide (AZO) contacts with molybdenum sulfide (MoS2) monolayers to produce ultrathin semiconductor sheets.
Previously, incorporating MoS2 monolayers into circuits had "relied on silicon substrates and metal electrodes, such as gold and aluminum. The opacity of these materials has stalled attempts to develop fully transparent 2D electronic devices," reports Printed Electronics World. The use of AZO contacts resulted in electronic devices that "outperformed their equivalents equipped with opaque metal contacts, such as gate, source and drain electrodes, which demonstrates the high compatibility between transparent conducting metal-oxide contacts and MoS2 monolayers."
Zinc oxide for water-free cleaning of solar panels
Of the many beneficial properties of zinc oxide, its role in solar and nanotechnology is said to be an industry game changer. Solar panels collect dust and other particles that can affect their ability to absorb sunlight. And like anything that gets dirty, solar panels need to be cleaned. But in climates where water resources are scarce, zinc oxide is a necessary alternative.
Biswajit Das and his team at the University of Nevada, Las Vegas are developing a water-free cleaning technology using zinc oxide that will be cost effective for large-scale photovoltaic use.
Nanoparticles comprised of zinc oxide provide an electrical field that can modify the electrical properties of dust particles. Once the dust particles are charged, an electrical field can be used to attract them and sweep them away from solar panels without the use of water. The transparency of zinc oxide makes it the ideal material for cleaning solar panels, since transparency is key to ensuring that the nanoparticles don't block the sun from the panels.
"We are very encouraged by the achievements we have made so far, and hopeful that will be able to develop a low cost technology for charging and electrically manipulating dust particles," said Das. "We believe that this will be a big step towards sustainable generation of solar energy."
Zinc oxide production methods
One of the most common production methods for zinc oxide is volatization and recondensation, where oxidized zinc bearers are reduced by carbon, and then metal vapor is oxidized by air combustion to produce zinc oxide.
Due to zinc's relatively high volatility, this metallurgical process results in consistent grades and recoveries. "This, combined with the simplicity of construction and operation, and lack of water required, make volatization methods a particularly attractive option in zinc beneficiation projects," notes a report by project development and management group Novopro.
One of the most commonly used proven methods of zinc recovery through volatization is the Waelz kiln, a German-invented refractory-lined continuous kiln that can approach zinc recoveries of 90 percent. In addition to high zinc recoveries, other advantages of the Waelz process include low capital and operating costs as well as simple construction and operation.
"The efficiency of the Waelz kiln is a direct function of the input zinc grade. For instance, about 90 percent of Waelz kiln production is the processing of electric arc furnace dust from steel mills whose zinc grades are commonly 20 to 24 percent," explains Bill Williams, COO of Zinc One Resources (TSXV:Z,FWB:RH33,OTCMKTS:ZZOF). Zinc recoveries with these initial grades can be upwards of 90 percent.
The Waelz process is also ideal for processing zinc-oxidized ore, even at low grades, as is evidenced by its use at Isfahan zinc smelting operation. Iran-based Isfahan has used Waelz kiln technology to produce zinc oxide from a natural orebody since 2007, with recoveries of 50 percent zinc oxide produced from a low-grade ore of 6 percent zinc oxide.
At the past-producing Bongará mine in Peru, which had reported grades of more than 20 percent zinc, the previous operator used the Waelz process successfully with over 90 percent recovery of zinc. Canada-based Zinc One acquired the Bongará mine, along with nearby Charlotte Bongará zinc oxide property, in 2017 and is now working towards putting the former mine back into production as early as 2020.
Williams says his company has designed its mine plan to include use of Waelz processing technology. "The concentrate product we plan to make can be refined into zinc ingots via a smelter or leaching to be used in manufacturing. Due to the high-grade nature of the ore, the mine will produce a lot of zinc metal from a mine this size," he said.
With the inclusion of the Charlotte-Bongará project, there is great upside potential for discovering more zinc oxide ore, which will extend the mine life. "We have a 6-kilometer-long trend to explore, along which previous work identified outcropping, high-grade zinc mineralization and drilling at the project has intercepted high-grade zinc," adds Williams.
Zinc prices at all-time highs
The price of zinc has grown by more than 90 percent since January 2016 ($1,510 to $3,180 per tonne as of December 2017), and hit a 10-year high last August. The price surge is expected to continue as heavy demand crosses paths with zinc stockpiles crashing to historical lows. Recent key mine closures in China, Australia, Ireland and Canada will no doubt have a long-term impact on global zinc supply, causing end users in industrial markets to search for other viable sources.
This article was written according to INN editorial standards to educate investors.
Investing News Network websites or approved third-party tools use cookies. Please refer to the  cookie policy for collected data, privacy and GDPR compliance. By continuing to browse the site, you agree to our use of cookies.