Lundin Mining Powering Ahead as Eagle Mine Reaches Commercial Production
Lundin Mining has reached commercial production at its high-grade nickel-copper Eagle mine ahead of schedule and on budget. What's more, analysts are calling for the mine to exceed its production guidance in 2014.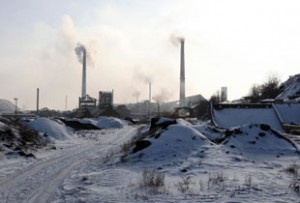 It's tough out there for resource companies of all sizes, but that hasn't stopped Lundin Mining (TSX:LUN,OTCMKTS:LUNMF) from powering ahead with its high-grade nickel-copper Eagle mine in the Upper Peninsula of Michigan. On Monday, the company announced that it has reached commercial production at the mine on budget and three months ahead of schedule.
According to Monday's statement from Lundin, production began on September 23, well ahead of schedule and on budget. The company was targeting commercial production for the first quarter of 2015, but instead hit the milestone within two months of the mine's start up.
Purchased by Lundin from Rio Tinto (ASX:RIO,LSE:RIO,NYSE:RIO) in 2013, the Eagle mine is expected to produce 360 million pounds of nickel and 295 million pounds of copper over a mine life of eight years.
Commercial production
Lundin defines commercial production at Eagle as "the ability to maintain average production metrics of 75% of designed throughput, 75% nickel recovery, and the production of on target grade nickel concentrate (11 – 16%) for a period of 30 days."
To be sure, Lundin President and CEO Paul Conibear is proud of the company's achievement, and stated in Monday's release, "[t]he team at Eagle Mine has done an excellent job in accelerating the ramp up and delivering commercial operations ahead of expectations. Going forward, the Eagle Mine will be significant to the earnings and cash flow of Lundin Mining, and a major employer and economic contributor in northern Michigan."
Commercial production at the Eagle mine is certainly a landmark event. As Dorothy Kosich of Mineweb notes, many mines in the Upper Peninsula of Michigan were closed in the 1960s, meaning that Eagle signifies an important return to mining for the state. In a research note from Haywood Securities, Kerry Smith similarly notes that the area has a long history of mining with excellent road, rail and port infrastructure.
Set to overshoot guidance
Smith suggests that based on year-to-date production so far at Eagle, the mine will be well above its production guidance for nickel concentrate for 2014, currently set between 2,000 and 3,000 tonnes. The analyst predicts that the mine will "deliver good cash flow in 2015 given the low cash costs." Furthermore, given spot prices of US$7.50 per pound for nickel and US$3 per pound for copper, he estimates that the Eagle mine will generate a US$200-million margin in 2015, or about 30 percent of Lundin's total margin for the year.
Smith is positive on the future of the Eagle mine, and based on how quickly the operation has been able to approach design throughput and recovery rates, he said, "progress has been very quick, and it would appear this operation will likely exceed design targets for nickel recovery and mill throughput over time."
Similarly, David Charles states in a research note from Dundee Capital Markets that the mill at Eagle "is already operating at 93% capacity with nickel recoveries of 85%." That's just slightly above the design rate of 83 percent for the operation. Like Smith, Charles sees the Eagle mine as a high-grade, low-cost operation that will contribute significantly to Lundin's cash flow.
Overall, Smith rates Lundin a "buy" and has given it a target price of $7.75. Charles has also given the company a "buy" rating, with an even higher target price of C$8.50. Certainly, base metals investors will want to keep an eye on Lundin and the Eagle mine as operations continue.
At close of day on Tuesday, shares of Lundin were up 1.74 percent, or 10 cents, trading at $5.84. The company's stock has gained 13 percent over the past month, and is up almost 27 percent year-to-date.
Securities Disclosure: I, Teresa Matich, hold no direct investment interest in any company mentioned in this article.