Inside the Booms and Busts of the Australian Nickel Business
The land down under is known for its dominance of the iron ore market, but its nickel mining history is also long and colorful.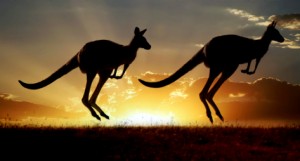 Australia is perhaps best known as the world's leading producer of iron ore, thanks to the Pilbara region, which hosts vast deposits of the metal. However, the country is also an important source of nickel.

Mines in Australia cranked out 230,000 metric tons (MT) of nickel in 2012, up from 2011's total of 215,000 MT, according to data from the US Geological Survey. The country's output was good enough to make it the fourth-largest producer.
The Australian Atlas of Minerals Resources, Mines & Processing Centres pegged the country's economic demonstrated reserves at 20.4 million MT as of the end of 2011. That was down 13.8 percent from 2010 due to miners updating their resources. But that's still enough to keep the country's mines going for about 95 years, based on 2011 production rates.
Moreover, spending on nickel exploration in Australia rose 11.2 percent in 2011, to $262.1 million. Almost all these funds are being spent in Western Australia, which accounts for 90.7 percent of the country's reserves and is home to all of its nickel production.
The Poseidon nickel boom
Nickel mining took a long time to get going in Australia, but when it did, it did so in a spectacular fashion, fueling a frenzy that Business Insider recently included on its list of the 10 most ridiculous price bubbles in history.
In December 1965, Western Mining Corporation (WMC), acting on information from two local prospectors, commenced diamond drilling in the Kambalda region and intersected 2.75 meters grading 8.3-percent nickel. WMC announced the find on April 4, 1966, and other discoveries soon followed. The most memorable find was made by Ken Shirley, a prospector with Poseidon, who discovered nickel deposits at Mount Windarra and staked around 40 claims in the area.
The timing was fortuitous: the Vietnam War was pushing up nickel demand, while a strike at Inco's mines in Canada was crippling supply. The result was a sharp rise in nickel prices. Speculators put two and two together and sent Poseidon's stock on an incredible ride, from $1.85 in September 1969 to a peak of $280 in February 1970.
That fueled a bubble in shares of Australian junior miners that went well beyond nickel. "Any penny stock, it was believed, could make you rich overnight," mining journalist Trevor Sykes told ABC's Radio National in 2007. "And so Poseidon, when it roared off for the wild blue yonder, dragged a whole ragtag and bobtail of other penny stocks along with them. All sorts of things became believable. To give you an example: there was a little stock called Pursuit Oil down in Victoria, which in one trading session ran from 4 cents to 12 cents. And I was spending most of the day as a reporter at the Melbourne Sun trying to find out why."
However, grades at the mine ended up being about half of the 3.6 percent originally reported. That, combined with higher-than-expected costs and a fall in nickel prices, forced Poseidon into receivership in 1975. Mount Windarra, however, carried on. WMC acquired it in 1974 and operated it until 1991, when low nickel prices forced the company to shut the project down.
All was quiet at the site until 2006, when it was acquired by Niagara Mining, which was later renamed Poseidon Nickel (ASX:POS) in honor of the original discoverers. It is now conducting underground drilling at the site and has defined a JORC-compliant resource of 3.95 million MT grading 1.73-percent nickel, for a total of 68,300 MT of contained nickel metal, according to the company's website.
Another example of an Australian junior that has attracted investor attention is Rox Resources (ASX:RXL), which continues to report positive results from its Camelwood nickel sulfide prospect at its Fisher East project in Western Australia. The company's latest assay results, which it released on March 21, include 16.3 meters grading 1.8-percent nickel, including 6.3 meters grading 2.5-percent nickel and 0.47 meters grading 5.4 percent.
5 nickel miners currently active in Australia
Today, Australian nickel is being produced by some of the world's largest mining firms. Here's a look at some of their operations in the country.
BHP Billiton (NYSE:BHP,ASX:BHP,LSE:BLT) owns Nickel West in Western Australia, which includes: the Mount Keith open-pit mine and concentrator; Leinster (which consists of two underground mines and a concentrator); the Kalgoorlie nickel concentrator and smelter; and the Kwinana facility, which produces nickel briquettes, nickel powder and related products. The company received these assets, which have struggled due to weak nickel prices, when it acquired WMC in 2005. However, BHP recently said that it has made a significant new nickel find near its Perseverance mine in Leinster. The company hasn't divulged further details except to say the find has the potential to "reshape the profitability and direction of the Nickel West business," according to a February 26 article in The Australian. This statement has added to speculation that BHP may spin off Nickel West.
Glencore International (LSE:GLEN) owns the Murrin Murrin mining and refining project in Western Australia through a subsidiary. The mine has a production capacity of 40,000 MT of nickel and 3,000 MT of cobalt.
First Quantum Minerals (TSX:FM,LSE:FQM) owns the Ravensthorpe open-pit mine in Western Australia, 550 kilometers southeast of Perth. Ravensthorpe produced 5,666 MT of nickel in 2011 and has an estimated mine life of over 30 years.
Xstrata (LSE:XTA) owns the Sinclair nickel operation in Western Australia, which consists of an underground mine and a concentrator. In 2011, Sinclair produced 6,000 MT of nickel in concentrate. The company also owns the Cosmos mine in Western Australia, which was put on care and maintenance in September 2012 due to weak nickel prices.
Norilsk Nickel (MCX:GMKN) received four nickel mines as part of its acquisition of LionOre Mining International in 2007. It placed all these operations on care and maintenance in 2008 and 2009 due to low nickel prices. It recently restarted the Lake Johnston mine, about 540 kilometers from Perth, and is now planning to sell the project, which produced 9,000 MT of nickel in 2012. If it's unable to find a buyer, Norilsk plans to close the facility on April 22, 2013, according to a Metal Mining Wire article.
Western Areas (ASX:WSA,TSX:WSA) is the largest nickel miner in Australia with production built around two high-grade underground nickel mines: Flying Fox and Spotted Quoll in Western Australia. The mines have total resources of 459,676 MT nickel, including probable reserves of 229,135 MT. Last year, Western Areas, headquartered in Perth, mined 14,461 MT of nickel graded at 5 percent and sold 13,752 MT of nickel concentrate.
3 junior nickel miners operating in Australia
In addition to the major miners mentioned above, many junior miners are also interested in Australia's nickel. Here are three such juniors.
Heron Resources (ASX:HRR) wholly owns and manages the Kalgoorlie nickel project, a world-class mineral resource with 727 million MT at 0.72-percent nickel and 0.044-percent cobalt. The project boasts favorable infrastructure, low sovereign risk and has the support of the government, environmental agencies and the community, which together have prompted Heron to begin metallurgical testwork.
IMX Resources (ASX:IXR) is exploring for nickel, copper and platinum group elements in Tasmania's Rocky Cape region as part of a joint venture with Barrett Exploration. It has received encouraging results from a geochemical sampling program and conducted systematic MMI sampling in December 2011.
Metallica Minerals' (ASX:MLM) flagship SCONI project, based in North Queensland, is made up of three main deposits — Greenvale, Lucknow and Kokomo — that are rich in nickel and cobalt as well as scandium. The company is currently undertaking a two-stage development approach to the project.
Securities Disclosure: I, Chad Fraser, hold no positions in any of the companies mentioned in this article.
Related reading:
JORC vs. NI 43-101: How Much Should Resource Rules Project Investors?