5 Top Nickel News Stories of 2017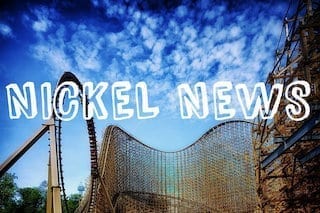 Nickel had an interesting year, with prices fluctuating on the back of developments in Asia. Check out our top nickel news stories of 2017.
If you invested in nickel this year, it may have felt a bit like a roller coaster.
Whether you were strapped in or watching the nickel price from the sidelines, the commodity's fluctuations had investors going back and forth throughout 2017.
Much of nickel's price volatility in the first half of the year was caused by geopolitical issues in Asia. Then, in Q3, prices were influenced by major miners' electric vehicle plans. Unsurprisingly, investors jumped on board in kind.
With all of those factors in play, what were the most popular nickel news stories of 2017? Read on to find out which articles grabbed the attention of our investor audience this year.
Our most-read nickel news story covers why Sumitomo Metal Mining (TSE:5713) walked away from a nickel exploration project in the Solomon Islands. The company was in a longstanding legal dispute with Axiom Mining (ASX:AVQ), and when it ended with neither party being granted rights to the asset, Sumitomo decided to step away from the project entirely.
How was Sumitomo's share price affected? What's next for Sumitomo? Read the article to find out.
As electric vehicle (EV) demand rises, many metal miners are trying to find their spot in the space. Nickel is one of the metals used in the lithium-ion batteries that power EVs, and in Q3 nickel companies began positioning themselves to benefit from expected demand increases.
Currently only 10 percent of nickel produced goes towards the battery market, but hopes are high that the percentage will grow. Which mining companies are diving in with both feet? Learn the answer in the story.
The Philippines is the world's largest producer of nickel. However, early in 2017 new mining policies in the country left investors wondering whether it could fall from dominance. This article covers developments in the sector up until the beginning of May, when Regina Lopez, acting Department of Environment and Natural Resources secretary, was ousted from her position.
Next in nickel news, a low point in June had investors concerned about a recovery. Goldman Sachs (NYSE:GS) even put out a revised price forecast for nickel, reducing its outlook to $9,000 per tonne; it predicted a surplus of 37,000 tonnes of nickel for the year as well.
There was also much speculation at the time about whether Lopez's environmental initiatives in the Philippines would be held in place or retracted, with some investors concerned that nickel supply would increase if mines started back up. Read the story to learn more about the situation.
Last on our nickel news list is a story from the beginning of the year. Back in February, prices jumped after Lopez initially closed mines in the Philippines. A total of 23 were ordered to close, affecting approximately 50 percent of the national nickel supply and 10 percent across the world.
What was the cause of the closures? These shutdowns were ordered following an environmental audit of the mining sector. Lopez claimed that she was putting lives first. Continue reading to find out the rest of the details of this condemning audit.
What were your top nickel news stories this year? Did you follow the nickel price? Let us know in the comments section.

Don't forget to follow us @INN_Resource for real-time news updates!

Securities Disclosure: I, Amanda Kay, hold no direct investment interest in any company mentioned in this article.