Analysts Set Lower Predictions for Iron's Future, Baosteel Faces Challenges with Aquila
Analysts have been taking a hard look at the future of iron ore prices this week. However, while their conclusions are similar, the sentiment behind them is not.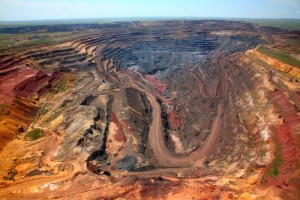 Analysts have been taking a hard look at the future of iron ore prices this week. But while their conclusions are similar, the sentiment behind them is not.
Case in point: on Tuesday, Business Standard reported on research from Citigroup (NYSE:C) that suggests the base metal will find support at $90 and possibly rise over $100 again this year. Similarly, Bloomberg said today that Morgan Stanley (NYSE:MS) has downgraded its forecast for iron ore prices to a $105 average for the year. However, that new outlook is a fair drop from the bank's May price forecast of $118.
The news outlet notes that UBS (NYSE:UBS) predicts an average price of $111, while Goldman Sachs Group (NYSE:GS) estimates a price average of $109.
Iron ore futures for July delivery on the Singapore Exchange dropped by 1.3 percent, to $91.51, during trading hours today, according to Bloomberg.
The future of the surplus
As Business Standard states, lower prices for iron ore have largely been driven by an influx of seaborne supplies this year, and Citigroup stated that prices would average at $90 in 2015 and $80 the year after as the surplus is set to continue. Still, analyst analyst Ivan Szpakowski told the outlet that he expected production to level off soon for this year at least. "This surge in supply is peaking in the second quarter and the second half of the year should see a leveling off … [p]rices sustained at $90 would lead to significant production curtailments, "the analyst said.
Reuters reported that iron ore prices in China were falling as well due to weakened demand from China's steel industry, further exacerbating the surplus. However, even though prices continue to fall, steelmakers under pressure in China have been selling stockpiles to gain cash. Slower demand from the property sector in China has decreased demand for steel, according to Reuters. "Prices of port inventories have kept falling and some traders have had to sell cargoes at a loss to obtain cash, putting pressure on the market," a Beijing iron ore trader told the publication.
Still, Reuters also notes that low prices have caused smaller domestic iron ore operations to close, helping to support prices.
Credit Suisse Group AG analyst Andrew Shaw told Bloomberg, "[y]ou've clearly got surpluses, there's no doubt about that. The mechanisms in which supply gets adjusted are not necessarily very rapid. The price will have to undershoot."
Baosteel and Aquila Resources battle
Despite the tempered outlook for iron, two companies appear to be competing for a share of Australian developer Aquila Resources (TSX:AQA). According to Bloomberg Businessweek, China's Baosteel offered to buy Aquila for $1.3 billion in a move that would secure a 50 percent stake in Australia's West Pilbara iron ore mine for Baosteel. However, Mineral Resources (ASX:MIN) announced that it had also acquired a 12.78 percent stake in Aquila, stating that it "intends to engage with stakeholders in the West Pilbara Iron Ore Project to discuss a proposal to deliver the project on attractive terms."
The company is already working on a development plan for West Pilbara, according to Reuters. "MRL (Mineral Resources) … now intends to fully engage in collaborative discussions to ensure the Project is brought into production as soon as possible," a company statement read.
Development at West Pilbara has so far been delayed over costs, and Reuters wrote that Baosteel wanted to take over in order to jumpstart operations. Aurizon Holdings (ASX:AZJ) who put the bid forward with Baosteel, wants the rail and port infrastructure associated with the project.
Michael McCarthy, a chief strategist at CMC Markets in Sydney, commented on Mineral Resources's interest in Aquila, noting that Mineral Resources is valued at A$1.9. "This looks like a strategic shift in thinking if they are looking to take a tilt at Aquila," the analyst told Businessweek. "The possibility they're seeking a seat at the table or some bargaining leverage is just as plausible as a takeover offer." In any case, it is certainly interesting to see companies vying for an iron project in light of wider talk of a market surplus.
Company news
Today, Solid Resources (TSXV:SRW) announced that the company is changing its name to Iberian Minerals. The change is taking place in order to reflect the company's focus in Spain, and shares will commence trading under a new ticker symbol on the TSX Venture Exchange this Friday.
On Wednesday, Alderon Iron Ore (TSX:ADV,NYSE MKT:AXX) announced that its affiliate, The Kami Mine Limited Partnership, has entered into a life cycle services agreement with Metso Minerals Canada. Metso will provide planning, supervision, labour, and hand tools as well as mechanical maintenance in the processing area of the project. Alderon CEO, Tayfun Eldem, said, "[w]e have chosen Metso to improve overall equipment reliability, to enable a rapid ramp-up to nameplate capacity and to secure the aggressive maintenance cost targets from our feasibility study."
Champion Iron Mines (ASX:CIA,TSX:CIA) had positive news last week as it reported the Ministère des Finances Québec's commitment of up to $20 million towards funding a feasibility study for transportation infrastructure in the Labrador Trough. The study will help potential users in the area to access global markets. Champion's CEO Thomas Larsen stated that the development would help provide "a potentially clearer path towards the eventual delivery of product to the port of Sept- Îles."
On the down side, BHP Billiton (NYSE:BHP) said last week that it is planning to cut roughly 100 jobs at its iron ore offices in Perth. The layoffs come as part of larger cost-cutting measures within the company, Australian Mining reported.
Securities Disclosure: I, Teresa Matich, hold no investment interest in any companies mentioned.