Greenback's Slide Sets the Stage for Copper's Recovery
Copper rebounded Tuesday from a five-month low, supported by a weaker greenback and bargain hunting.
By Leia Michele Toovey- Exclusive to Copper Investing News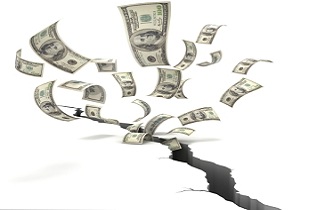 Copper rebounded Tuesday from a five-month low, supported by a weaker greenback and bargain hunting. In last week's commodities sell-off, copper lost 4.9 percent of its value. Tuesday, copper futures rose above the psychological important level of $4.00 per pound- copper for delivery in July rose 4.1 cents, or 1 percent, to $4.0165 a pound at 1:13 p.m. on the Comex. On May 6, the price touched $3.928, the lowest for a most-active contract Dec. 1. On the London Metal Exchange, copper for delivery in three months rose $60, or 0.7 percent, to $8,890 a metric tonne ($4.03 per pound).
On Tuesday, a weaker dollar encouraged holders of international currencies back into the copper market, the ICE US Dollar Index, which tracks the greenback versus a trade-weighted basket of foreign currencies, was recently down 0.1% at 74.580, however, a steep drop in Chinese copper imports kept gains in check. The Chinese Trade surplus for April was $11.42 billion, much larger than expected and may provide an indicator of strong Chinese demand during the rest of the year. Worries that the top-consumer had been curbing its purchase of the metal have been a major contributing factor to the recent sell-off.
A key development in China's copper market over the next will be how the tightening environmental regulations in China will affect copper demand. China will close down 291,000 tonnes of outdated copper smelting capacity this year as part of a wider crackdown on 18 heavy and polluting industries, according to the country's industry ministry. Beijing has put "industry restructuring" at the top of its list of priorities for the 2011-2015 period as it tries to curb pollution and energy waste, as well as encourage the development of new and high-tech sectors. The Ministry of Industry and Information Technology will also close 600,000 tonnes of outdated aluminum smelting capacity by the end of the year; it also aims to shut 26.27 million tonnes of obsolete steelmaking facilities, 26.53 million tonnes of iron smelting equipment, and 18.7 million tonnes of coking coal capacity by the end of the year.
Company news
Australian miner OZ Minerals (ASX:OZL) will take a $60 million hit to its net profit this year after agreeing to settle two class action suits brought against it on behalf of shareholders who alleged the copper miner breached its continuous disclosure obligations in 2008. After previously stating it would "vigorously defend" the cases, OZ Minerals said yesterday it would settle the claims launched by law firms Maurice Blackburn and Slater & Gordon to avoid the "distraction" of protracted court action. The settlement payment of $55.1 million, plus costs of $4.9 million, will be made out of OZ Minerals' current cash reserves and will therefore hit its net profit for 2011 by the full amount.
Thompson Creek Metals (NYSE:TC) has the capital expenditure budget for the Mt. Milligan copper-gold project to $1.27 billion from $915 million. The increase, said the company, is due to design improvement, increasing labour costs, the rising cost of steel, concrete and other materials, and changes in foreign exchange rates."Mt. Milligan is an important building block for our company, both in terms of growth and diversification," said chairman and CEO Kevin Loughrey. "We believe that, notwithstanding the capital increase, the economics for the project are still extremely attractive, and our liquidity and capital resources are sufficient to complete the construction of the Mt. Milligan mine. The mine, located 155 km northwest of Prince George, B.C. is scheduled to start production in late 2013 and produce approximately 81 million pounds of copper and 194,000 ounces of gold annually, according to Loughrey.
Vancouver-based Taseko Mines (TSX:TKO) it has boosted mineral reserves at its Gibraltar copper-molybdenum mine, located near Williams Lake in British Columbia, by 80% to 805 million tonnes. In an updated report, Taseko has added roughly 1.8 billion pounds of recoverable copper and 30 million pounds of molybdenum, following an earlier evaluation from 2008, which indicated total reserves of 445 million tonnes. According to the update, Gibraltar now has a total of 4.3 billion pounds of recoverable copper and nearly 60 million pounds of molybdenum reserves.