Infographic: The Role of Copper in Electric Vehicles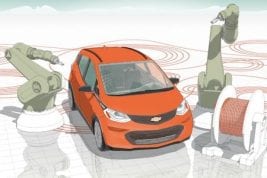 Electric vehicles are becoming increasingly common. This infographic outlines the role of copper in the ever-growing market for these vehicles.
As the world moves forward with implementing policies and solutions to increase the usage of clean technologies, electric vehicles (EVs) are taking center stage.
Alongside a growth in demand for the critical materials like cobalt, lithium, graphite and manganese that go into an EV's lithium-ion battery, the move to electric has also prompted a vast need for copper.
When compared to other metals, copper is a prime candidate for EV production due to its affordability, conductivity and recyclability. The red metal's ductile properties also make it easy to shape into a wire.
While fuel-based cars do require copper in their internal combustion engines, EV motors require at least 80 percent more copper than their counterparts, which sometimes means over a mile of copper wiring. Specifically, copper is used to develop the coil that converts electrical energy into mechanical energy. There is also wiring in the vehicle, made primarily of copper, that delivers electricity across the vehicle. Lastly, eight percent of the EV's battery pack, which contains a variety of materials, is made up of copper.
As the EV market for both personal and transit vehicles continues to grow, so too does demand for copper. Meanwhile, the world is facing supply constraints as most copper deposits are found underground and/or in high-risk jurisdictions, posing a potential supply gap in the near future.
The following Visual Capitalist infographic, sponsored by Canadian Platinum (TSXV:CPC), will help investors learn more about how copper is used in EVs:
Infographic courtesy of Visual Capitalist.