The Four Corners of Potash: Utah
A look at some mining projects in the state of Utah.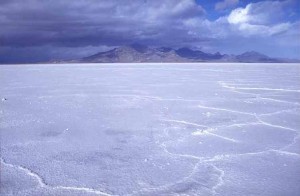 In the northwestern quadrant of the Four Corners district of the United States you will find Utah, a state with such a diverse landscape and natural features that it has become a highly sought after destination for outdoor enthusiasts. From mountain biking trails to world-renowned ski resorts, Utah has everything an adventure seeker could hope for. But Utah's natural resource wealth runs deeper than what's found on the surface. Mineral exploration in Utah is one of the major economic drivers in the western state. The region's mineral wealth includes copper, uranium, gold, oil, gas and of course, potash.
Utah is one of the few states that produce potash. For the most part, the method used in the area is solar evaporation, whereby ponds of brine are evaporated thanks to Utah's warm, dry climate. There are a few companies with active potash mines in the state, and even more companies exploring Utah's vast potash resources.
The big names
The most well-known potash producer in Utah is Intrepid Potash (NYSE:IPI) who has been operating the Moab mine near Moab, Utah since the company acquired the property in 2000. Historically, mining the Moab deposit's muriate of potash (MOP) mineral wealth has been achieved through both conventional underground and solution mining. However, since Moab has been in Intrepid's hands, the company has discovered untapped potash resources and drilled vertical wells and horizontal solution mining caverns in order to extract potash from the deposit. Intrepid's Moab mine has been in operation since 1965 and has roughly another 125 years of life left.
Apart from its potash production at Moab, Intrepid is also working on its Wendover operation located just over 100 miles west of Salt Lake City. Muriate of potash has been extracted from Wendover for well over 75 years, however, Intrepid only acquired the project in 2004. MOP is produced via solution mining coupled with solar evaporation. The project produces about 95,000 tons of potash annually and is looking at at least another 120 years of mining.
Beyond Intrepid, another household name when it comes to potash in Utah is Great Salt Lake Minerals Corporation, who has over 40 years of potash production on Utah's Great Salt Lake. The company is North America's largest sulfate of potash (SOP) producer with roughly 400,000 tons of SOP produced per year.
Potash exploration
Mesa Exploration (TSXV:MSA) is working on a portfolio of mineral projects in the western United States. Among those projects, the company has been focusing on developing the Bounty Potash project which it acquired in early 2012. Bounty is located to the west of Salt Lake City about 15 miles north of Intrepid's Wendover mine. So far, the geology of Bounty has proven to be similar to that of Wendover and the company is looking at a surface potash brine operation, when it finally goes into production.
As of yet, Mesa has not undertaken much work at Bounty. The project does have a history of exploration dating back to the 1960s when Quintana Petroleum drilled 35 auger holes in the property and defined 5.1 tons of MOP at an average grade of 6.8 grams per liter of potash. Mesa is currently in the process of obtaining permits for Bounty from the Bureau of Land Management. In July, the company provided a status update where it announced that the BLM has determined that the project is compatible with the regional Pony Express Resource Management Plan.
Aside from Bounty, Mesa Exploration also holds 116 square miles of exploration permit applications with the BLM for 3 projects on the eastern side of the state. Those projects are: White Cloud, Salt Was and Whipsaw. Of the three projects, White Cloud lies in close proximity to Intrepid's Cane Creek.
Potash Minerals (ASX:POK) is working on the development of the K2O Utah Hatch Point project in the Paradox Basin. Earlier this year the company announced that it had received exploration approval from the Bureau of Land Management –the first approval granted in Utah in over 25 years. With BLM approval, Potash Minerals was able to start exploration on the property and in May the company announced JORC-compliant mineral resources estimate for the Hatch Point project. The resource estimate returned 902 Mt at 20% KCl with a 15.9% KCl cut-off grade. the estimate also indicated high grade of sylvinite of 303Mt at 24.4% KCl and 104 Mt at 30% KCl. According to the company, the maiden resources at Hatch Point is one of the largest and best grades of potash in the United States.
In August, Potash Minerals announced a Shareholder Share Purchase Plan as well as a private placement in order to raise funds to fund the pre-feasibility study at Hatch Point.
EPM Mining Ventures Inc (TSXV:EPK) is working on an exploration-stage sulfate of potash project in Millard County, Utah. EPM is targeting sulfate of potash, a rare, naturally occurring brine deposit for which there are only three other producers worldwide. Through solar evaporation the company is expecting to be a low-cost SOP producer. EPM is working on its preliminary feasibility study before moving onto the definitive feasibility study.
Potash Ridge (OTCQX:POTRF,TSX:PRK) is also developing an SOP project and processing facility in Utah. Potash Ridge's Blawn Moutain project is closing in on its targeted production date of mid-2016, at which time the company expects a production rate of 680,000 tonnes of SOP per year. In October 2012, Potash Ridge completed a Preliminary Economic Assessment for Blawn Mountain which returned a capital cost of $1.075 billion, production cash cost of $101 per tonne and a net present value of $1,3 billion at a 10% after-tax discount. The project has an internal rate of return of 21.3% after tax.
In its latest release, the company announced that it has completed initiatives to optimize its preferred processing methods and worked with vendors to find the optimal operating parameters. With these results, the company will be working towards completing its preliminary feasibility study, which it expects in the coming weeks. Blawn Mountain holds an N1 43-101 compliant resource of Area 1 of the deposit of 162Mt combined measured (66%) and indicated (34%) resources carrying an average grade of 3.22 K2O as well as an Area 2 compliant resource of 464Mt combined measured and indicated resources carrying an average grade of 3.07 K2O.
More to come
These companies are merely a short sample of companies exploring the potash deposits in Utah. Stay tuned for more Four Corners of Potash.
Securities Disclosure: I, Vivien Diniz, hold no direct investment interest in any company mentioned in this article.
Related Reading:
Four Corners of Potash: New Mexico

Four Corners for Potash: Paradox Basin