Four Corners for Potash: Paradox Basin
In the United States there is a region called the Four Corners which encompasses the only four connecting corners of four states: southwestern Colorado, southeastern Utah, northeastern Arizona and northwestern New Mexico. One of the characteristics of these four states is the abundance of salt basins that are currently being explored for their potash potential. In a look at the Four Corners region, Potash Investing News has a look at the Paradox Basin in Utah and Colorado.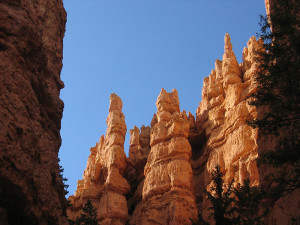 In the United States there is a region called the Four Corners that encompasses the only four connecting corners of four states: Southwestern Colorado, Southeastern Utah, Northeastern Arizona and Northwestern New Mexico. The region is part of a larger geographic region called the Colorado Plateau and is characterized by a predominantly rural, rugged and arid landscape. Another thing that these four states have in common is that they are home to multiple salt basins that have a history of being mined for oil and gas, but which are now being coveted for their potash reserves.
Spanning the northern aspects of the Four Corners region is the Paradox Basin, which extends through Southeastern Utah and Southwestern Colorado into small sections of the northern portions of Arizona and New Mexico. According to the Utah Geological Survey, the Paradox Basin's salt deposits occur at depths of over 5,000 feet, with as many as 29 salt cycles to be found in the formation. For the deeper instances of potash, companies are able to take advantage of the region's stable, dry climate and mine their deposits via solution mining, followed by solar evaporation, which cuts energy costs significantly.
The most well-known mine in the Paradox Basin is Cane Creek, and it is owned and operated by Intrepid Potash (NYSE:IPI). The Cane Creek mine is located about 20 miles west of Moab, Utah, and is the largest potash solution mine in the United States at one of the lowest costs due to the solution mining and solar evaporation processes it employs. Cane Creek produces roughly 60, 000 tons of potash per year and has been in production for nearly 50 years.
Paradox Basin exploration
Alongside Intrepid Potash, a number of exploration companies are canvasing the Paradox Basin for potash, including Potash Minerals (ASX:POK), Magna Resources (CNSX:MNA) and Sennen Potash (TSXV:SN).
Potash Minerals is working on the development of the Hatch Point potash project, a world-class potash deposit, as per the company's recently released JORC-complaint maiden resource. According to the resource, Hatch Point hosts 902 million tonnes of potash at 20-percent KCl with a 15.9-percent cut off. The estimate, which was been defined on less than 20 percent of the full property, also returned high-grade sylvinite of 303 MT at 24.4-percent KCl and 104 MT at 30-percent KCl.
"Delivering the 902 Mt Maiden JORC Mineral Resource estimate is an exciting development for the company and all shareholders" CEO Ben Binninger said in a statement, "[t]he fact that this has been defined on less than 20% of the Project area and only includes potash beds at least 2 meters thick and of greater than 15.9% KCl-equivalent composite grade points to the significant potential of the Hatch Point Potash Project and quality of the resource."
Magna Resources holds the Green River potash project in Utah and is targeting a 600 million to 1 billion tonne cycle 5 evaporite sequence with a grading of 19 to 29 percent estimated KCl. In early June, the US Bureau of Land Management completed the environmental assessment for Green River, which represents a significant step for the company in its application towards being granted Federal Prospecting Permits. Once approval is received, Magna will be moving forward with its exploration plan, which includes drilling four exploration holes on Federal Lands in addition to four proposed holes on State Leases. Magna hopes to completed a mineral resource estimate for the property in the near future.
In October 2012, Sennen Potash entered into a Letter of Intent (LOI) for the Monument potash solution mining project with a privately held, Toronto-based company called Paradox Basin Resources. Per the terms of the LOI, Sennen can earn a 51-percent interest in Monument through a US$50,000 contribution towards certain costs incurred in a prior transaction relating to Monument, as well as a US$4.1-million cash payment within 10 days of the transaction being approved by the TSX Venture. Sennen will also have to incur expenditures up to US$9 million over a period of up to two years; costs include a minimum of three drill holes and taking the project to the prefeasibility phase.
Potash Investing News recently spoke with Vice President of Operations Ryan Cohen about the factors that drew the company to Utah. "We must have looked at over 500 projects before we found Monument. We thought location-wise we wanted to be somewhere safe and stable. As much as we have worked in South American, Europe, Africa, Asia and Australia, we wanted to focus on North American, which takes away a lot of the risk." Cohen explained, "we thought, what do you need that is not going absolutely anywhere? Food. We looked at a number of potash projects and this one jumped out."
According to Cohen, the location of the property played a large role in the company's decision to set up shop in the Paradox Basin. "Utah has been rated as the top five US states consistently for the past 20 years. The Fraser Institute ranks it very highly and it is pro-business."
Using the information compiled by past oil and gas wells, Sennen has identified three wells that they are targeting in order to proceed with their maiden resource. "With the first three wells we are very confident we can get to a maiden resource. And we are targeting somewhere in the region of what Potash Minerals recently put out," Cohen said. Should everything go according to plan, drilling should begin at the end of the summer, with a maiden resource expected by the early 2014..
Familiar territory
Because Intrepid has been mining potash in the Paradox basin for such a long time, companies like Sennen can benefit from the skills and experience relating to potash that residents in Utah have when it comes to exploration and development of projects.
"Intrepid has basically front-run the whole thing. It has set up a regional "potash labor market."" Cohen, explained. "We can go to anybody within Moab or Monticello and they are familiar with potash, with infrastructure. They know power and storage, and there are guys who have worked underground when Cane Creek was underground. There are guys who have built evaporation ponds and processing plants. And they all live nearby. They also know the location and the climate, which is really important."
Local market to benefit
With its proximity to the U.S. bread belt, it will be interesting to see what the impact that exploration and development of potash assets in the Paradox Basin will have on the he local markets.
More to come
As mentioned above, the Four Corners encompasses four different states with various salt basins, stay tuned to Potash Investing News for more stories on American potash.
Securities Disclosure: I, Vivien Diniz, hold no direct investment interest in any company mentioned in this article.