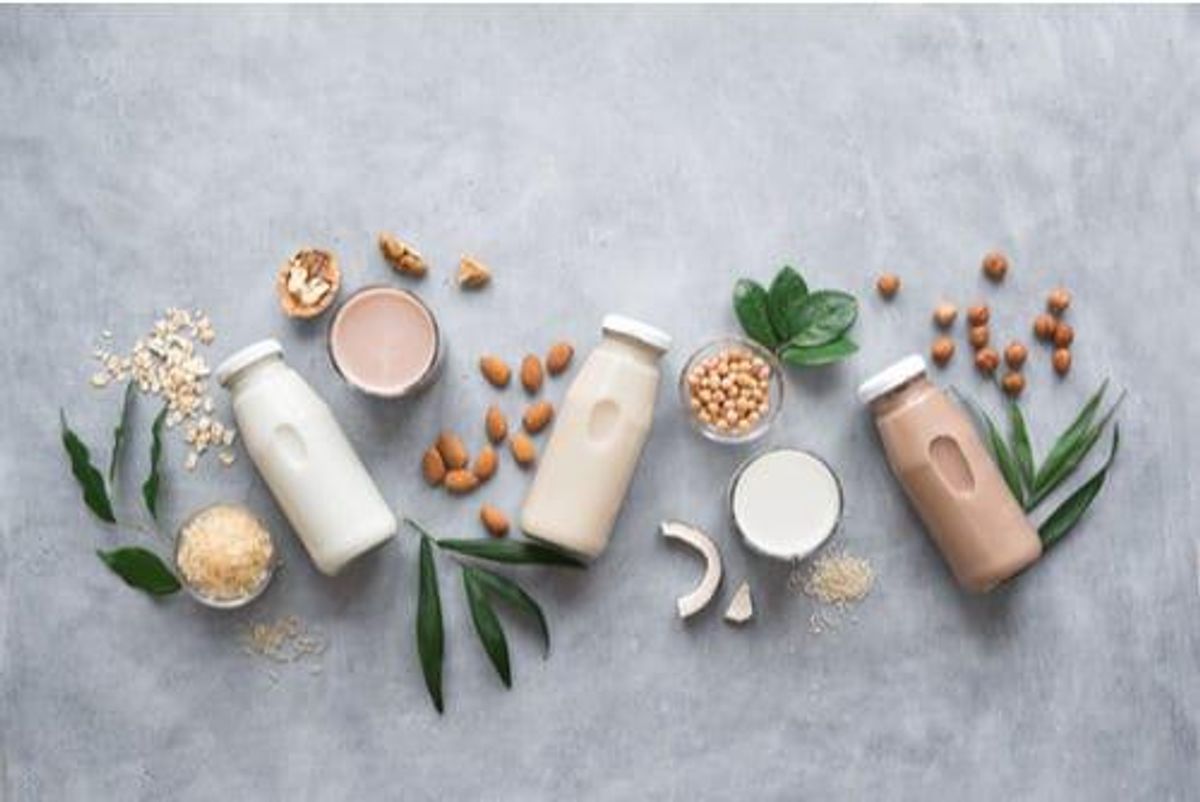 Concerns about health, ethical food production and climate change are growing. Here's how to invest in plant-based foods.
Growing consumer concerns about health, ethical food and climate change are creating opportunities to invest in the burgeoning plant-based foods market.
The global plant-based foods market is projected to expand at a compound annual growth rate of 12.4 percent between 2022 and 2029 to reach more than US$95.52 billion. This major expansion is being fueled in large part by increasing consumer demand for plant-based alternatives to meat and dairy. Calls from buyers for transparency and ethical practices across the food supply chain are also becoming louder and buoying interest in plant-based options.
Interestingly, rising demand for plant-based foods isn't a sign that a large percentage of the population is going vegan or vegetarian. Rather, it is indicative of a shift to what's being called a "flexitarian" diet in which consumers choose animal-based food products, but also opt for more plant-based alternatives. According to research firm Nielsen, 98 percent of consumers who purchase plant-based meat alternatives also buy animal meat.
---
This food trend is especially prominent among younger people who are keen on reducing the environmental impact of rearing livestock. For example, recent consumer surveys show that 65 percent of Generation Z members living in the US prefer a more "plant-forward" diet, while 79 percent are choosing meatless options at least once or twice per week. Additionally, 42 percent of US households purchase plant-based milk.
Similar trends in plant-based foods are prevalent among Canadian consumers as well, and restaurants in North America are increasing their plant-based menu offerings to include alternatives to meat and dairy.
The fact that plant-based products appeal to many non-vegetarians and non-vegans is a huge bonus for plant-based foods companies, as it creates a much larger market for their products.
Another big boon to the plant-based foods industry is increasing investor interest in the sector. In the US alone, alternative protein companies have attracted US$14.2 billion in private capital over the past decade.
According to research from the Good Food Institute, "The world's largest protein producers are also increasingly involved in the industry: of the 60 largest global meat, dairy, and seafood companies tracked in the The Coller FAIRR Protein Producer Index, half are investing in the alternative protein market as of 2022, more than double the amount in 2019."
Here the Investing News Network looks at how to invest in plant-based foods and ways to capitalize on this growing trend as more and more North Americans reduce their meat consumption.
How to invest in pure-play plant-based foods stocks?
As with any food industry segment, investors interested in the plant-based foods sector should look for quality publicly listed stocks that are led by strong management teams and have product portfolios that make them competitive in their given sector. In an emerging foods sector like the plant-based foods, the key ingredients for success are taste, price and convenience, and that recipe applies to both individual companies and the plant-based foods industry as a whole.
"As companies continue to develop new technologies, as well as scale and optimize production to improve the taste and affordability of products, sales will accelerate and spur additional investment—particularly when macroeconomic and market conditions normalize," Sharyn Murray, the Good Food Institute's investor engagement manager, said recently.
Some plant-based foods stocks garnering a lot of investor attention right now include Beyond Meat (NASDAQ:BYND), Oatly Group (NASDAQ:OTLY) and Ingredion (NYSE:INGR).
In 2019, Los Angeles-based Beyond Meat's initial public offering heralded the dawn of the plant-based foods era, encouraging investors to take a stake in the meatless market. The company makes plant-based meat substitutes, including burger patties comprised primarily of pea protein. In the US and Canada, Beyond Meat's products can be found in the meat sections of many grocery stores and on the menus of several restaurants.
Headquartered in Sweden, Oatly Group offers a range of plant-based alternatives to dairy products, including milks, ice cream, yogurt, cooking creams and spreads. The company has expanded its global footprint in recent years with the opening of production facilities in Singapore and China, and the launch of a plant-based milk alternative on trains in Germany.
In 2022, Oatly added electric trucks to its transportation network in North America. More recently, in early 2023, the company furthered its commitment to sustainability with the introduction of climate footprint labeling for select products in North America.
For its part, US-based multinational food manufacturer Ingredion provides plant-based ingredients to companies focused on manufacturing vegan products. Ingredion has earned a spot on Ethisphere's World's Most Ethical Companies list several times, most recently in 2023, and also made Fortune Magazine's World's Most Admired Companies list for the 13th consecutive year as of 2022.
Other plant-based foods stocks of various sizes and types include:
How to invest in plant-based foods through food and grocery giants?
The shift toward more meatless options has prompted food industry giants such as Kellogg Company (NYSE:K) and major grocery store chains like Kroger (NYSE:KR) to heavily expand their plant-based foods offerings.
Kellogg Company's food portfolio, which includes cereals, snacks and its meat alternatives brand, is 86 percent plant-based. The company's MorningStar Farms brand features a line called Incogmeato which offers all-vegan burgers, bratwurst and sausages.
Kroger offers dozens of plant-based products through its Simple Truth brand, including non-dairy cheese and sour cream, oat milk ice cream, a plant-based alternative to chicken, meatless burger patties and sausages. In a November 2022 report on plant-based foods migration, Kroger highlights data showing that between 2019 and 2021, 1.6 million consumer households migrated to plant-based foods.
In October 2022, American multinational Kraft Heinz (NASDAQ:KHC) took what it called "the first step in (its) plant-based meals journey" with the launch of two new meat alternative products (Meatless Burgers and Meatless Mince) in the Netherlands. In the UK, along with frozen bean burgers, the company offers a range of vegan mayonnaises and salad creams. In the US, Kraft Heinz has partnered with food tech startup NotCo to launch dairy-free cheese slices and mayonnaise.
Hormel Foods (NYSE:HRL) also has a plant-based product segment, and recently added the Happy Little Plants brand; it includes a pepperoni-style pizza topping. Finally, major global nutrition company Archer-Daniels-Midland (NYSE:ADM) recently started PlantPlus Foods, a joint venture with Marfrig, the world's largest beef patty producer.
How to invest in plant-based foods through venture capital trusts and investment funds?
For a more diversified route to gaining exposure to the plant-based foods market, investors may want to consider venture capital trusts (VCTs) and investment funds.
According to online trading company IG International, "One of the biggest benefits of investing in a VCT is that it can allow you to gain exposure to private companies that are not publicly listed. The fact they hold a variety of investments in multiple sectors also reduces risk."
However, investors should be aware that while a number of VCTs have taken positions in the plant-based foods market, many also hold investments in companies associated with meat production, which may not be palatable or desirable for vegan investors.
Those who want a fund with more of a plant-based focus can look to Eat & Beyond Global Holdings (CSE:EATS,OTC Pink:EATBF), the first investment issuer in Canada that is purely focused on the global plant-based foods market. Its equity stakes in this sector include Zoglo's Incredible Food (CSE:ZOG), Plant Fuel (CSE:FUEL) and private companies Above Food, Eat JUST, Nabati Foods, SingCell and TurtleTree.
"We created Eat Beyond to make it easy to invest in the future of food and provide retail investors with access to the very best companies in the sector," Eat & Beyond CEO Patrick Morris said. "The space has seen enormous interest from the market for brands such as Beyond Meat, but that was really just the tip of the iceberg. The diverse range of innovation taking place in this sector is staggering."
Other investment firms solely focused on the plant-based foods industry include Stray Dog Capital, Veg Capital, Blue Horizon and Natural Order Acquisition.
How to invest in plant-based foods ETFs?
Taking a position in an exchange-traded fund (ETF) is a great option for investors who don't want to go all in on one company, or aren't interested in picking specific stocks. ETFs provide broad-based exposure to a sector while mitigating the risks of holding shares in a single company.
A few vegan ETFs available include Beyond Investing's US Vegan Climate ETF (NYSE:VEGN), the VanEck Future of Food ETF (NYSE:YUMY) and the VegTech Plant-based Innovation & Climate ETF (NYSE:EATV). VEGN excludes holdings with animal cruelty or environmental harm concerns, but it's worth noting that the ETF's top 15 holdings are more representative of the technology sector than the food and beverage sector. YUMY's holdings consist of plant-based foods and agriscience stocks, while EATV's holdings are plant-based foods and tech stocks.
While not a pure vegan play, the First Trust NASDAQ Food & Beverage ETF (NASDAQ:FTXG) does carry some of the stocks mentioned above in its primary holdings, including Archer-Daniels-Midland, Ingredion, Hormel and Kellogg's.
This is an updated version of an article first published by the Investing News Network in 2021.
Don't forget to follow us @INN_LifeScience for real-time news updates!

Securities Disclosure: I, Melissa Pistilli, hold no direct investment interest in any company mentioned in this article.
Editorial Disclosure: Boosh Plant-Based Foods and Komo Plant-Based Foods are clients of the Investing News Network. This article is not paid-for content.
From Your Site Articles
Related Articles Around the Web
BYND
Investing News Network websites or approved third-party tools use cookies. Please refer to the cookie policy for collected data, privacy and GDPR compliance. By continuing to browse the site, you agree to our use of cookies.