Top 5 Life Science Companies That Just Announced Public Offerings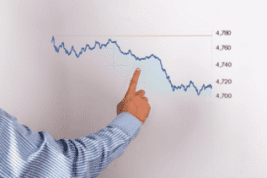 From developing new antibiotics to a gas-filled balloon system filling the stomach to prevent overeating, these life science companies are reinventing and challenging current health conditions to find more efficient treatments.
January is a big time for life science investing, as companies begin to review their 2017 and fourth quarter sales, and plan a 2018 outlook based on the two. In the past few weeks, many life science companies have been announcing new public offerings and here we're going to review the ones we're most excited about.
From developing new antibiotics to a gas-filled balloon system filling the stomach to prevent overeating, these life science companies are reinventing and challenging current health conditions to find more efficient treatments. Ideally, their strong ideas will reflect in their stocks benefitting investors, but with a market in constant change relying on important health clearances from regulators like the U.S. Food and Drug Administration (FDA), it's hard to anticipate which company will exceed—or fail—expectations.
These aren't the only companies which have recently listed public offerings, but they are the top five in our micro-cap range from $50 million to $500 million. They are listed from highest to lowest of their market caps as of Monday (January 29).

1. Paratek Pharmaceuticals (NASDAQ:PRTK)
Inspired by working past antibiotic resistance, Paratek is working on a pipeline with Allergan (NYSE:AGN) to develop two antibiotics in a new class. The antibiotics are versatile, treating multiple bacterial infections such as UTI's and acne, taken orally and through IV. They're hoping to change how treatments are administered in the hospital and community settings.
In the beginning of January, they announced an update to their pipeline, explaining they're on track to submitting a New Drug Application (NDA) to the FDA hoping for a Fast Track designation. They have already initiated sites for the first two Phase 2 studies for one of their treatments.
The company is top on our list from their market cap of $435.22 million and a share price of $15.58. They announced the pricing of the public offering of common stock on January 18.
2. Albireo (NASDAQ:ALBO)
Albireo has four treatments for a variety of diseases such as chronic constipation and rare liver diseases, in various stages. Last year in February, Albireo teamed up with EA Pharma, a company targeting Inflammatory Bowel Disease in Japan and submitted a Japanese New Drug Application—this is the furthest stage of any treatment Albireo on their pipeline.
The information to propose a public offering to their common stock came after they received more than $55 million in non dilutive cash payments.
With a market cap of $423.36 million, Albireo's share price is $38.95.

3. Stemline Therapeutics (NASDAQ:STML)
Working to develop more effective treatments than chemotherapy and radiation against Cancer Stem Cells, Stemline, is working on clinical trials for three targeted therapies against cancerous tumors. Trials for all drug candidates are ongoing, one treatment SL-401, is involved in five different trials—for different stages and types of diseases.
Stemline, said in their press release, they intend to use the net proceeds from this public offering for clinical, regulatory, manufacturing and commercial activities, if their drug SL-401 is approved.
Stemline has a market cap of $422.29 million, and a share price of $16.70.
4. Strongbridge Biopharma (NASDAQ:SBBP)
With more advanced clinical trials than the rest of the companies, Strongbridge has one product marketed, and another with FDA approval. The company focuses on treatments for rare diseases such as Cushing's syndrome, acromegaly, and Primary Periodic Paralysis.
On January 17, Strongbridge acquired US and Canadian rights for their product Macrilen and the next day received a new patent for covering their treatment Recorlev. The company, "intends to use the net proceeds from the offering for investment in commercial infrastructure for its two commercial products, Keveyis and Macrilen, continued development of its clinical-stage product candidates, Recorlev and veldoreotide," as quoted in their press release—they made the announcement for their public offering on January 24.
The company's market cap is $276.70 million with a share price of $6.95.
5. Obalon Therapeutics (NASDAQ:OBLN)
As the only medical device company on our list, Obalon products consist of swallowable balloon systems that fill the patients stomach to promote long term weight loss. It's emphasized patients need to seek professional nutrition and exercise support to promote the weight loss. The system is one of three FDA-approved gastric balloon systems to combat obesity, but according to a study in October 2017, obesity rates are still at an all-time high.
Obalon's market cap is at $75.87 million and their share price is $4.25. The announcement to price public offering of common stock was on January 19.
Don't forget to follow @INN_LifeScience for real-time updates!
Click here to check out our life science company news for more updates on public offerings.
Securities Disclosure: I, Gabrielle Lakusta, hold no direct investment interest in any company mentioned in this article.