Investing in Cancer Treatments: 5 Small-cap Companies Researching Drug Treatments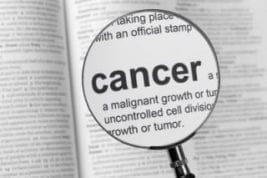 With more than a million people diagnosed with cancer each year in the US alone, researchers are hard pressed to find a cure. Here's a look at a handful of smaller-cap companies working on cancer treatments.
The American Cancer Society defines cancer as the "general name for a group of more than 100 diseases." But while there are many variations of cancer, they all start with the out-of-control growth of abnormal cells.
Cancer has no cure, so patients are subjected to treatment programs that include surgery, radiation therapy, chemotherapy and targeted therapy. For some patients, treatments are successful in keeping cancer at bay; however, oftentimes treatments are ineffective. With more than 1 million people diagnosed each year with cancer in the US alone, researchers are hard pressed to find a cure.
New research identifies gene targets
New research from Georgia State University and the Oklahoma College of Medicine shows that gene targets — also known as biomarkers — could enable alternative treatments for cancer, or the potential design of new drugs targeting metastasis-promoting tumor genes.
For the study, researchers looked at more than 100 clinical endometrial cancer specimens and matching serums. Through the use of multiple arrays and a variety of experimental approaches, the researchers were able to analyze the specimens for gene targets that positively or negatively correlate with the metastatic potential of tumors.

Cancer doesn't just develop in an organ as a whole. There is an initial site of occurrence, and from there the cancer moves to secondary tissue in a process called metastasis. Once the cancer has spread from the initial site of occurrence to the secondary site, the patient is more likely to have a poor or limited response to treatments, with death being the ultimate result.
According to Imoh Okon, assistant professor of researcher for the Center for Molecular and Translational Medicine at Georgia State, as well as the lead author on the study, the aim of the research "was to investigate/search for gene targets that provide meaningful information on the tendency of cancer cells to spread to secondary sites."
Okon also noted, "[i]n this study, we found that enhanced neuropilin-1 (NRP-1) and NEDD9 levels in endometrial and lung cancer positively correlated with metastasis, while liver kinase B1 (LKB1) inhibited the migration of cancer cells."
As mentioned, the study points to "strong translational potential with respect to biomarkers that play critical roles in the development of endometrial/lung tumors." Furthermore, with the ability to characterize and validate gene targets that are strongly associated or correlated with disease development or metastasis, Okon is confident that early detection is possible — that could result in appropriate treatments at an earlier stage.
Small-cap pharmaceutical companies working on cancer treatments
Of course, it's not just researchers out of universities that are working to find a cure for cancer. In fact, many companies, both large and small, are diligently working on new treatments. Here's a look at a handful of smaller-cap companies currently working on cancer treatments.
Transgene (EPA:TNG)
France-based gene therapy company Transgene is focused on discovering and developing targeted immunotherapies for the treatment of cancer and infectious diseases. Earlier in January, the company initiated a multinational, randomized Phase 3 open-label study for Pexa-Vec, an oncolytic immunotherapy for patients with advanced liver cancer (hepatocellular carcinoma or HCC). The trial is evaluating the use of Pexa-Vec to treat patients who are eligible for treatment with sorafenib (Nexavar®), currently the only approved drug for advance HCC.
"The initiation of the Phase 3 trial with Pexa-Vec in patients with advanced liver cancer is an important step forward in the development of this oncolytic immunotherapy," Transgene Chairman and CEO Philippe Archinard said in a statement recently. According to Archinard, "[t]he recent marketing approval of the first oncolytic immunotherapy has paved the way for this promising class of cancer treatments."
OncBioMune Pharmaceuticals (OTCQB:OBMP)
In the clinical stage, OncBioMune is working on developing what it calls novel cancer immunotherapy products, such as a proprietary vaccine technology; it is designed to stimulate patients' immune systems to attack cancer, all the while not causing patients harm. The company is expected to begin a Phase 2 clinical study in early 2016 with ProscaVax™, its leading product.

Provectus Biopharmaceuticals (NYSEMKT:PVCT)
Working on advanced therapies for three particular types of cancer — melanoma, liver and breast — Provectus Biopharmaceuticals is in the clinical trial stage with its PV-10 investigational drug. The drug is designed to be injected into solid tumors, with a focus on melanoma, breast and liver cancers.
In 2007, PV-10 received an orphan drug designation from the US Food and Drug Administration for the treatment of metastatic melanoma. Provectus embarked on its Phase 3 clinical trial with PV-10 in April 2015. To date, over 270 cancer patients have been treated with PV-10. Provectus is also working on an investigational drug for psoriasis and atopic dermatitis.
Also at the clinical trial stage is DelMar Pharmaceuticals, whose VAL-083 therapy is a "first-in-class" small-molecule chemotherapy geared at overcoming resistance to chemo in cancer patients. The company is moving ahead with additional research on VAL-083, a treatment originally developed by the US National Cancer Institute. The company is exploring the possibilities of using VAL-083 as a front-line treatment for non-small-cell lung cancer, ovarian cancer and pediatric brain tumors.
In April 2015, DelMar presented data that validates VAL-083's potential as a therapeutic option for patients who have failed or are unlikely to respond to standard treatments. Later in October, the company also produced positive pre-clinical data that shows VAL-083's potential to provide a new treatment option for patients with ovarian tumors.

OncoCyte (NYSEMKT:OCX)
While not focused on a treatment for cancer, OncoCyte is nevertheless involved in cancer research. The company has been working on the development and commercialization of non-invasive liquid biopsy diagnostics aimed at early detection of cancer. The liquid biopsy diagnostics will use blood or urine samples to detect whether or not a patient has cancer.

Securities Disclosure: I, Vivien Diniz, hold no investment interest in any of the companies mentioned in this article.
Editorial Disclosure: DelMar Pharmaceuticals is a client of the Investing News Network. This article is not paid-for content.