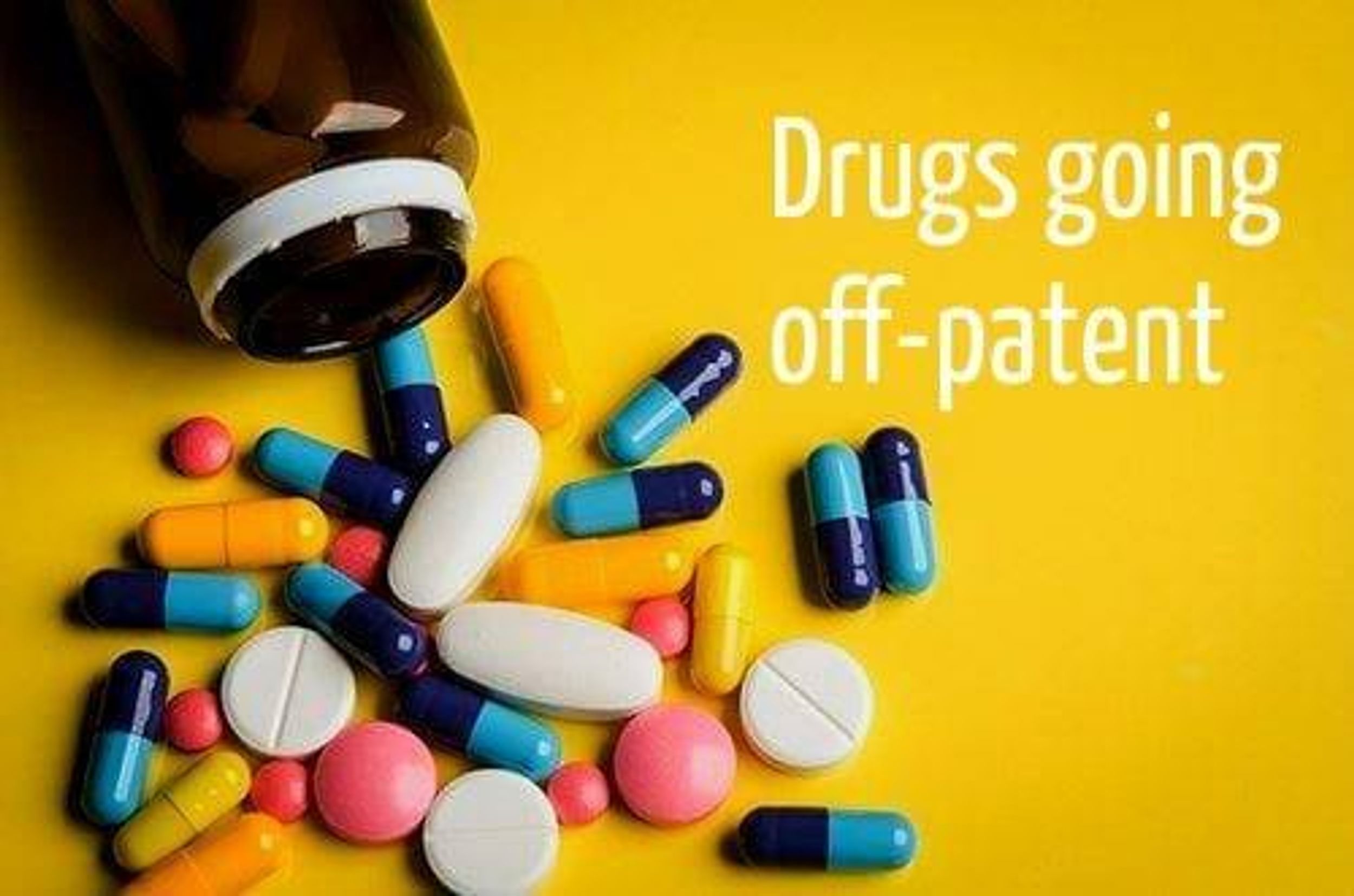 A look at 10 drugs going off patent in 2018, plus an overview of what loss of exclusivity means for the pharmaceutical market at large.
Losing patent protection means losing profits — more often than not, it's that simple. When generic competitors enter the market, sales from a blockbuster drug can decrease significantly.
When Pfizer's (NYSE:PFE) patent protection for Lipitor expired, for example, the company lost out on 90 percent of the drug's annual revenue.
Of course, companies know when their patents are set to expire. In fact, you'll often find them in court, fighting to block the arrival of generics and to prolong that golden period of exclusivity. But nothing lasts forever — and so many work to fill their pipeline with promising product candidates that they think can make up for declining profits from other drugs in their stable.
Investors should pay careful attention to patent expirations and closely examine company pipelines to see how well prepared pharmaceutical manufacturers are to withstand losses. With that in mind, here are a few of the key drugs going off patent in 2018, as per data assembled by FiercePharma.
Drugs going off patent: Rituxan and Xolair
Both Rituxan and Xolair are products from Roche (VTX:ROG), and both of these drugs' patents are scheduled to expire this year. Rituxan is a drug used to treat patients with blood cancers like lymphoma and leukemia, as well as rheumatoid arthritis.
Rituxan made $4.41 billion in the US in 2017, and competitors Pfizer, Amgen (NASDAQ:AMGN) and Mylan (NASDAQ:MYL) reportedly have biosimilars in their respective pipelines.
Xolair on the other hand is used to treat asthma brought on by allergic reactions, as well as chronic idiopathic urticaria. Xolair grossed $1.83 billion in the US last year. Unlike Rituxan, Xolair is jointly owned by Novartis (NYSE:NVS), and it doesn't have much immediate competition. In addition, Xolair's syringe formula patents don't expire until 2021 and 2024, so the drug company can soften the blow.
Roche will have to contend with more of its blockbusters expiring soon, as Herceptin and Avastin are due for expiration in 2019 and 2020.
With all of these patents expiring, Roche has been employing an effective counterattack against its competitors and their biosimilars. This involves exclusivity agreements in exchange for deep discounts. The strategy has been so effective that Pfizer took the company to court with allegations of anti-competition acts.
Drugs going off patent: Neulasta, Epogen/Procrit, Sensipar and Zytiga
Amgen owns a few drugs that are losing their patents this year, including Neulasta, Epogen, Sensipar and Zytiga. Neulasta made Amgen $3.93 billion in the US last year. It's used to increase white blood cell counts in patients after chemotherapy.
This drug has competition on the horizon, with Mylan, Sandoz, Coherus Biosciences (NASAQ:CHRS), Pfizer and others all working on biosimilars and copycat formulas.
Sensipar is a drug owned by Amgen that is used to reduce calcium. The company has taken the US Food and Drug Administration (FDA) to court over the drug and lost. Since then, the FDA has approved two copycat products from Aurobindo Pharma (BSE:524804) and Cipla (BSE:500087).
As a result "[a]nalysts, for their part, are calling for a Sensipar revenue drop off this year, with consensus estimates at $1.3 billion globally, down from $1.7 billion in 2017," according to FiercePharma.
Epogen/Procrit is jointly owned by Amgen and Johnson & Johnson (NYSE:JNJ). This drug treats patients with anemia and earned the two companies at total of $1.77 billion in the US market in 2017. Johnson & Johnson has prepared for the drug's potential loss in revenue, as reflected in its financial guidance for the year. A number of competitors are already on track to have their products ready sometime this year.
Then there's Zytiga, owned by Johnson & Johnson alone. This drug made $1.22 billion for the company last year, and is used to treat prostate cancer. Generics are expected by some analysts this year despite the patent's expiry in 2027 due to a inter partes review challenge that Johnson & Johnson lost against Argentum Pharmaceuticals.
Some say that this has created a path for generics to come into the market. Johnson & Johnson will no doubt be defending its patent and has said it will request a rehearing. Credit Suisse (NYSE:CS) analyst Vamil Divan claims that despite these setbacks, Zytiga's sales are not concentrated in the US, and therefore its international sales will help to insulate the drug's revenue. Divan predicts 2018 will bring $2.4 billion in global sales from Zytiga, but sees a large decline to $46 million by 2026.
Drugs going off patent: To conclude
Patent expirations aren't necessarily a reason for investors to up and run. Companies can withstand the profit losses that accompany the arrival of generic competitors as long as their pipelines are solid and management is strong. But if these preparations aren't in place, patent expirations can mean major losses — for companies and shareholders alike.
And as blockbuster drugs become increasingly rare, pharmaceutical companies will need to find other ways to sustain their competitive edge. For more on that, check out the industry's 2018 outlook.
This is an updated version of an article first published by the Investing News Network in 2017.
Don't forget to follow us @INN_LifeScience for real-time news updates!
Securities Disclosure: I, Amanda Kay, hold no direct investment interest in any company mentioned in this article.
Featured
Investing News Network websites or approved third-party tools use cookies. Please refer to the  cookie policy for collected data, privacy and GDPR compliance. By continuing to browse the site, you agree to our use of cookies.