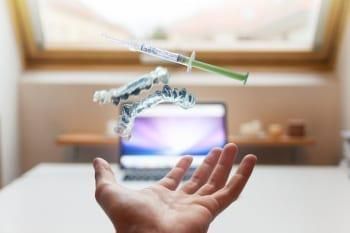 The body already has amazing regenerative abilities—can we not harness that power and, in turn, amplify it?
Every 10 minutes, a new name is added to a list of 120,000 Americans. You don't want to be one of them. These are people who are waiting for an organ transplant, their last remaining treatment option. And every day, 22 of them will die before that organ becomes available.
If we could grow our own organs, or assist the body in healing itself, those people would not pass away. The body already has amazing regenerative abilities—can we not harness that power and, in turn, amplify it?
This is the question behind regenerative medicine.

What is regenerative medicine?
Consider the liver. Large, reddish-brown and rubbery, this organ might look ordinary—but it has some extraordinary superpowers. It's the only large human organ that can heal itself.
We're not talking about minor injuries either. A person can lose 75 percent of their liver and it will still grow back and function normally. It's an incredible feat—and fairly unique. As mentioned above, other human organs are nowhere near as resilient … and that's where regenerative medicine comes in.
"You could say that medicine up until now has been all about replacements," Dr. Mahendra Rao, director of the Center for Regenerative Medicine at the National Institutes of Health, told Scientific American. "If your heart valve isn't working, you replace it with another heart valve, say from a pig."
Regenerative medicine also replaces damaged tissue—but the part is custom-made. "You're treating the cause and using your own cells to perform the replacement," explained Rao. "The hope is that by regenerating the tissue, you're causing the repairs to grow so that it's like normal."
Already on the shelves
Take one of Vericel's (NASDAQ:VCEL) lead products. The company developed a treatment for chronic knee pain that uses a patient's chondrocytes, or cartilage cells. Called 'Carticel,' the therapy involves culturing millions of these chondrocytes, then surgically implanting them in the knee. Carticel then generates repair tissue.
Or there's Apligraf, made by Organogenesis. This product uses living cells and their proteins to promote healing of venous leg and diabetic foot ulcers.
Sure, it's not quite as grand as growing a new heart—but these advancements are still major. "What they say is that the principle works—and because the principle works, then bigger things can be tackled," Rao told Scientific American.
The future of regenerative medicine
So what are those bigger things? Right now, there is major interest in mesenchymal stem cells. These can develop into the lymphatic or circulatory system's tissue, as well as bone or cartilage.
"They're found in sufficient amounts in the adult so that you can treat patients with their own cells—and avoid having to give powerful anti-rejection medication," Rao said. "Mesenchymal cells can be used, for example, to treat the heart, blood vessels and Crohn's disease."
Dr. Ross Macdonald, CEO of Cynata Therapeutics (ASX:CYP) told Life Science Investing News that there are currently over 600 clinical trials in progress that use these mesenchymal stem cells. As a result, he predicted that "there will be some extraordinary progress in the very near future."
Mesoblast (NASDAQ:MESO, ASX:MSB), for example, has a number of products in clinical trials. They're designed to treat a range of ailments, from chronic congestive heart failure to lower back pain. Cynata is initiating a phase I trial examining its product's safety and efficacy in treating graft-versus-host disease. These are just two examples of the work currently undertaken around mesenchymal stem cells.
But there are a few potential roadblocks. Macdonald noted that manufacturing remains a question going forward. "We expect the sector will focus more on ensuring the sustainable commercial viability of mesenchymal-based therapeutics," he said of the year ahead, "in particular the ability to manufacture product to allow reasonable margins."
Don't forget to follow us @INN_LifeScience for real-time news updates.
Securities Disclosure: I, Chelsea Pratt, hold no direct investment interest in any company mentioned in this article.