US Unconventional Lithium Play: Rapid Lithium Extraction Technology Unlocking Value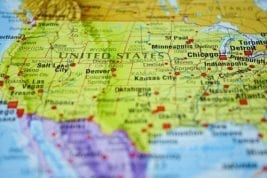 Advancements in lithium extraction technology are unlocking value in Arkansas' Smackover Formation, a US unconventional lithium play.
New developments in lithium extraction technology are making it possible for energy metal companies to leverage the geology and infrastructure in existing US brine production regions.
The mineral rich Arkansas Smackover Formation represents an opportunity to fast-track the commercial development of a strategic US-based source of lithium to supply domestic and global battery markets.
Battery grade lithium in hot demand
The number of electric vehicles (EVs) on the world's roads, according to Bloomberg NEF, is projected to soar from 1.1 million in 2017 to 30 million by 2030. While China is leading the way with a massive rollout of its EV industry, North America and Europe are working to catch up. Automakers from Volkswagen (FWB:VOW) to Mercedes Benz (ETR:DAI) have announced the launching of new EV models.
The surging global demand for EVs naturally translates into significant demand for lithium batteries, with Benchmark Mineral Intelligence now tracking 51 lithium battery megafactories. "Four years ago, we only had Tesla's (NASDAQ:TSLA) gigafactory. And now we are, as we keep saying, in the midst of the global battery arms race," the firm's Managing Director Simon Moores told the Investing News Network (INN).
And it's not just automobiles that are going electric. Governments all over the world are looking to dramatically decrease their reliance on fossil fuels as well as their carbon footprint by electrifying much of their transportation sector — including cargo and passenger ships, trucking fleets, and public bus systems. For example, Moores pointed to Los Angeles-based Thor Trucks, which is expecting to launch a 900-kilowatt-hour model. "That's absolutely massive. That's nearly double of what was expected to go in a truck [battery]," he said. Governments and utilities are also looking to advancements in large-scale electrical energy storage systems to help incorporate renewables into national power grid systems. All of these factors are positive for the medium and long-term outlook in the lithium space.
Where will the lithium supply come from to meet this future demand? Until recently, most of the world's lithium production was produced by a small group of companies: Sociedad Quimica y Minera de Chile (NYSE:SQM), Albermale (NYSE:ALB), followed by the Chinese lithium producers Sichuan Tianqi Lithium and Jiangxi Ganfeng Lithium.
China is beginning to take control of world's lithium supply.
China's lithium output makes up approximately six percent of global mine production, well behind exporters such as Australia (41 percent), Chile (34 percent) and Argentina (16 percent). The country has a large and growing devotion in converting mined lithium production into battery grade lithium materials for its significant domestic battery manufacturing sector. According to the US Geological Survey (USGS), China is expected to grow its lithium battery megafactory capacity by 51 percent between 2018 and 2020 — to reach 62 percent of global lithium battery production.
US-based EV battery manufacturers are beginning to look for new battery-grade lithium sources. US domestic lithium production is currently small at about two percent of global production and they import more than 80 percent of their annual lithium demand. The United States, however, has around 13 percent of the world's identified lithium resources, according to the USGS.
Under a recent executive order issued by President Trump, lithium is now considered a strategic material and the government is focused on securing stable domestic supplies of the energy metal. However, most of the nation's domestic sources of lithium are considered unconventional and require new technologies to access resources. With the help of advancements in extraction technologies, lithium rich brines from the industrial production of bromine and other unconventional deposits like clay and oil field brine across key US jurisdictions have the potential to become viable economic sources of battery-grade lithium for US based EV battery and energy technology companies.
Opportunities in unconventional lithium sources in US
Today's world lithium supply originates from two main resources: hard rock and brine deposits. Yet, the many unconventional lithium resources in the US may represent a third economic and strategic source for lithium
As a comparison we need look no farther than how the development and application of new extraction technologies for recovering oil from shale have transformed the outlook for US energy security which now rivals oil-producing centers from Riyadh to Caracas. It has also refuted the idea that US oil output peaked in 1970, and until 2009 appeared to be in inexorable long-term decline. Now it has been reborn.
Arkansas' Smackover Formation
South Arkansas' Smackover formation is one of the largest and the most promising of several unconventional resources in the United States with the potential for economically recovering lithium. The geology and chemistry of the Smackover formation is well-known with sampling data going back decades. Geologically speaking, the region is characterized by an extensive porous and permeable limestone aquifer that hosts large volumes of mineral-rich brines and hydrocarbons. This natural and well-defined porosity allows for the production and re-injection of large volumes of brine. The brine is known to contain significantly elevated levels of lithium, typically ranging from 150 to 500 mg/L.
One of North America's largest brine production and processing regions, according to Arkansas Oil and Gas Commission data, is Southern Arkansas. The region has an average annual production of 9.4 billion gallons of brine primarily for the production of bromine. Arkansas is the source of about a quarter of the world's supply. It's produced by two chemical companies, Albermarle and LANXESS (ETR:LXS), in and around the towns of Eldorado and Magnolia.
In addition to its large lithium resource potential, south Arkansas has a well-established permitting process for brine projects, extensive industry-related infrastructure including extraction, transport and reinjection systems, as well as utilities, rail and easy access to the Gulf of Mexico and a workforce skilled in brine handling and processing.
Lithium extraction technology
Today, advanced lithium extraction technology is making it possible to unlock the significant value from existing large-scale unconventional sources of lithium such as Arkansas' Smackover Formation, quickly and at low-cost.
Standard Lithium (TSXV:SLL,OTCQX:STLHF) has partnered with global specialty chemical company LANXESS on a 150,000-acre project in the Smackover region to prove the commercial viability of producing battery-grade lithium from the brine stream by-product of LANXESS' three existing bromine production facilities. On average, LANXESS processes about 126 million barrels of brine each year. Adjacent to the project, Standard Lithium holds an option agreement with TETRA Technologies (NYSE:TTI) on 30,000 acres of additional brine leases, including hundreds of historical oil and gas exploration and production wells. A sampling program conducted in Q3 2018 yielded lithium grades ranging from 347 to 461 mg/L.
Together with its technology partners, Standard Lithium has developed a rapid lithium extraction process for selectively recovering lithium from brine that eliminates the need for evaporation ponds and significantly reduces the average production time typical for conventional lithium from brine projects (several months to years) to a matter of hours.
"We have developed a scalable extraction process that has been tailored to the region's brine chemistry and temperature, as well we have access to water, relatively inexpensive power and low-cost chemical reagents," said Mintak. "We believe this makes Standard's opportunity in Southern Arkansas the perfect location for a modern lithium brine processing operation."
Mounted in stirred-tank reactors, the technology involves the use of solid ceramic absorbent material with a crystal lattice capable of selectively pulling lithium ions from brine and then releasing those ions for recovery. Because the brine leaves the bromine extraction process heated to approximately 70°C, minimal additional energy is required for the lithium extraction process, dramatically reducing the production time and costs associated with producing high-purity lithium carbonate solution from traditional evaporation pools. Completion of a full-scale pilot plant based on this proprietary lithium extraction technology along with lithium carbonate crystallization capabilities is expected in the first half of 2019.
Takeaway
Advancements in lithium extraction technologies have the potential to make unconventional brine resources in the United States an important source of lithium for global battery markets. This emerging industry offers investors another early-stage entry point into the growing global demand for EVs and energy storage technology.
This article was written according to INN editorial standards to educate investors.