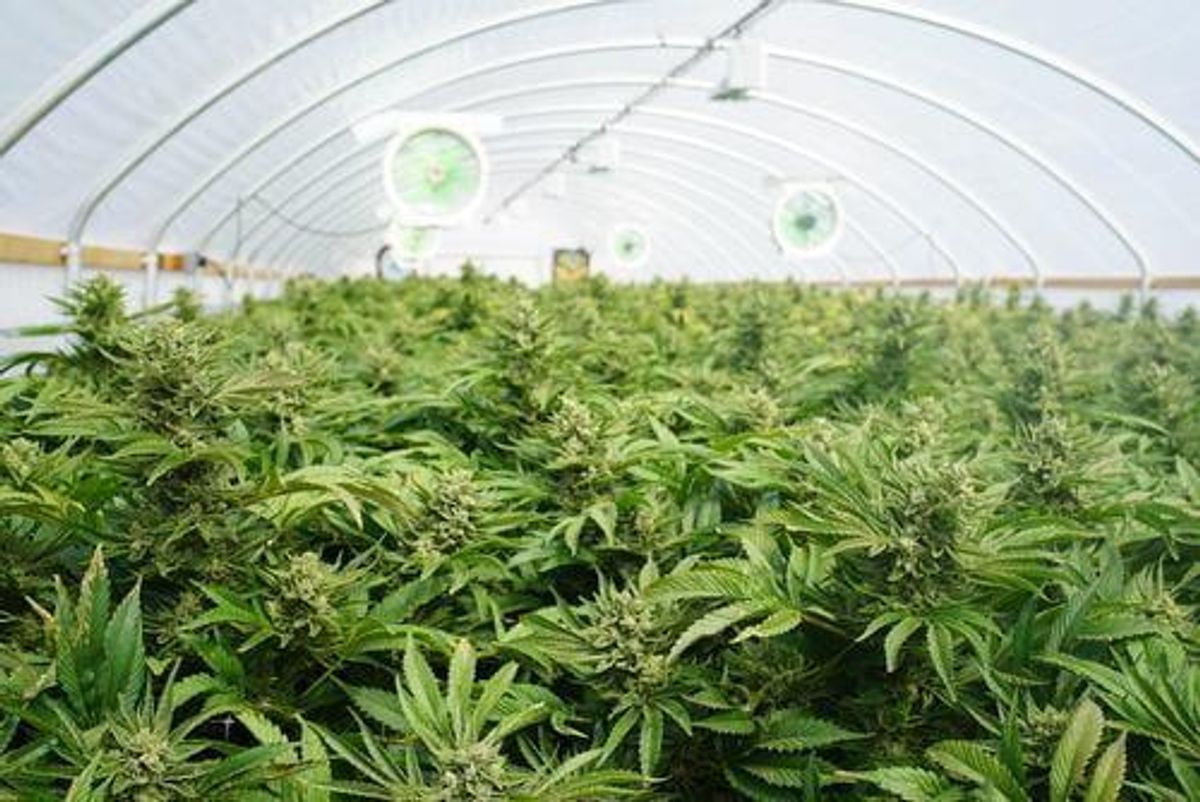 To compete with the black market, legal cannabis needs more affordable prices, and that requires low-cost cannabis production.
Legal cannabis cultivators must be able to offer an affordable product in order to stamp out black market production.
On October 17, 2018, Canada became only the second country to legalize recreational-use cannabis. A year into Canada's full legalization of cannabis, there are significant signs that legal cannabis sales have fallen short of expectations. For example, the government's legalization strategy has failed to curb the black market that has operated in the country for decades.
Canada's legal cannabis industry has proven successful in developing safer, better quality cannabis products than what the black market has to offer. However, when it comes to affordable cannabis prices, black market marijuana has legal cannabis beat. Statistics Canada recently reported that during the third quarter of 2019 the average cost of legal cannabis in the country came in at C$10.23 per gram compared to C$5.59 per gram for illegal weed.
For legal cannabis in Canada to compete with and ultimately stamp out the black market, those high prices will have to come down. "Police have also pointed to affordable pricing as an important tool to combat organized crime's involvement in the drug trade," reported the CBC. Joe Couto, a spokesperson for the Ontario Association of Chiefs of Police, told the CBC, "If we're going to eliminate cannabis as a potential source to fuel criminal activities … obviously ensuring the product is accessible and is priced right is really important."
Outside of pressuring federal and provincial governments to rethink high tax structures, many in the industry see low-cost cultivation methods that don't sacrifice quality as the best route to producing affordable cannabis that can undercut the black market.
Legal cannabis more costly than expected
Although the legal cannabis marketplace is new to Canadians, consuming pot is not. Canadian pot culture is just as entrenched as the black market that's served its members for years. Unlike what was expected, legalization has yet to create a massive wave of new cannabis users keen on trying out new a vice, nor has it led veteran marijuana enthusiasts to give up their tried and true black market source for a chic new dispensary. In October 2019, Craig Wiggins, managing director of independent cannabis research firm The Cannalysts, told BNN Bloomberg he estimates that black market sales account for an estimated 86 percent of total Canadian cannabis sales.
Canada's full legalization of cannabis in October 2018 was intended to give consumers access to safe and high-quality cannabis while bringing in tax revenue for the government. Building out a regulated legal cannabis industry was also supposed to bring an end to black market sales, of which one-third are tied to organized crime. However, the illicit marijuana trade is alive and well in Canada. "In the second quarter of 2019, Statistics Canada estimates Canadians spent C$918 million on illegal cannabis. That's compared to C$443 million for legal recreational cannabis during the same period, and C$150 million for medicinal products," reports the CBC.
Those in the industry believe the high price of legal cannabis has a lot to do with the reluctance of cannabis consumers to switch to legal brands. "If you're an experienced user, you probably have your suppliers already. It's probably hard to switch away from them because prices (in the black market) are 30 to 35 (percent) lower," said Het Shah, managing director of New Leaf Data Services, which owns Cannabis Benchmarks.
Why does the price of legal cannabis carry such a high premium and what can cannabis producers do about it? "There are a number of reasons why these products are noticeably more expensive than their black market counterparts. First, good quality product is lacking to the point that acceptable legal products are often at a higher price point given they are in demand. Secondly, Canada's cannabis regulations include high taxes on legal cannabis production, so higher prices need to be charged to offset the high costs of production and taxation," Mark Pellicane, CEO of Ontario-based CannabCo Pharmaceutical, told Investing News Network. "There's not much cannabis cultivators can do about the tax component. But there are a number of ways to improve operational efficiencies to control the cost of production and ultimately reduce prices at the point of sale. "
Michael Armstrong, a professor at the Brock University Goodman School of Business, told the CBC, "To compete with the black market in the longer term absolutely we need some of the products priced low." Much like Pellicane, Armstrong believes cutting production costs is the solution.
Legal cannabis at low cost
Canadian legal cannabis cultivators can produce more affordable cannabis by implementing efficient growing methods and investing in technologies that have proven successful for the low-cost production of other high-demand agricultural crops. All this can be done without sacrificing quality for quantity.
Oregon-based Grown Rogue International (CSE:GRIN,OTC Pink:GRUSF) provides a successful example of this strategy in action. Recreational use marijuana became legal in the state in 2015, making the Oregon market more mature than Canada's nascent legal landscape. However, the cannabis culture in the Pacific Northwest state is just as entrenched as Canada's, if not more so, and its black market has posed the same dilemma for legal cannabis operations. However, by utilizing more efficient cultivation methods, the company has been able to produce premium flower products at a lower cost of production, resulting in increased revenues.
In Canada, CannabCo intends to use the enhanced, commercially scalable technology known as PHOENIX along with controlled hydroponic facilities to produce affordable cannabis at under C$0.50 per gram without compromising quality. "Quality amounts to growing properly, and finishing properly. First, starting with great genetics goes a long way toward producing a quality product. It is possible to grow properly at a large-scale; however, many cultivators are still trying to get it right," said Pellicane. "So much capital has been deployed in a race to come to market at a large scale that the idea of coming to market properly with a quality product is often overlooked. Now quality has become a key issue in the retail environment, so much so that quantity has become secondary."
HEXO (TSX:HEXO,NYSE:HEXO), one of Canada's lowest-cost producers, recently announced that its efficient cultivation operations, reduced packaging and low-cost energy sources are expected to allow it to offer more affordable cannabis products that can compete with lower cost black market products without sacrificing quality. "This is high-quality cannabis flower, it has more THC than what's available on the black market," said HEXO founder and CEO Sebastien St. Louis. This low-cost product is a critical part of the company's strategy to secure at least a 20 percent market share.
Takeaway
Canada's legal cannabis market is still grappling with the challenges of directly competing with the black market. Cannabis companies that adopt low-cost production strategies are positioning themselves to offer consumers high-quality cannabis at affordable prices that have the potential to beat the black market.
---
This INNSpired article was written as part of an advertising campaign for a company that is no longer a client of INN. This INNSpired article provides information which was sourced by INN, written according to INN's editorial standards, in order to help investors learn more about the company. The company's campaign fees paid for INN to create and update this INNSpired article. INN does not provide investment advice and the information on this profile should not be considered a recommendation to buy or sell any security. INN does not endorse or recommend the business, products, services or securities of any company profiled. If your company would benefit from being associated with INN's trusted news and education for investors, please contact us.
Investing News Network websites or approved third-party tools use cookies. Please refer to the  cookie policy for collected data, privacy and GDPR compliance. By continuing to browse the site, you agree to our use of cookies.