Greenhouses and the Infrastructure for Cost-efficient Large-scale Cannabis Cultivation
Sep. 23, 2018 02:00PM PST
INNspired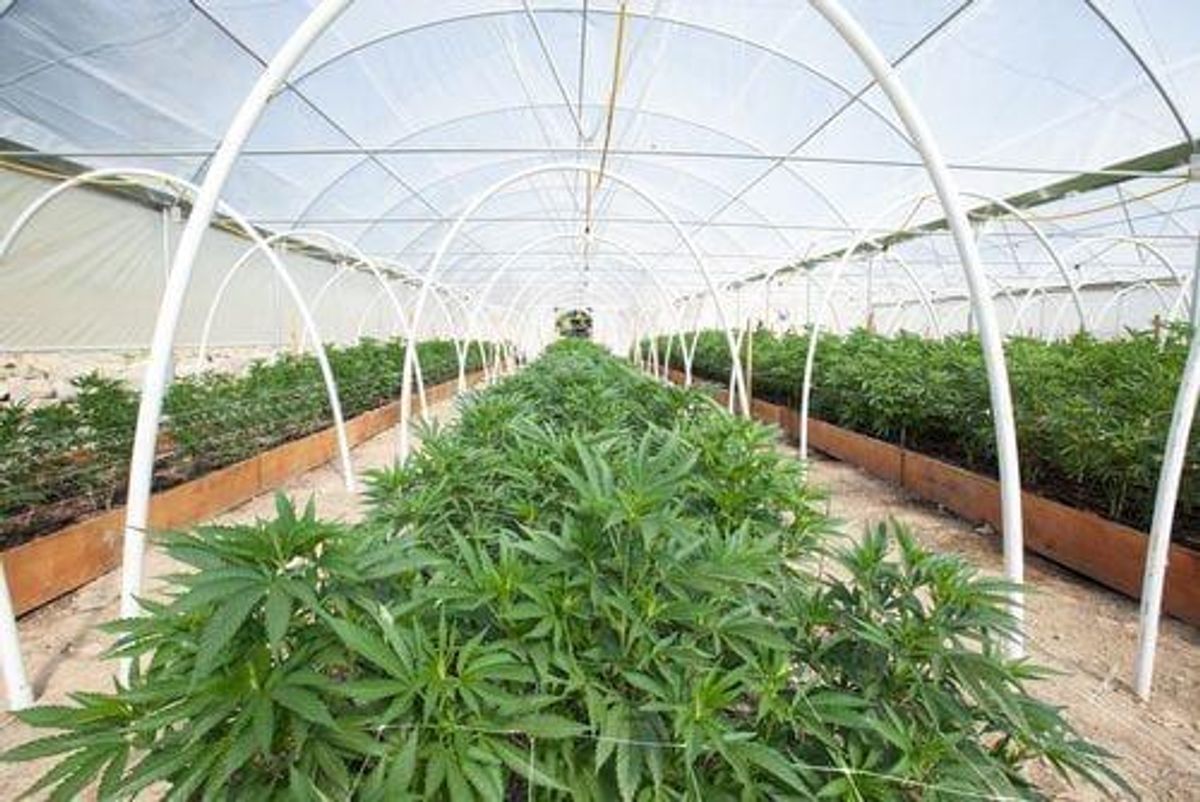 Retrofitting existing greenhouses provides the lowest-cost option for large-scale cannabis cultivation.
Much of the conversation around the growth of large-scale cannabis cultivation in North America has centered on the massive indoor operations built by the industry giants. However, we are now seeing cannabis companies across the region find that by building or retrofitting existing greenhouses they can achieve the same product quality at much cheaper costs.
In the pre-legalization past, cannabis greenhouses were a rare sight for the simple reason that indoor operations were more discrete at a time when the business was relegated to an underground market. This is why indoor cultivation is now commonly seen as the standard growing method, and part of why misconceptions about the greenhouse growing method are common.
Among the most prevalent of these misconceptions is the idea that greenhouse-grown cannabis is less consistent in quality. In reality, modern cannabis greenhouses offer much of the cost-efficiency of outdoor operations while still incorporating a large part of the environment control capabilities found in indoor growing facilities. This is especially the case when greenhouse grows are paired with cutting-edge cultivation infrastructure and the expertise of experienced growers.
Types of large-scale cannabis cultivation
Today, most industrial cannabis production falls into three categories: indoor, greenhouse and hybrid. Indoor growing operations are fully enclosed, warehouse-like buildings, relying entirely on artificial light and environment control. While it's true that indoor setups make for the easiest environmental control, that comes at a cost. The cost for the extensive amount of artificial light required in an indoor operation alone can be a massive expensive. For example, for a 3,600 square foot indoor grow in Colorado, where electricity costs about 10 cents per kilowatt hour, it would cost about $5,880 in electricity for lighting alone to raise 144 plants to the flowering stage.
Greenhouses provide a cost-efficient alternative to an indoor growing facility. Commonly used as a way to protect plants from the elements and provide some climate control since the early 20th century, a greenhouse is an enclosed structure with a transparent roof and walls that allows the light and heat of the sun in while creating a microclimate for optimal growth.
In addition to greenhouses and indoor growing spaces, a third option that has gained popularity in recent years mixes elements of the two. Hybrid greenhouses have the permanently constructed walls of an indoor operation with the transparent ceilings of a greenhouse. These structures offer the durability and much of the insolation of warehouses while still allowing growers to utilize free, efficient solar light.
So why go with a greenhouse?
Of the three options, traditional greenhouses are still the most cost effective. Greenhouses are not permanent structures, which means that in most cases they receive construction and expansion permits much faster than fixed structures. Greenhouses are significantly less expensive to construct than warehouses or hybrid greenhouses with their permanent steel and concrete structures. Greenhouses can arrive to the site largely prefabricated, needing only to be assembled, which saves significantly on construction labor costs.
Even the most efficient indoor lighting setups can't compare to the most powerful light source in the solar system, which just so happens to be 100 percent free. Direct sunlight on a clear day provides light levels of about 1,000 to 1,500 micromoles per square meter per second, compared to 500 to 800 micromoles per square meter per second from a 1,000 watt high pressure sodium lamp.
While of course solar light isn't available all the time, cannabis companies using solar still enjoy a solid 12-18 hours each day free from having to run the costly high-pressure sodium lamps. This can save growers as much as 50 to 90 percent in energy costs depending on the time of year and other factors.
Not to be overshadowed by the cost savings, that saved electricity significantly lowers the environmental footprint of a growing operation. A 2012 study by Evan Mills, a senior scientist in energy technologies at the Lawrence Berkeley National Laboratory, found that indoor cannabis grow operations accounted for one percent of energy use in the United States. As more jurisdictions move to build legitimate cannabis industries, there's pressure from governments and the public to ensure that the cannabis industry is environmentally sustainable.
Retrofitting existing greenhouses
While having only emerged relatively recently in the legal cannabis space, greenhouses have been used for general commercial plant cultivation for hundreds of years. This means that there is a wealth of development options, expertise and preexisting setups for cannabis growers to utilize. While the needs of cannabis plants may be different from those of tomatoes or flowers traditionally grown in greenhouses, retrofitting existing greenhouse setups for cannabis is not a particularly expensive or time-consuming project in comparison to building new infrastructure. Retrofitting also spares companies from the expense and time committed to the building permitting process.
Examples of these retrofit projects are not hard to find in the cannabis industry. Cannabis company Newstrike Brands (TSXV:HIP) purchased a semi-robotic greenhouse originally used to grow orchids in 2017. The company has since converted the facility for cannabis cultivation and also retained some of the structure's original staff. Canopy Growth (TSX:WEED,NYSE:CGC) and Les Serres Stéphane Bertrand Inc. also transformed a large-scale tomato greenhouse into a massive 1.3 million-square-foot cannabis facility.
Cannabis infrastructure company CROP Infrastructure (CSE:CROP,OTCMKTS:CRXPF) has also been involved with several of these retrofitting projects. The company recently completed a retrofit program and upgrades on a facility in Washington State that it's calling "The Park." The highly automated facility is expected to produce approximately 12,000 pounds of high-grade cannabis each year.
Greenhouse infrastructure considerations
While it might be hard to fathom when comparing them to highly complex indoor grow setups, commercial greenhouses are not simple operations. These setups need to be every bit as technically advanced as their indoor counterparts in order to achieve the same quality. Cutting edge growing infrastructure can further minimize costs associated with heating and electricity and help maintain a profitable operation. Technologies and equipment that automate the cultivation process, such as conveyor belts and light controlled modular greenhouses can also cut down on labor hours, increase yields and give cultivators a substantial edge.
Commercial greenhouses must be heavily ventilated to control heat and humidity levels. These ventilation systems need to be designed to keep out pests as well as airborne pathogens and diseases. Not only that, cannabis greenhouse ventilation needs to be able to prevent pollen from other cannabis plants entering and causing the plants to develop seeds in place of flowers. State of the art ventilation is absolutely vital to maintaining the health and yield of the product.
While it's true that access to the sun is one of the main advantages to greenhouse cultivation, any setup is going to need grow lights to compensate for times when sunlight is unavailable. A powerful and efficient lighting system is still a necessity for a commercial greenhouse. High pressure sodium lighting is still the current industry standard. However, LED systems now exist from manufactures that claim that they can cut down on electricity usage over high pressure sodium lighting by up to 50 percent.
Another consideration that should be made when designing any commercial grow operation is scalability. Greenhouses should be designed with the capability for scaling up as the industry and business grows. Fortunately, greenhouses with semi-permanent structures are relatively easy to expand. Crop Infrastructure recently entered into a purchase agreement with Humboldt Holdings LLC and as part of the agreement, has successfully added 20,000 square feet of canopy to Humboldt's 10,000-square-foot greenhouse operation, all of which is either being harvested or is nearing harvest by the licensed tenant grower.
As the legal cannabis industry develops, companies should be looking at a range of options to build the facilities that fit their needs. For cost optimization and scalability greenhouses may well be the best option out there.
This INNSpired article was written as part of an advertising campaign for a company that is no longer a client of INN. This INNSpired article provides information which was sourced by INN, written according to INN's editorial standards, in order to help investors learn more about the company. The company's campaign fees paid for INN to create and update this INNSpired article. INN does not provide investment advice and the information on this profile should not be considered a recommendation to buy or sell any security. INN does not endorse or recommend the business, products, services or securities of any company profiled. If your company would benefit from being associated with INN's trusted news and education for investors, please contact us.
Investing News Network websites or approved third-party tools use cookies. Please refer to the cookie policy for collected data, privacy and GDPR compliance. By continuing to browse the site, you agree to our use of cookies.