The Riches Beneath the Plains: Mineral Exploration and Mining in Saskatchewan is Still World Class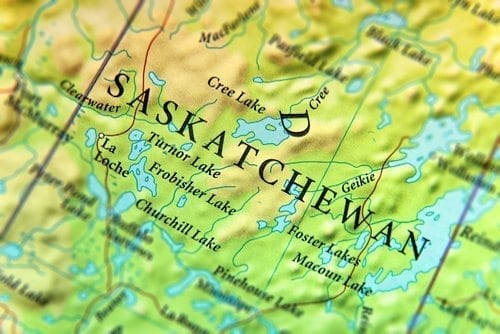 The landscape of mineral exploration and mining in Saskatchewan has been attractive for miners for over a century.
Mineral exploration and mining in Saskatchewan have consistently been recognized as the best examples for the industry in Canada, and the province is considered one of the greatest places in the world to conduct mining operations.
The latest Fraser Institute report places the flat province at number two in their worldwide rankings, just below Finland. As the third largest source of employment in the province, the mining industry is vitally important to Saskatchewan. This has led its provincial government to go out of its way to make sure mining in Saskatchewan is as attractive to mining firms as possible.
That's not to say that Saskatchewan needs much help. Proudly boasting a rich and diverse mineral wealth, a skilled workforce and a strong mining history, Saskatchewan's mining industry provides enormous opportunity and excellent stability for the mining firms conducting operations within its borders. As Saskatchewan's third largest industry, mining accounts for 30,000 jobs in the province and brings in an average of $1.5 billion each year to the its economy.

This INNspired Article is brought to you by:
Aurex Energy Corp. (TSXV:AURX) is a resource exploration company focused on the acquisition and development of a diversified portfolio of resource properties that includes natural gas, gold, and the energy-related metals copper, zinc, nickel, cobalt and platinum group elements (PGEs).
Send me an Investor Kit
Saskatchewan's mineral wealth is what made the province's mining industry so vital early in its history, and it continues to be world class. Traditionally, it has been potash that brought the province to the attention of the mining world, with nearly half of the world's potash reserves located within Saskatchewan alongside 30 percent of total worldwide production. Saskatchewan also has the world's largest reserve of uranium, accounting for 16 percent of global uranium production. The province also has two mines that annually produce between 40,000 and 45,000 ounces of gold.
In recent years, we've seen a diversification in Saskatchewan's resource production with new interest in mining copper, zinc, nickel, platinum, palladium and more.
History of mineral exploration and mining in Saskatchewan
Miners have been looking to Saskatchewan since the late 19th century. In those early days, mining in the area was all about coal. In 1880, large deposits of coal were discovered in the Estevan area. The Soo Line rail spur was opened in 1892, allowing commercial mining to commence in the province. Coal mined during this era was vital for supporting the fuel needs of the developing province. The first mineral mining in Saskatchewan began in 1915 with the discovery of copper-zinc deposits near Amisk Lake. These discoveries lead to the opening of the historic Flin Flon mine in 1931.
The discovery of uranium in 1934 went largely unappreciated at the time. It wouldn't be until a few years into the second world war that the value of this resource would be truly understood. Uranium quickly became a vital military and energy resource and Saskatchewan would be fortunate enough to sit on one of the world's largest supplies. After the war, the Canadian government lifted its ban on private uranium exploration and uranium production quickly became one of the province's largest outputs.
It was the discovery of massive deposits of potash by drillers exploring for petroleum near Radville in 1942 that made mining in Saskatchewan truly take off. Potash production in the province increased steadily year by year up to 1970 and production of the mineral has been steady ever since. The Belle Plaine potash mine opened in 1964 and to this day operates as the largest and most successful potash mine in the world. The world's largest Potash company, Nutrien (TSE:NTR,NYSE:NTR) has several key operations in the province including the major producer Rocanville mine.
Today's mining landscape
Today, uranium and and potash production continue to be the cornerstones of the Saskatchewan mining industry, but falling uranium prices and a surplus in the global market are leading to more diversity in the province's mineral production. Despite the province's long history of mining exploration, Saskatchewan remains remarkably underexplored for other economically important minerals and metals.
With copper and zinc values rising, companies are coming to Saskatchewan with minerals like these in mind. One of the companies in this space is Canadian Platinum (TSXV:CPC). Canadian Platinum is working to advance towards production at its Craig Lake copper-zinc property, located between Craig Lake, Saskatchewan and Flin Flon, Manitoba. It is also focused on developing its copper-nickel-cobalt-platinum group metals Peter Lake project, located in the same domain as the Swan River Complex, the second largest mafic/ultramafic complex in North America. The company sees great potential in Saskatchewan for diverse mineral production.
Despite the recent diversification, Saskatchewan's uranium business is still going strong. The province's Athabasca Basin continues to be the world's premiere hotspot for uranium exploration and production, containing the highest grade uranium in the world and hosting 13 percent of global uranium production. The long list of companies mining uranium in the area includes companies like Azincourt Energy (TSXV:AAZ), ALX Uranium (TSXV:AL) and IsoEnergy (TSXV:ISO). The Athabasca Basin hosts the world's largest high grade uranium deposit, the Cigar Lake Mine operated by Cameco (TSE:CCO,NYSE:CCJ).
Saskatchewan's mining policy
It's not by accident that year after year the Fraser Institute has been consistently finding Saskatchewan to be one of the best places globally to conduct mining. The provincial government has ensured that the regulatory environment is more than welcoming for mining firms. In the Fraser Institute's latest report, mining executives praise the province for it's expedient and easy to navigate permitting process as well as its mineral leasing system which compares favorably to other jurisdictions.
"This province has a great permitting process that meets timelines and provides certainty for investors," an anonymous exploration company president wrote in the Fraser Institute's report.
Additionally, Gary Billingsley, President, CEO & Director of Canadian Platinum tells INN that the province's land tenure system is simple and straightforward and that the permit system, while strict, is structured, understandable and navigable. He says that there are relatively few government agencies involved in the permitting process compared to other mining jurisdictions which allows the process to go smoothly and quickly.
"The experience of CPC management, not just with CPC, but including other companies they have been associated with, is that the permitting process in Saskatchewan is structured, understandable and can be navigated with a positive outcome," Billingsley told INN.
It should be noted, however, that a relatively smooth permitting process does not mean that the province is lax on regulatory standards. The criteria that mining firms like his must meet to be granted permits are as high or higher than anywhere in the world.
Importantly, most of the First Nations in the province are open to development and that partnership cooperation between industry and these communities allows for mining in Saskatchewan to be carried out in a way that is environmentally sustainable and responsible.
Takeaway
For mining firms, Saskatchewan has it all. The province boasts a rich and diverse mineral wealth, a regulatory regime that is very friendly to mining enterprise while keeping to its responsibility to protect the local environment, and a strong history of mining production. Mineral exploration and mining in Saskatchewan has been consistently recognized as one of the world's best mining jurisdictions, and that doesn't seem likely to change any time soon.
This article was originally published by the Investing News Network in September 2018.
This INNspired article is sponsored by Aurex Energy Corp. (TSXV:AURX) . This article was written according to INN editorial standards to educate investors.