Cannabis Testing Necessary for Safe and Consistent Products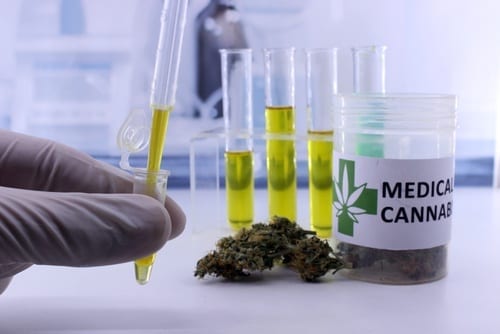 Cannabis testing labs provide essential protection for cannabis companies and consumers.
Cannabis testing labs act as a vital gate between producers and consumers in the growing cannabis marketplace.
What is in the cannabis that you consume? It's a valid question, and cannabis consumers ought to know the answer. Legally and ethically, extensive lab testing is a vital component to the legal cannabis industry as producers are expected to have a comprehensive understanding of the cannabinoid content of their products. In order to establish a safe baseline for cannabis products, testing services have become essential to the cannabis industry, providing an opportunity for investors to be part of one of the world's fastest-growing consumer industries.
Cannabis has made some important breakthroughs as a consumer product over the past few years. The plant is now legal for recreational use in Canada and 11 US states. Medical cannabis markets are also opening up in Europe, Australia, Israel and elsewhere with the possibility of recreational legalization on the horizon. The key to continued progress on the legalization front and growth in the global market is consumer confidence. Consumers in the legal market need the assurance that the product they buy is safe and sanitary, and voters in countries that are mulling over legalization need to see that the global industry is operating responsibly. A failure to meet these safety standards could be catastrophic for consumers and producers alike, setting consumer confidence back across the industry.
As new markets open up and a flood of cannabis companies emerge and expand, the cannabis lab testing industry is expected to continue to grow alongside the industry as a whole. Outside of some of the largest vertically integrated cannabis players, most cannabis companies rely on third parties for lab testing services. Research firm Markets and Markets projects the overall global cannabis testing market to see a compound annual growth rate of 11.5 percent, hitting US$1.416 billion in 2021.
Cannabis testing services
Depending on the jurisdiction in which cannabis products are being regulated, the product could be subject to a range of different certification systems requiring a set of mandatory tests and standards. Health Canada, for example, requires all licensed cannabis producers to follow good production practices (GPP), under which cannabis products are subject to tests to ensure they meet prescribed specifications. Health Canada's GPP standards may differ in some ways from the US Food and Drug Administration's current good manufacturing practices or the globally recognized International Standards Organization, but most systems will be designed to test potency and find microbial or chemical contaminants.
There are a number of ways to test cannabis products once a sample has been submitted to the lab. A visual inspection under a high-powered microscope is likely to be among the first tests conducted on a cannabis sample. High magnification is effective for revealing the presence of mold, pesticides and other visible contaminants. However, with the limits set by Health Canada for Canadian producers, in order to detect mycotoxins (mold) and pesticides, a hyper-sensitive detection system is required for this analysis.
Microbial testing is necessary for the contaminants that the eye can't see. Traditional culture methods (TCM), in which samples are placed on a culture plate and contaminants like E.coli, Clostridium botulinum, and Pseudomonas aeruginosa are allowed to grow, are the most common form of microbial testing. However, strong labs will be going beyond this methodology, incorporating gold standard methodologies used in the food space such as the polymerase chain reaction (PCR) method.
For cannabis concentrates and extracts, residual solvent analysis is necessary to detect the presence of solvents remaining from the extraction process such as CO2, ethanol or hydrocarbons. This is usually done by obtaining a sample using a gas-tight syringe and vaporizing the sample within a sealed vial so that any volatile compounds separate from the rest. Coupling this with mass spectrometry for high sensitivity and optimal productivity is an example of how to successfully achieve this type of analysis.
In certain conditions, cannabis can collect heavy metals from the air, water or soil. These substances are associated with cancer, lung disease and other diseases. While it's nearly impossible to keep any agricultural product 100 percent free of heavy metals, efforts must be made by growers to keep these elements below hazardous levels. Fortunately, heavy metal contaminations can be detected via several processes including atomic absorption spectroscopy, in which samples are put into a gaseous state and analyzed for optical radiation.
Not all lab testing is meant to root out contaminants. It's also important that cannabis companies deliver a consistent product, particularly on the medical side of things when consumers use cannabis products to treat specific conditions. Potency analysis measures the levels of tetrahydrocannabinol (THC) and cannabidiol (CBD) present in cannabis samples. This is commonly done through high-performance liquid chromatography during which the sample is mixed with a solvent and pumped at high pressure through a tube that contains material that attracts certain molecules. These molecules travel through the tube slower, allowing a detector to measure the output. High-performance liquid chromatography is also used for terpene analysis, which provides insight into some of the sample's non-psychoactive properties such as its flavor profile.
Cannabis testing labs in the market
Canadian cannabis producer Valens GroWorks (TSXV:VGW,OTCQX:VGWCF) operates its own ISO accredited testing lab in Kelowna, British Columbia, for the company's own product testing needs and for testing as a third party. This setup gives Valens the cost-efficiency of vertically integrating its own testing needs as well as increased efficiency for clients by minimizing sample time in transit — currently one of the largest wait times in the supply chain is to have testing done — while also positioning the company in one of the industry's more essential sectors.
In the Canadian cannabis industry, there are currently 63 labs licensed to conduct activities with cannabis, including Valens. These include big names in the Canadian industry like Tweed, a subsidiary of Canopy Growth (TSX:WEED), as well as smaller vertically integrated companies like Whistler Medical Marijuana, which was recently acquired by Aurora Cannabis (TSX:ACB).
Takeaway
The quality and safety of all legal cannabis products is vitally important to the health of the consumer, individual cannabis companies and the industry as a whole. This legal and ethical imperative presents a noteworthy opportunity for companies with the talent and resources to provide an essential service in the cannabis industry.
---
This INNSpired article was written according to INN editorial standards to educate investors.
INN does not provide investment advice and the information on this profile should not be considered a recommendation to buy or sell any security. INN does not endorse or recommend the business, products, services or securities of any company profiled.