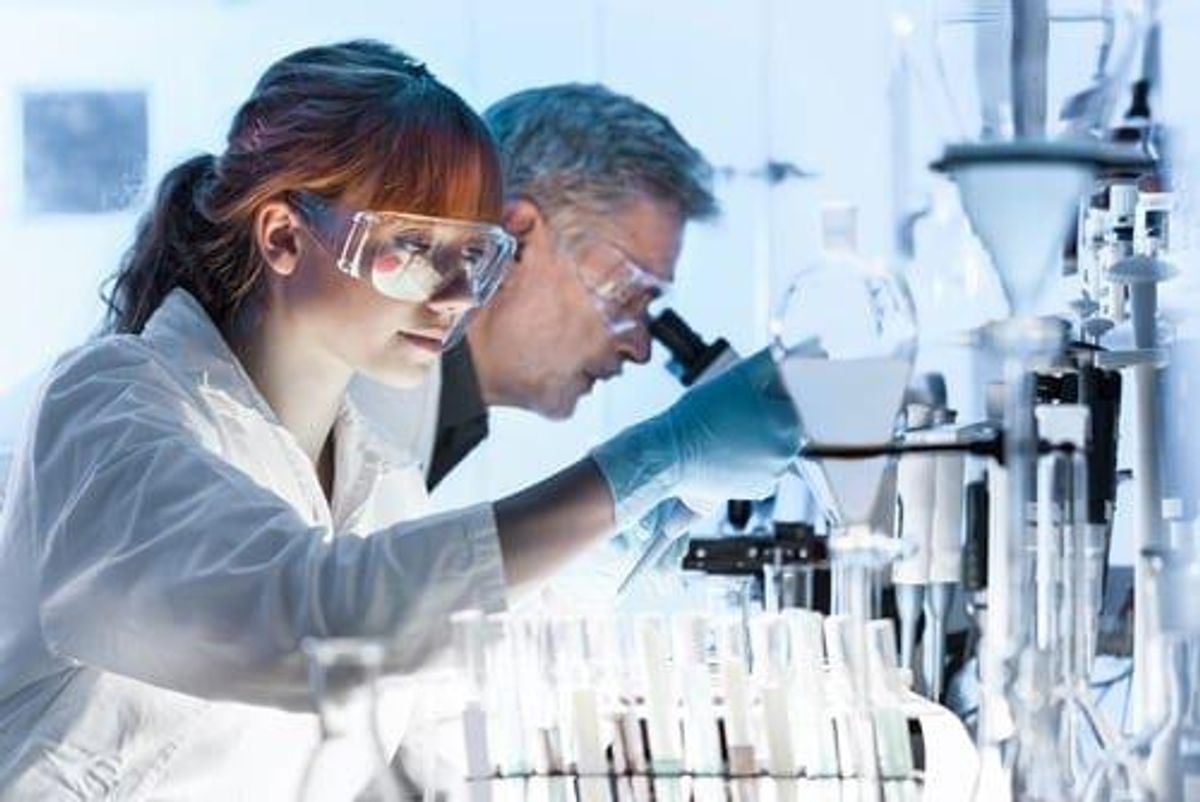 The multibillion-dollar immunotherapy market is expected to experience further growth on advancements in checkpoint inhibitor biotechnology.
Advances in immune checkpoint inhibitor based treatments are shifting the treatment paradigm and could possibly push immunotherapy market sales into $100 billion territory by 2022.
The global occurrence of cancer is on the rise, according to a World Health Organization study, with 18 million new cancer cases expected for 2018 alone. More than half of those patients will succumb to their illness. In the United States, the American Cancer Society statistics show that one in three people will be diagnosed with cancer in their lifetime, with the most common diseases being prostate, lung and colorectal for men and breast, lung and colorectal for women.
In fact, breast cancer accounts for 30 percent of all new cancer diagnoses for women. Traditionally, cancer has been treated with chemotherapy, which does have good response rates, but is generally not well-tolerated by patients and recurrences are common. The cancer treatments on the cutting edge of this battle today are primarily immunotherapies, which use the body's immune system to destroy cancer cells.
Research breakthroughs in the cancer immunotherapy market
Developments in cancer immunotherapy research over the past few decades have led to breakthroughs in treatment options and positive outcomes for cancer patients. The most promising class of cancer-fighting drugs are the immune checkpoint inhibitors that target the proteins found on T-lymphocytes or T cells such as programmed cell death 1 (PD-1) and cytotoxic T lymphocyte antigen 4 (CTLA-4) and proteins found on the cancer such as programmed death ligand 1 (PD-L1).
"Immunotherapy takes advantage of the patient's own immune system to combat cancer. The currently approved immunotherapies work by blocking immune checkpoints. These checkpoints are like off switches for the immune response. This approach is tolerated much better than traditional chemotherapies," Dr. William V. Williams, former VP of Exploratory Development at Incyte Corporation, former VP of Clinical Pharmacology at GlaxoSmithKline and current President and CEO of BriaCell Therapeutics Corp. (TSXV:BCT,OTCQB:BCTXF), told Investing News Network.
These immune checkpoints were first identified by the 2018 Nobel prize-winning work of American James Allison and Tasuku Honjo from Japan. Through their separate decades-long research, both Dr. Allison and Dr. Honjo developed ways to weaponize and recruit the immune system in the fight against cancer by putting the brakes on immune checkpoint proteins, unleashing the immune system's powerful T-cell response mechanisms to attack cancer cells. The result has been much improved patient outcomes including lower incidence of side effects compared to chemotherapy and less chance of recurrence.
In 2011, Dr. Allison's research helped bring ipilimumab (Bristol-Myers Squibb's anti-CTLA-4 therapy Yervoy®), the first FDA-approved immune checkpoint inhibitor, to market for the treatment of advanced melanoma. Dr. Honjo's research led to the development of pembrolizumab (Merck & Co's PD-1 therapy Keytruda®) and nivolumab (Bristol-Myers Squibb's PD-L1 therapy Opdivo®,), both of which were approved by the FDA in 2014 for the treatment of advanced melanoma. Their discoveries have led to a multibillion-dollar market for new cancer medicines.
"Cancer kills millions of people every year and is one of humanity's greatest health challenges," said the Nobel committee. "By stimulating the inherent ability of our immune system to attack tumor cells, this year's Nobel Laureates have established an entirely new principle for cancer therapy."
About 20 percent of patients who underwent treatment with immune checkpoint inhibitors during Allison and Honjo's clinical studies survived at least 3 years posttreatment, and many have lived for 10 years and beyond, including one metastatic melanoma patient who is still alive nearly 19 years later following one dose of ipilimumab.
Today, immunotherapy ranks alongside the more traditional approaches of radiation, surgery and chemotherapy in cancer treatment, greatly expanding the treatment options available to patients.
"We've gone from being in a situation where patients were effectively untreatable to having a range of immunotherapy options that, when they work, work very well indeed," said Kevin Harrington, a professor at the Institute of Cancer Research in London. "For some patients we see their tumors shrink or completely disappear and are effectively cured."
Cancer immunotherapy market size
The global immunotherapy market totaled nearly US$30 billion in 2017 and is expected to reach $100 billion by 2022, propelled by increasing global cancer rates, rising healthcare expenditure and the emergence of novel agents to the market.
Immune checkpoint inhibitors are one of the largest and highest growth segments in this space owing to their low cost, greater efficiency and overall success rates compared to traditional first-line treatments. The North American regional market is expected to account for the largest share of this growth, fueled by government initiatives for further development of advanced cancer treatments.
In addition to Keytruda®, Opdivo® and Yervoy®, three other checkpoint inhibitors have received FDA approval for the treatment of cancer, including Tecentriq (atezoliumab), Bavencio (avelumab) and Imfinzi (durvalumab), all of which target PD-L1.
The primary cancer immunotherapy market players are Bristol-Myers Squibb, Merck, Novartis, AstraZeneca, Pfizer, Genentech/Roche, Jansen, Eli Lilly, Incyte, Celgene, Amgen and a number of smaller companies such as Juno, Kite, Immunovaccine and BriaCell.
Immune checkpoint inhibitor combination therapies
Advancement in novel delivery technologies (including monoclonal antibodies and small molecule drugs) and combination therapies are where the real growth will be in the cancer immunotherapy market. "What we're looking forward to is combinations, not just of multiple checkpoints but of checkpoints with radiation, checkpoints with chemotherapy, [and] checkpoints with genetically targeted small molecule drugs," Dr. Allison said in a press conference. "Immunotherapy is going to be part, it's not going to replace the others, but it's going to be part of the therapy that essentially all cancer patients are going to be receiving in 5 years."
Clinical trials are now underway evaluating the effectiveness of immune checkpoint inhibitor therapies in combination with chemotherapy or other targeted therapies across various types of cancer, including kidney, lung, ovarian and breast cancer.
Bristol-Myers Squibb (NYSE:BMY) and Compugen (NASDAQ:CGEN) are collaborating in clinical trials to evaluate the safety and tolerability of the Israel-based company's investigational antibody COM701 in combination with the pharma giant's immune checkpoint inhibitor Opdivo®. These early stage trials will target patients suffering from non-small cell lung, ovarian, breast and endometrial cancer, with advanced solid tumors.
Along with the clinical study collaboration, Bristol-Myers Squibb will invest $12 million in Compugen. "From a business perspective, these collaborations have tremendous impact on small companies working with larger pharmaceutical companies. Innovation often begins in small companies. Larger companies become interested and either license the technology or collaborate with the smaller company," explained Dr. Williams, who has been a biopharmaceutical executive and clinical professional for nearly four decades. "These collaborations can take several forms, but they help validate the technology being developed by the smaller company. This can boost their credibility and also lead to a longer-term business relationship with the larger company."
Merck's (NYSE:MRK) pivotal Phase 3 KEYNOTE-426 trial investigating Keytruda® — among the leading immunotherapy drugs for treating lung cancer — in combination with Pfizer's (NYSE:PFE) tyrosine kinase inhibitor Inlyta®(axitinib) has shown a significant benefit on both overall and progression-free survival as a first-line treatment for advanced or metastatic renal cell carcinoma, the most common form of kidney cancer.
"This marks the first time that combination treatment with an anti-PD-1 therapy has achieved the dual primary endpoints of overall survival and progression-free survival as first-line therapy in advanced renal cell carcinoma," said Dr. Roger M. Perlmutter, President, Merck Research Laboratories. "Fewer than 10 percent of those diagnosed with advanced renal cell carcinoma survive for five years, and hence there is significant need for improved therapies for this disease." The results will be submitted to regulatory authorities worldwide.
BriaCell recently announced that based on its positive proof of concept data from its Phase 2a clinical study of Bria-IMT™ in advanced breast cancer patients, the company has initiated a study focusing on the combination of Bria-IMT™ with Merk's Keytruda®, which has so far shown positive results. BriaCell's lead clinical candidate, Bria-IMT™ is genetically engineered to secrete an immune system activator, GMCSF, which activates antigen presenting cells that then mobilize the T-cells in a patient's immune system to recognize cancer cells and eliminate them. Dr. Williams believes that Bria-IMT™ is also directly recognizable to the immune system's T-cells, acting as an antigen presenting cell and boosting the immune response against the cancer cells — a key effect which may set Bria-IMT™ apart from other similar targeted immunotherapies.
"This top-line data compares very well with data from existing breast cancer therapies which have a sizable market share when they were at a similar stage of clinical development, as well as with other promising breast cancer treatments currently under study," said Dr. Williams. "In our view, the combination of Bria-IMT™ with Keytruda® has the potential to provide a new therapeutic option and substantial clinical benefit in heavily pre-treated advanced breast cancer patients where there remains a significant unmet need."
Looking forward
Cancer in all its vulgar varieties threatens and takes the lives of millions of men and women around the globe each year. Nobel Prize-winning Doctors Allison and Honjo set modern medicine on the right path, but today's Pharmaceutical companies focused on paradigm shifting advancements in first-line cancer treatments are bringing humanity even closer to stamping out this cruel disease.
This article was originally published on the Investing News Network in November 2018.
This INNspired article is sponsored by BriaCell Therapeutics (TSX:BCT,OTCQB:BCTXF). This article was written according to INN editorial standards to educate investors. 
Investing News Network websites or approved third-party tools use cookies. Please refer to the cookie policy for collected data, privacy and GDPR compliance. By continuing to browse the site, you agree to our use of cookies.