G6 Materials Corp. and Gilman Industries, LLC Start Work on Green Energy Project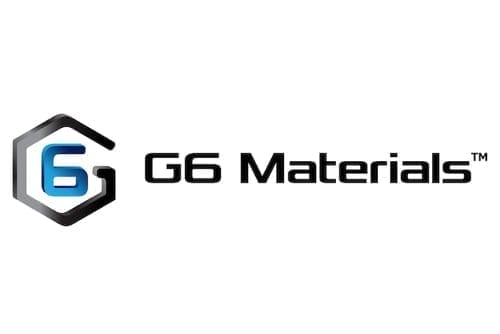 G6 Materials Corp. (TSXV:GGG) (OTC:GPHBF) is pleased to announce the start of a new green-energy focused collaboration with Gilman Industries LLC.
G6 Materials Corp. (the "Company" or "G6") (TSXV:GGG) (OTC:GPHBF) is pleased to announce the start of a new green-energy focused collaboration with Gilman Industries LLC ("Gilman Industries"). The objective of the project is to develop a new generation of Evolve(TM), a proprietary hydrogen generator that produces hydrogen by splitting water with an electric current.
During the course of this project, G6 will develop a robust graphene-based material for electrodes within the hydrogen generator. Introducing a resilient graphene-based material has the potential to deliver chemical stability that could allow the generator to operate with seawater, which if successful, would drastically expand the range of potential applications.
Hydrogen generation is an emerging green energy technology. Production of hydrogen is an alternative way to store and transport electric power. International Energy Agency (IEA) recommended that the world must finally "tap into hydrogen's potential to play a key role in a clean, secure and affordable energy future."
Hydrogen can also be used in automobiles equipped with fuel cells (HFCVs). Such motors are already produced by major auto manufacturers, are becoming more popular, and are competing with electrical power vehicles. Examples of fuel cell vehicles include: "Mirai" produced by Toyota, "Nexo" by Hyundai, "Clarity" by Honda, and Great Wall Motors who are seeking to produce 1 million HFCVs by 2030.
"We are extremely happy to have G6 as a partner," said Brian Gilman, CEO of Gilman Industries. Gilman added, "They have an outstanding and very supportive research team that are helping us a great deal along the process for developing as well as manufacturing on the commercial scale. We also acknowledge that graphene holds the key to reducing electrical draw when producing green hydrogen."
"We are happy to see that our formulations have the potential to contribute significantly to new emerging green energy technologies." stated Daniel Stolyarov, CEO of G6. Stolyarov added, "Our expertise in graphene and high-performance materials creates an opportunity for us to develop numerous partnerships with new revolutionary technology ventures."
About Gilman Industries, LLC
Gilman Industries, LLC is a nascent company focused on commercializing its hydrogen-producing technology through mass production and global distribution, license to manufacture and distribution of their units to OEMs, and establishing wholesale/retail hydrogen gas purchasing agreements.
Gilman Industries is a developer of Evolve(TM), a convenient, reliable, and very efficient hydrogen generator, produced by injection molding, which uses electric current to generate hydrogen by splitting tap water, groundwater, and seawater. Gilman Industries received its US patent on October 26, 2016 (patent #US9476133) for Evolve(TM). They were granted patents in Europe and the World Patent Organization, and pending in Canada (CA2900853A1, EP2976446A4, & WO2014153389A1) in March, 2019. Gilman Industries has the right to produce Evolve(TM) in Belgium, France, Germany, Netherlands, Norway, UK, US, and Switzerland.
For More Information:
Please visit https://www.gilmanindustries.com
or contact Brian Gilman:
+1 631 804 9220
About G6 Materials Corp.
G6 Materials Corp. is an innovative technology company operating in the space of advanced materials. The company's work is dedicated to research, development, and commercialization of the groundbreaking properties of graphene and other 2D materials. The company is offering high-tech solutions in several areas, including:
R&D Materials: These diverse materials have a full spectrum of commercial, research, and military applications. The Company's wholly-owned subsidiary, Graphene Laboratories Inc., currently offers over 100 graphene and related products to a client list comprised of more than 14,000 customers worldwide, including nearly every Fortune 500 tech company and major research university. Some notable clients are NASA, Ford Motor Co., GE, Apple, Xerox, Samsung, Harvard University, IBM, and Stanford University. The Company's suite of products is available online at the company's e-commerce platform www.graphene-supermarket.com
3D Printing: The 3D printing division of the Company offers a portfolio of 3D printable filaments. These materials can be purchased through multiple distribution networks worldwide or directly from the web-store www.blackmagic3D.com
High-Performance Epoxies: Adhesive materials produced by the company are distributed under G6-EpoxyTM trade name and can be purchased at www.g6-epoxy.com
Fine Organic Chemicals: ChemApproachTM is a worldwide supplier of a wide variety of building blocks to R&D facilities in the pharmaceutical/agricultural industries, biotechnology, academic institutions, and hi-tech companies. Please visit http://www.chemapproach.com
The Company's headquarters are located at 760 Koehler Avenue, Ronkonkoma, New York. This 8,000 sq. ft. facility is situated in a tech park near Long Island MacArthur Airport, approximately 45 miles east of New York City. The facility has ample office and R&D space, as well as over 4,000 sq. ft. of production and warehouse space. Our facility is equipped with a wet lab for graphene wafer processing and reactors for graphene production as well as twin and single screw extruders and various resin mixing equipment. The research team of G6 Materials Corp operates a state-of-the-art analytical laboratory, developing and testing the quality of materials. The in-house analytical capabilities include rheology measurement station, four-probe conductivity measurement equipment, Universal Test Station for evaluation of materials' mechanical performance, Raman spectroscopy, and optical microscopy.
ON BEHALF OF THE BOARD: Daniel Stolyarov, President & CEO
For More Information:
Commercial Inquiries:

Daniel Stolyarov

Chief Executive Officer

Telephone: (631) 405-5113

Investor Inquiries:

Telephone: (631) 405-5114

Email: investors@graphene3Dlab.com
Forward-Looking Statement
This press release may contain forward-looking statements. Forward-looking statements are statements that relate to future, not past, events. In this context, forward-looking statements often address a company's expected future business and financial performance, and often contain words such as "anticipate," "believe," "plan", "estimate", "expect", and "intend", statements that an action or event "may", "might", "could", "should", or "will" be taken or occur, or other similar expressions. By their nature, forward-looking statements involve known and unknown risks, uncertainties and other factors which may cause our actual results, performance or achievements, or other future events, to be materially different from any future results, performance or achievements expressed or implied by such forward-looking statements. Such factors include, among others, the following risks: the risks associated with outstanding litigation, if any; risks associated with adoption by industries of graphene-based products health and environmental factors affecting adoption of these technologies; reliance on key personnel; the potential for conflicts of interest among certain officers, directors or promoters with certain other projects; the absence of dividends; competition; dilution; the volatility of our common share price and volume; and tax consequences to U.S. Shareholders. Forward-looking statements are made based on management's beliefs, estimates and opinions on the date that statements are made, and the Company undertakes no obligation to update forward-looking statements if these beliefs, estimates, and opinions or other circumstances should change. Investors are cautioned against attributing undue certainty to forward-looking statements.