Jul. 10, 2019 03:00PM PST
Gaming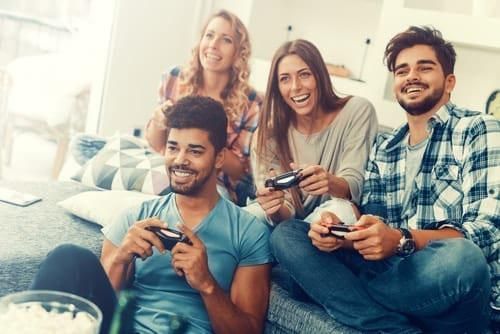 The gaming sector continues on its growth trajectory, with a number of gaming publishers posting double-digit returns halfway into 2019.
Since the beginning of 2019, gaming stocks on the NASDAQ have boasted double-digit returns. The sector has shown stellar performance in the first half of the year.
Words with Friends developer Zynga (NASDAQ:ZNGA), for example, has experienced share price growth of over 58 percent year-to date. Electronic Arts (EA) (NASDAQ:EA), creator of Apex Legends, enjoyed a gain of 27 percent during the same time period.
According to NewZoo, the global gaming sector is projected to reach US$152.1 billion in 2019, growing at a 9.6 percent year-over-year clip from the previous year. What's more, the audience for esports alone is anticipated to reach 454 million viewers in 2019.
"In 2018, the top 25 public companies by game revenues generated a combined $107.3 billion, up +16% from 2017," Raj Lala, CEO of Evolve ETFs, told the Investing News Network (INN). Lala's firm launched the first Canadian esports ETF, the Evolve E-Gaming Index ETF (TSX:HERO), in June.
With the year halfway over, INN is taking a look at the major highlights for gaming in Q2 and the industry outlook for the rest of 2019. Read on to learn more.
Gaming market update: Small- and mid-cap stocks make headlines
In an industry that is still largely dominated by big publishers such as Activision Blizzard (NASDAQ:ATVI), Tencent Holdings (HKEX:0700) and Take-Two Interactive (NASDAQ:TTWO), a number of notable events in the small- and mid-cap space underpinned the second quarter.
In May, Toronto-based Enthusiast Gaming (TSXV:EGLX) announced a merger with Luminosity, combining Enthusiast Gaming's audience of over 150 million users per month with Luminosity's esports fanbase of 50 million. Later that month, J55 Capital (TSXV:FIVE) and Aquilini GameCo acquired Enthusiast Gaming to establish a leading esports organization.
"The Luminosity and Enthusiast merger is very exciting, because what happened there is by acquiring Enthusiast, (J55 and Aquilini GameCo) gained a whole network of revenue in terms of the aggregation of websites," Nick Mersch, esports analyst at Purpose Investments, told INN. "And they're really focused on building around a community and monetizing that overall community in terms of building a really authentic network of gaming enthusiasts."
OverActive Media (OAM), a privately held esports company based in Toronto, also released major news in the second quarter. In June, the company entered a strategic partnership with Bell Media, a division of Bell Canada Enterprises (TSX:BCE). Through this partnership, Bell will be involved in team sponsorship, online advertising and event organization. This was the first partnership of its kind for OAM.
"(OAM is) trying to put a whole bunch of these teams together, aggregate dealerships and then essentially sell sponsorship and advertising to the big brands," said Mersch. "Big brands are sitting down with them and they're coming to the table trying to figure out how to monetize this."
OAM currently owns 15 esports teams worldwide, including in the Overwatch league, League of Legends European Championship series and Call of Duty league.
Gaming market update: But large-cap stocks still dominate
In the large-cap space, the major gaming companies continued to post impressive returns. The gaming heavyweights typically are game publishers that own intellectual property (IP) rights and often operate a game's distribution models.
For example, Activision Blizzard owns the IP rights to both the Call of Duty and Overwatch leagues. In May, the company reported operating cash flow figures of US$50 million for the first quarter. It posted a 41 percent operating margin, while its game Candy Crush reported record play times of an average of 38 minutes per day.
Speaking about Tencent, Mersch commented, "In recent years it has also become a major outbound gaming investor, participating in over $4 of every $10 invested in gaming companies globally in the 12 months ended March 31, 2018, according to an industry report from Digi-Capital." Tencent owns Fortnite, in addition to the majority of gaming distribution rights in China.
"What's happening now is some of these big publishers have shored up balance sheets where they can withstand some of this downturn and cut back on some of the development costs," said Mersch. "And then also they're heating a lot of economies of scale right now by aggregating a lot of these developers. It's still saving costs there as well." In addition, gross margins are increasing for these companies as they improve their distribution networks, he added.
Take-Two Interactive, which owns game series such as Grand Theft Auto and Civilization, reported its first quarter financial results in May. The company experienced a 71 percent increase in GAAP net cash year-over-year, reaching US$843.5 million.
Before Lala's company launched its esports ETF, he noticed a similar trend in the industry. "We started taking a closer look at the companies, and what was fantastic was to see how these organizations have morphed themselves into encapsulating the entire vertical of gaming."
Gaming market update: Beyond Q2 2019
Among gaming industry's issues is monetization. Core revenue generation can be derived from a number of sources, such as sponsorship revenue, game subscriptions and in-app purchases.
According to Deloitte, 30 percent of US consumers overall pay for gaming subscription services, and nearly half of Millenials and Gen Z members do so. However, when it comes to esports specifically, a report by Purpose Investments states that esports fans spend an average of only US$5 annually, compared to an average of US$60 annually for NFL fans. Mersch explained that there is a struggle to monetize esports audiences, even though viewership numbers sometimes exceed the Superbowl. With this challenge comes an upside for future revenue potential.
A few companies in the small- to mid-cap range are anticipated to go public in the next year or two. Askott Entertainment, for example, operates on the gambling side of the gaming sector. It provides back-end gaming platforms to major gaming companies and is expected to go public in the next 12 to 24 months. Mersch said OAM is also projected to go public in the near future.
Lastly, the launch of 5G networks will have a positive impact on the gaming industry, according to Lala. The improved performance of 5G will heighten the number of users and time spent gaming. Its higher-speed internet capabilities will also reach rural communities, further driving new gaming opportunities.
Gaming market update: Investor takeaway
According to NewZoo, global gaming revenue is projected to reach US$196 billion by 2022, suggesting the industry is on a strong growth trajectory.
Publishing studios Take-Two Interactive, Activision Blizzard and EA are three companies that Mersch is particularly interested in from an investing standpoint. Another significant stock is Tencent, due to its colossal scale in the gaming industry.
The gaming sector can also serve as another means to derive potential alpha and diversity from the market. "Of our 47 positions, only four of them actually overlap with the S&P 500 (INDEXSP:.INX) or the NASDAQ Composite (INDEXNASDAQ:.IXIC)," said Lala.
Don't forget to follow us @INN_Technology for real-time news updates!
Securities Disclosure: I, Dorothy Neufeld, hold no direct investment interest in any company mentioned in this article.
Editorial Disclosure: The Investing News Network does not guarantee the accuracy or thoroughness of the information reported in the interviews it conducts. The opinions expressed in these interviews do not reflect the opinions of the Investing News Network and do not constitute investment advice. All readers are encouraged to perform their own due diligence.