Fintech Stocks in Canada
While the current state of the Canadian fintech market pales in comparison to the rest of the world, its uses and adoptions are expected to increase int the country. Here are nine fintech stocks in Canada.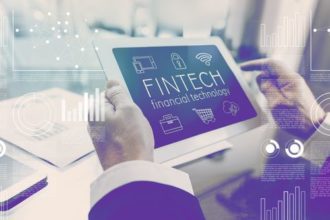 The saying "slow and steady wins the race" is defined as meaning "consistent, effective effort [that] leads to success," and at the rate the Canadian fintech market is growing, the same interpretation could certainly be applied to the country.
For instance, financial technology usage in Canada has nearly doubled over the last 18 months or so, the Globe and Mail reports, but in the grand scheme of things it has been relatively slow in adopting the service. The Globe further states that only 18 percent of "digitally active Canadians" used more than two fintech services  in the first six months of 2017 compared to 33 percent globally. That being said, however, a reported called "EY FinTech Adoption Index 2017" highlights that fintech in Canada will increase, with a future adoption rate of 34 percent compared to 52 percent globally. Expanding on that, data from Statista shows that the transaction value in the fintech market in Canada is expected to grow at a compound annual growth rate (CAGAR) of 12.5 percent, rising from $57.34 million in 2018 to reach $91.79 million by 2022.
With that in mind, here are nine fintech stocks trading on Canadian exchanges for investors looking to jump into this growing sector. The companies listed below have market caps of less than $500 million and all numbers and figures are current as of February 14, 2018.
BTL Group (TSXV:BTL)
Market cap: $215.97 million; current share price: $10.13
Our first best fintech stocks company is BTL Group, formerly Northern Aspect Resources. With offices in Vancouver, Calgary, and Canary Wharf in London, the company now focuses on developing blockchain technology solutions for a wide range of businesses, but mostly in the finance, energy and gaming industries.
The company's flagship product, Interbit, enables applications to be built, managed and operate on a blockchain, allowing access to control to keep data private and restricted and scalability through other blockchain networks.
Cortex Business Solutions (TSXV:CBX)
Market cap: $35.48 million; current share price: $3.90
Cortex Business Solutions operates as a network-as-a-service company that enables electronic invoicing to a wide range of industries, including oil and gas, mining, waste management, construction, sports and entertainment.
The company's Cortex Technology Partner Program was designed to strengthen its customers' investments in Procure-to-Pay software, and also provides training and education for the Cortex Web-based portal called Workbench, its draft partial integration called Workbench enhanced, and full integration called machine-to-machine.
First Global Data (TSXV:FGD)
Market cap: $59.48 million; current share price: $0.24
Established in 2005, First Global Data is a licensed Money Service Business (MBS) with listings in Canada and 31 US states. By the end of 2017, the company expects it will be fully licensed in the remaining states.
First Global Data operates through two main lines of business: mobile payments and cross border payments. Its technology allows the conversion of domestic and cross border payments, Peer to Peer, Business to Consumer, and Business to Business payments.
Glance Technologies (CSE:GET; OTCQB:GLNNF)
Market cap: $146.59million; current share price: $1.11
Glance Technologies launched in September 2016, and its flagship product Glance Pay offers mobile payments in restaurants. Through the app, its customers can pay their restaurant bills, access records, receipts, awards and even rate restaurants.
Now, the company has its Coin, Merchant and Pay Programs, which makes cryptocurrencies accessible with a real-world application
GoldMoney (TSX:XAU)
Market cap: $297.99 million; current share price: $3.90
GoldMoney is a slightly different fintech company in that its mission is to make gold and precious metals accessible to anyone. Its holding features allow users to buy, sell and hold physical gold, silver, platinum and palladium bullion online as well as spend or withdraw cash directly from the company's Goldmoney Holding with the Goldmoney Mastercard prepaid card. Reserves can be held or exchanged in up to nine currencies, including USD, GBP, CAD, CHF, JPY, NZD, HKD, and AUD without having to pay foreign exchange fees.
The Goldmoney holding is a custodial account with allocated, segregated, and physically redeemable bullion that belongs to someone, and has low risk and costs.
MOBI724 Global Solutions (CSE:MOS)
Market cap: $35.23 million; current share price: $0.19
Our next best fintech stocks company is MOBI724 Global Solutions, a company that provides digital incentives such as card-linked offers and digital marketing, ranging from mobile payment, loyalty programs and data analytics.
Mobi724's solutions allow its users–be it card issuers, banks, or retailers–to create, manage, deliver and track and measure incentive campaigns all around the world.
Mogo Finance Technology (TSX:MOGO)
Market cap: $106.821 million; current share price: $4.80
Mogo Finance Technology is focused on assisting its customers get control of its financing. Users can sign up for a MogoAccount to access free credit score monitoring, the Mogo Prepaid Visa card, and personal loans.
In early August, Mogo announced it had reached 450,000 members–an increase of 54,000 from 396,000 reported at the end of March. By November 1, that number had increased to more than 500,000 members–doubling since August 2016.
"Reaching half a million members is a huge milestone for Mogo on our path to one million members and, ultimately, toward our vision to build the leading digital banking experience in Canada," David Feller, CEO of Mogo said in the release. In January, the company announced the formation of Mogo Blockchain Technology and plans to begin mining bitcoin with DMG Blockchain Solutions.
NamSys (TSXV:CTZ)
Market cap: $17.74 million; current share price: $0.65
NamSys is in the business of developing and producing currency inventory management and control systems for financial institutions, retailers, currency carriers, casino and transit operators, and a number of government agencies.
Namsys' Currency Controller is a cash vault management and logistics system that manages a range of cash processing for banks and cash-in-transit providers, while its Cirreon platform includes bank integration, reconciliation, and multi-vendor support to name a few.
VersaPay (TSXV:VPY)
Market cap: $82.76 million; current share price: $2.19
Rounding out our best fintech stocks in Canada list is VersaPay. The company operates through two segments: VersaPay Solutions and Point of Sale Merchant Services. The VersaPay Solutions segment focuses on electronic invoice presentment with ARC Software and develops value added payment technologies, including PayPort and VersaPay Gateway.
The company's VersaPay ARC product is its leading solution that streamlines accounts receivable with a centralized platform and customers for invoicing, collaboration and payments.
Don't forget to follow us @INN_Technology for real-time news updates!
This is an update to an article originally published in 2017.
Securities Disclosure: I, Jocelyn Aspa, hold no direct investment interest in any company mentioned in this article.