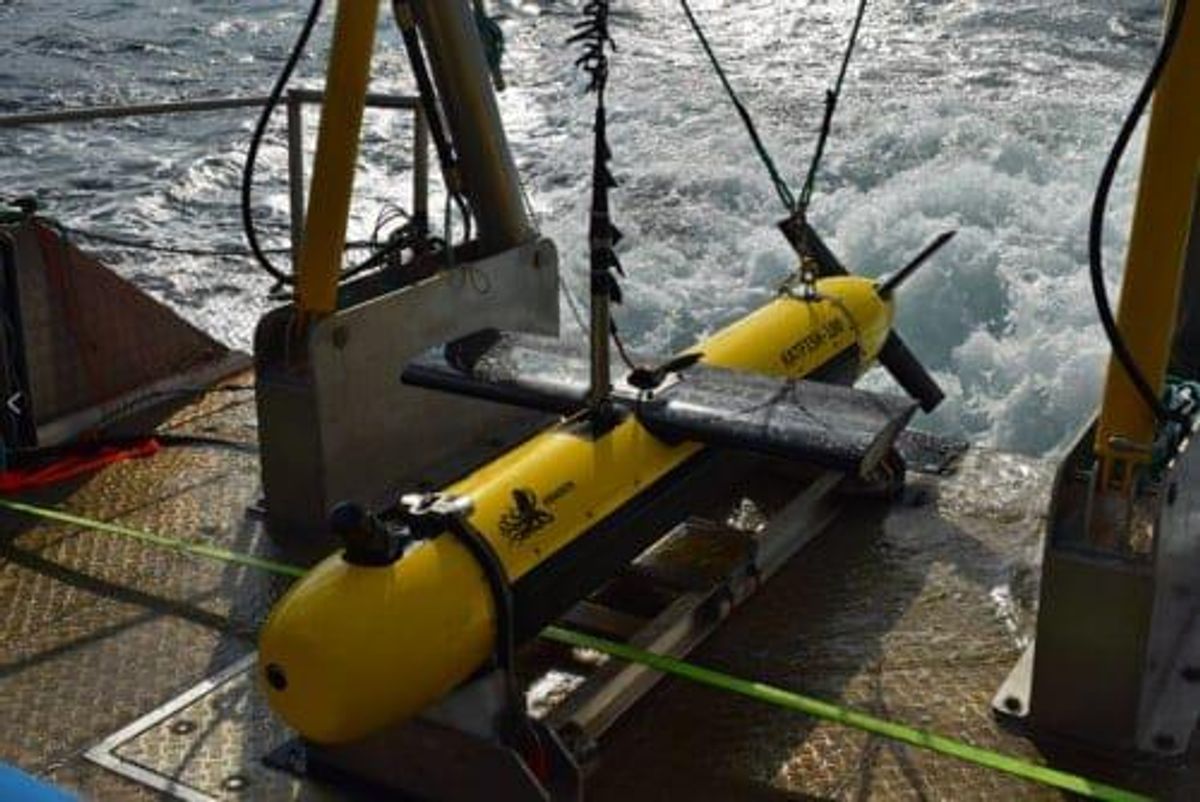 Greg Reid, CFO of Kraken Robotics, spoke with INN about the company's acquisition of Kraken Power and its robots-as-a-service offering.
At the recentCantech Investment Conference, Greg Reid, CFO of Kraken Robotics (TSXV:PNG,OTCQB:KRKNF), spoke with the Investing News Network (INN) about the company's recent acquisition of Kraken Power and its Robots-as-a-Service (RaaS) offering.
Reid said that the acquisition of Kraken Power was "very important" for the company on numerous levels, especially for its battery technology that will eventually power Kraken's underwater drones.
In addition to its acquisition of Kraken Power, Kraken Robotics, a marine technology company dedicated to production and sale of software-centric sensors and underwater robotic systems, secured various contracts in last 12 months. Notably, Kraken Robotics secured a C$9 million sub-sea battery contract with Ocean Infinity for its deep-sea batteries.
Reid said that Kraken Robotics is expecting a solid revenue growth for 2019 and will be focused on executing the contracts it announced in 2018. In November 2018, the company reported its third quarter results where it highlighted the backlog of C$13 million from various contracts it secured during the year.
Further, Reid said that Kraken is expecting to "accelerate" the development of its RaaS offering, which would let consumers use its services and pay on a monthly basis.
On that note, below is a transcript of our interview with Reid. The transcript has been edited for clarity and brevity. Read on for more of what Reid had to say.
INN: Recently it was announced that the Canada's Defense Innovation Research program awarded a contract to Kraken for development of synthetic aperture sonar. Could you tell us a little bit about this?
GR: Yeah. So that particular contract is taking an existing synthetic aperture sonar we have and making a more enhanced version of that. Specifically what that relates to is our current product can provide very high definition underwater images at a long range. With this new contract, we will be able to add a greater range, better resolution as well as be able to penetrate into the seabed. So our current product find[s] stuff sitting on the seabed floor, stuff like a buried pipeline, a buried cable or buried rocks and you're looking for them [and] are buried underwater mine. The new technology, through this contract, will be able to finance that.
INN: Had this kind of technology deployed in Canada before?
GR: Yeah. [With] our synthetic aperture sonar technology, we have sold a small number of units into Canada before into the military. Separately, we had a customer on the commercial side that used our synthetic aperture sonar technology on the hunt for the Franklin ships up in the Arctic. Back in 2014, and then in 2017, we got hired by a group out of Toronto who used our ThunderFish underwater drone which has our synthetic aperture sensor on it. It was used to find the Avro Arrow models, which had been shot into Lake Ontario back in the 1960s. So there's been some use of the technology in Canada, but for anomaly our customer base historically has been military related and more of our sales has been to the international markets.
INN: In December Kraken announced the completion of sea tests of KATFISH with Elbit systems. Are you happy with the objectives?
GR: Yeah. I think overall Elbit is one of …the largest Israeli defense contractor [and] they contracted us to build this KATFISH product. Historically we had sold sensors on other people's underwater drones, the Israelis came to us and said, "Can you build a complete underwater drone called KATFISH?" [so] we did that. It was more than a two year development effort and then we integrated that particular system onto an Israeli robot boat. The application is for underwater mine hunting and they live in a part of the world where there is no greater concern over security. So that was our first sale to them and hopefully we're going to get more sales from them in the future.
INN: Are you looking to market for other places?
GR: Yeah. So, on the military side we're still a small company, there's a lot of upgrade and mine hunting equipment bids in various international navies. We don't go to markets directly in most cases; we rely on international defense contractors who will take us into those navies. So there's upgrade cycles happening in various European countries and Far East countries, as well as the US and Canada to some extent. So we expect our KATFISH product to find a very attractive and market audience in those various international navy opportunities.
INN: Kraken recently announced that it completed the majority acquisition of Kraken Power, How important was this acquisition for Kraken?
GR: It's very important I would say on a number of fronts. We first did a small investment in that company back at the beginning of 2017 and it was about getting access to very unique battery technology that we would put on our own underwater drones. [It's] because, our underwater drones, the KATFISH product is a tethered product, tethered to a vehicle [that] doesn't have batteries but our ThunderFish can go 6,000 meters deep [and] relies on battery technology to have high endurance. So, we wanted to get some proprietary technology which we could use internally on our own ThunderFish product to lower our building materials costs to help our margins. Not only is it important from that point of view, but we've also found that several other customers in the industry want to use this technology to put on their own underwater vehicles. The best reference case is Ocean Infinity, [which is] a customer of ours and also a strategic investor. They gave us a large $9 million battery contract towards the second half of last year, and we expect that we'll leverage that battery technology, not only in our own systems but sell it to both defense contractors and commercial market companies.
INN: What's next for Kraken?
GR: I'd say, 2019 is really [about] executing on the contracts that we've announced in 2018. We think we'll show really solid revenue growth based off the stuff we've already announced. There's a number of large international navy bids which had been in process for the last couple of years where we're partnered with several different defense contractors; at least three of them we expect will come to contract this year. A couple of them in the first half of this year, so … if we're lucky enough to win some of those programs … that are tens of millions of dollars … [they] … will bring Kraken into a to a new new level. And then … [we will] continue to innovate on the [research and development] R&D side and further [Kraken's] product development efforts.
One final point is the Ocean Supercluster, which is both federally funded and funded by the industry. That's about a $300 million dollar pool of money, while those … will start to allocate some money to projects in the first half of this year is what we expect. We have a project that we're going to submit involving our underwater drones and mapping in parts of Atlantic Canada, the ocean and up into the Labrador Sea and for everybody from oil and gas companies, to fisheries, to military. We want to be able to show that we sell technology today to other companies, but we also want to develop a service offering which we call Robotics-as-a-Service. So if you have a customer that doesn't want to buy your $3 million piece of equipment, it just wants to use it a month a year, we can provide that offering to them and operate the equipment and then just sell them the data. So, that Robotics-as-a-Service offering, we hope to accelerate further this year led by some success in the supercluster, [the] Ocean Supercluster.
Image courtesy of Kraken Robotics.
Don't forget to follow us@INN_Technology for real-time news updates!
Securities Disclosure: I, Bala Yogesh, hold no direct investment interest in any company mentioned in this article.
Editorial Disclosure: The Investing News Network does not guarantee the accuracy or thoroughness of the information reported in contributed article. The opinions expressed in these interviews do not reflect the opinions of the Investing News Network and do not constitute investment advice. All readers are encouraged to perform their own due diligence.
Investing News Network websites or approved third-party tools use cookies. Please refer to the  cookie policy for collected data, privacy and GDPR compliance. By continuing to browse the site, you agree to our use of cookies.