Top 10 Cloud Computing Companies Investors Need to Watch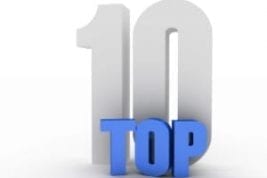 Here's a look at the top 10 cloud computing companies by market cap that investors should be watching right now.
The market for cloud services is growing quickly, and for investors looking to get a piece of the pie, there are plenty of options within the top 10 cloud computing companies.
From those that own the world's largest data centers, to those that have carved out a large portion of the Software as a Service (SaaS) space, there's something in every area of the cloud. However, with large, diversified tech companies like Amazon (NASDAQ:AMZN) and Microsoft (NASDAQ:MSFT) getting a lot of attention for their cloud businesses, it can be difficult to get a handle on the most valuable companies focused fully on cloud computing.
Enter Bessemer Venture Partners (BVP), a firm that, among other things, invests in cloud companies and provides information on them. The company is certainly one cloud investors should be looking to. Case in point: Bloomberg recently published a video entitled "Forget the Dow: Follow the BVP Cloud Index."
This June, BVP's Byron Deeter presented a state of the cloud report in which he outlines the top 10 public cloud companies. As per that list, here's a look at the top 10 cloud companies by market cap that investors should be watching right now.

1. Salesforce (NYSE:CRM)
Customer relationship management SaaS provider Salesforce has been rocking the cloud space since day one. On Monday, the company announced plans to make its analytics visualization tools available across its entire Customer Success platform.
So far in 2015, Salesforce is up 17 percent, at $69.89, on the New York Stock Exchange. It has a market cap of $46.85 billion, and has traded within a 52-week range of $51.04 to $78.46.
2. LinkedIn (NYSE:LNKD)
LinkedIn has seen some losses this year, with its share price falling 15 percent, to $194.25. However, with a $25.68-billion market cap, the social network for professionals is still one of the most valuable cloud companies out there.
LinkedIn is free to join, but the company makes its living off of business services and premium memberships.
3. Workday (NYSE:WDAY)
Financial and human capital management provider Workday is third on the list with a market cap of $13.71 billion. It's currently trading around $69.87, down 14 percent since the start of the year.
InvestorGuide states that its drop in share price could be an opportunity, and argues that with rapid improvements in revenues and increases in its customer base, Workday could do well in the long term.
4. ServiceNow (NYSE:NOW)
ServiceNow is up a modest 8 percent this year, clocking in at $73.56 per share. It has a market cap of $11.65 billion and has traded within a 52-week range of $54.05 to $83.52.
That said, the Platform as a Service (PaaS) provider has fallen over the past few months, and was in the news on Monday when Chief Revenue Officer David Schneider sold 10,000 shares of the company.

5. NetSuite (NYSE:N)
Netsuite calls itself the number-one cloud business software provider, pointing out that it is 10 times larger than its nearest competitor. The company is down 19 percent in 2015, trading at $87.52 with a $6.99-billion market cap.
6. Athenahealth (NASDAQ:ATHN)
Athenahealth provides cloud-based services for the healthcare sector, including healthcare records, patient engagement and care coordination. The company's share price has climbed back somewhat after dropping off in the middle of the year, but is still down 6.6 percent year-to-date.
Shares of Athenahealth are currently trading at $136.09, and the company has a market cap of $5.26 billion.
7. The Ultimate Software Group (NASDAQ:ULTI)
In contrast, the Ultimate Software Group has been on the rise this year, with its share price gaining 24.91 percent since January. The company is now sitting at $183.38 with a $5.24-billion market cap.
Ultimate Software develops and provides cloud-based human capital management solutions. Equities Focus notes that the company has a $194.61 one-year consensus target, according to Thomson Reuters (TSX:TRI,NYSE:TRI).
8. Veeva (NYSE:VEEV)
Another life sciences–based cloud services provider, Veeva was recently ranked among the top three most-preferred life sciences software vendors.
The company currently has a consensus "buy" rating from analysts, but is down 3 percent this year following a steep drop in early March. Veeva's share price was trading at $25.61 on Monday. It has a market cap of $3.42 billion.
9. Medidata Solutions (NASDAQ:MDSO)
With a $2.6-billion market cap, Medidata's clinical cloud service is focused on streamlining smarter treatments. Medidata was on the rise this past summer, but fell off mid-July and is currently down 1.72 percent in 2015. The company's share price was trading at $46.93 on Monday.
The company has been fighting to claim insurance coverage for a hack that lost it $4.8 million in fraudulent charges, Law 360 notes.
10. Proofpoint (NASDAQ:PFPT)
Finally, Proofpoint's share price has steadily gained this year and is now up 22 percent, trading at $58.84. The company has a market cap of $2.37 billion, and has traded within a 52-week range of $30.07 to $72.10.
Proofpoint is focused on cybersecurity, providing SaaS covering inbound email security and data loss prevention. CEO Gary Steele recently stated that he's seeing strong demand in the cybersecurity space despite market volatility.




Note: According to BVP's presentation, data for its list of the top 10 public cloud computing companies was retrieved on May 29, 2015. The order of some companies on the list has been changed to reflect current data.

Securities Disclosure: I, Teresa Matich, hold no direct investment interest in any company mentioned in this article.