UPS Files Blockchain Patent to Track Packages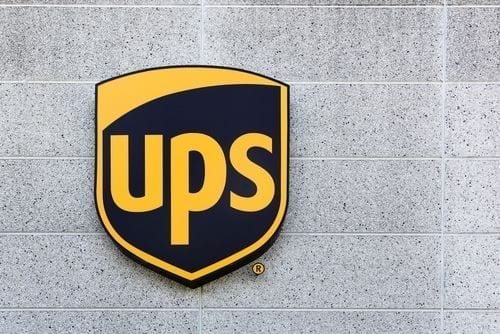 The US Patent & Trademark Office revealed that shipping mammoth UPS has filed a patent application for distributed ledger and blockchain technology to track the movement of packages around the world.
Package delivery and supply chain management giant United Parcel Service (UPS) (NYSE:UPS) has filed a blockchain-based patent for tracking and sending packages worldwide.
The US Patent & Trademark Office published UPS' application on August 16. It details how the technology will be used to facilitate packages at a global scale.
Called an "[a]utonomous services selection system and distributed transportation database(s)," the document details how distributed ledger technology — and blockchain — will track where packages are being sent, their movement and the method of transportation.
Under the document's general overview, it describes how "certain embodiments" may be linked to more than one distributed ledger to track multiple orders.
"[C]ertain embodiments enable tracking of a first set of shipment units and a second set of shipment units associated with the first set of shipment units separately, thereby enabling the use of various smart contracts relating to shipping services and shipment unit handling in a bifurcated manner," it reads.
The application also takes into consideration costs associated with shipping services, including shipping logistics, and the fact that logistics providers have become well versed in minimizing expenses. However, the document says coordination logistics that involve more than one service provider to coordinate transportation remain difficult.
"As new shipment unit transportation methodologies such as crowd-sourced shipment unit delivery networks become more commonplace, a need exists for verifiable shipment unit shipping and tracking visibility systems providing shipment unit location visibility for shipment units transported and/or exchanged within a single carrier," the application says.
UPS filed the patent application on February 16, explaining that cryptocurrencies like bitcoin and ethereum, to name a couple, will be considered acceptable methods of payment "that may be exchanged for various shipment units, services, and/or the like."
"Such digital currency/assets thus may be utilized as a currency in various transactions," the document explains. "Moreover, various embodiments may utilize and/or comprise various digital currencies/assets that may be exchanged for shipment units and/or information/data having a defined value."
The company's blockchain patent application isn't its first dip into the sector. In late 2017, UPS joined the Blockchain in Transport Alliance (BiTA) in an effort to improve global trade and finance.
UPS counterpart FedEx (NYSE:FDX) also joined BiTA earlier this year to help create blockchain industry standards to be used in connection with BiTA.
With UPS generating US$57 billion in revenue last year purely from package operations and over 5 billion packages and documents delivered, its foray into how blockchain can make supply-chain management more transparent — securely and safely — is perhaps long overdue.
Following the release of UPS' patent application on August 16, its share price increased 1.7 percent to reach US$122.55 as of market close on Monday (August 20).
Don't forget to follow us @INN_Technology for real-time news updates!
Securities Disclosure: I, Jocelyn Aspa, hold no direct investment interest in any company mentioned in this article.