3D Printing Update: Q3 2018 in Review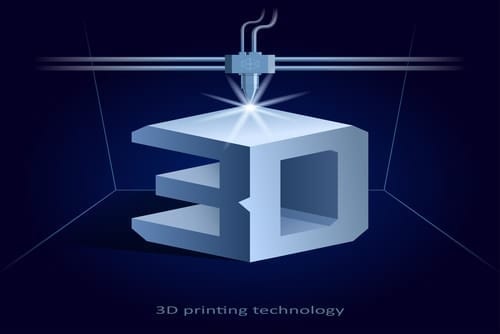 The Investing News Network looks at the Q3 2018 3D printing trends that will set the tone for the industry moving forward.
Q3 2018 witnessed an evolution in the 3D printing industry as manufacturers introduced new systems to accelerate the sector tipped to be the fourth industrial revolution.
The global 3D printing market is set to grow at a compound annual growth rate of 28 percent between 2017 to 2024 as per a report by Research and Market. The firm credited the reduction in manufacturing cost and process downtime and government investments in 3D printing projects as the driving forces of the sector.
With Q4 underway, the Investing News Network (INN) takes a look back on the third quarter as to what the biggest trends in the sector have been so far and things to look forward in the upcoming quarter and year ahead.
3D Printing Q3 2018: Trends and takeaways
HP (NYSE:HPQ) made headlines in Q3, with it introducing a new 3D printer. With this printer saw the launch of a new system that is capable of manufacturing production-grade metal parts at a lower cost.
HP initially teased the system back in October 2017, when it presented a roadmap of the sector at its securities analyst meeting. The company said that this new technology would be crucial to drive new applications and target a larger available market.
In short, HP has made it no secret that it is seeking to disrupt the US$12 trillion market.
However, the company's peers have also made several moves of their own in Q3. Stratasys (NASDAQ:SSYS) announced in August it had shipped a low cost system meant for carbon-fiber filled Nylon 12 material.
Nano Dimension (NASDAQ:NNDM), a certified defense vendor in the US, sold two of its DragonFly Pro 3D Printers to various entities entities of the US Armed Forces.
Meanwhile, the additive manufacturing team at US Marine Corps Systems Command (MCSC) joined forces with Marines from I Marine Expeditionary Force to build a 3D printed concrete barracks. Further, the teams said that they operated the "world's largest" concrete 3D printer to print 500-square-foot barracks hut in 40 hours.
Pete Basiliere, research vice president for additive manufacturing at Gartner, told INN that the biggest trend in the sector was the move towards lower cost 3D printed metal pieces.
Basiliere said that although the 3D printing sector was relatively quiet in the quarter, the trend of 3D printing in the manufacturing industry is on the rise.
"Many people thought for a long time that 3D printing had to be used for finished goods in order for it to be successful but the reality is there is wide range of usage of 3D printing," he said. "It's a great way to test the technology, understand the technology and then move into finished goods."
Beyond Q3 2018: New models on the horizon
With Formnext, a trade fair for Additive Manufacturing and next generation intelligent manufacturing solutions scheduled for next month, Basiliere expects new products to be introduced.
"I think what you'll see is a focus more on better, faster and higher quality products," Basiliere said. "Everyone is still trying to lower the total cost of ownership and get the price of 3D printed items [to be] lower than they're today."
Basiliere said that the announcements for new printers and new models could begin from the first week of November as a run up to the event.
"I don't expect altogether new technologies," he said. "But, what you're gonna is see is improvements as the markets continue to mature."
Beyond Q3 2018: 3D printing component for fourth industrial revolution
Basiliere said that 3D printing is still a key component of the fourth industrial revolution as it enables manufacturing companies and others to start producing products that are very short run in terms of production cycle and more custom.
Basiliere exampled Optisys, an antenna design company that specializes in the use of metal 3D printing.
"By reducing the size and the weight and the number of components that go into one of [its] antennas, [its] actually able to save a considerable amount of weight compared to conventional manufacturing of antennas," he said. "More than that, it also opens up new platforms for the antennas to be used on."
Basiliere said that a wider range of market opportunities arises by reducing the size of a device as demonstrated by Optisys.
"I think what we are going to see is that kind of 3D printing where it's not every individual piece is unique but very small lots are produced using 3D printing to serve those specific unusual or unique need," he said.
Meanwhile, Basiliere predicts that there will be an evolution in the dental industry with regards to how 3D printing is used.
Basiliere exampled Align Technology (NASDAQ:ALGN) and ClearCorrect as two companies in the sector that use 3D printing to create dental solutions.
"There's work being done to directly 3D print the brace that will be worn by the patient, I think you'll see those kind of changes coming along," he said.
Meanwhile, a report by BCC Research said that the 3D printing market will gradually expand into the construction and medical industries, growing at a compound annual growth rate (CAGR) of 22.4 percent through to reach US$23 billion by 2023.
The report highlighted numerous companies in the space including Align Technology, which was highlighted by Basiliere.
Beyond Q3 2018: Eyes on companies targeting manufacturing industry
Looking ahead, Basiliere said that investors should focus on companies that sell 3D printers targeting the manufacturing industry.
"In the very near term, the focus should be still on who's making money by selling printers that are used inside aefactory," he said.
Basiliere highlighted Lockheed Martin (NYSE:LMT) as a company that's using 3D printers extensively to manufacture its fighter jets.
Lockheed Martin said that roughly 4,000 of the 5,000 tools on the F-35 fighter jets were 3D printed. Further, the company in the future hopes to build roughly 12,000 tools using additive manufacturing process mostly with polymers for use in F-35s and other products.
Basiliere said investors will appreciate the manufacturing market due to the wide uses of 3D printing in manufacturing.
Investor takeaway
With HP often stressing on the US$12 trillion market figure — and with reports suggesting the market to be worth US$23 billion by 2023 — investors can surely be excited about the outlook for the 3D printing market.
With new products set to be unveiled in Q4, investors should watch this space as these products could potentially set the tone for the industry going forward.
Don't forget to follow us @INN_Technology for real-time news updates!
Securities Disclosure: I, Bala Yogesh, hold no direct investment interest in any company mentioned in this article.
Editorial Disclosure: The Investing News Network does not guarantee the accuracy or thoroughness of the information reported in the interviews it conducts. The opinions expressed in these interviews do not reflect the opinions of the Investing News Network and do not constitute investment advice. All readers are encouraged to perform their own due diligence.