Weekly Round-Up: Fiscal Cliff Deal Boosts Commodities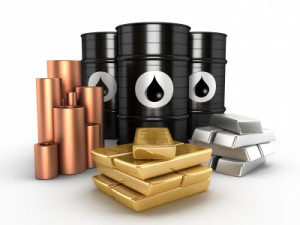 Commodities are ending the week mixed — with oil and copper higher and gold down — after New Year's Eve talks averted huge tax hikes and spending cuts that were set to come into effect in the United States on January 1. The deal came after months of fitful progress in negotiations between Republicans and Democrats.

Under the agreement, Bush-era tax cuts will expire for single Americans who make more than $400,000 and couples earning over $450,000. Even though taxes are rising, the move is seen as a plus for businesses and consumers because it provides permanent tax brackets; the cuts have been extended numerous times since they were enacted between 2001 and 2003.
However, the deal contains no spending cuts, which the Republicans feel are essential for dealing with the country's ballooning deficit. That debate is likely to come soon, as the party has said it will not allow an increase in the country's borrowing limit, which without spending reductions will be needed in February.
"Republicans … will have a clear opportunity to articulate that spending cuts should now be the priority — at least in the minds of the reasonable," Ted Franks, a Republican representative for Arizona, told The Washington Times.
Markets were also helped by more good news out of China: the country's purchasing managers' index for sectors outside manufacturing rose to 56.1 for December from 55.6 in November. Any figure above 50 points to accelerating growth.
In morning trade Friday, Brent crude is down 0.78 percent, at $111.26 a barrel, while copper is down 0.66 percent, at $3.69 a pound. Gold is down 1.91 percent, at $1,642.60 an ounce.
Gold

The yellow metal climbed as high as $1,695 an ounce on Wednesday before falling more than 3 percent after the minutes of the December Federal Open Market Committee meeting showed that some Federal Reserve officials feel the bank could slow or stop its bond-purchasing program before the end of 2013. That would be negative for gold, because the program, through which the Fed is attempting to stimulate the economy by spending $85 billion a month on bond purchases, has raised fears of increasing inflation, something many investors buy gold as a hedge against.
Klondex Mines (TSX:KDX) reported an interval of 496.7 g/t gold over 1.82 meters at its Fire Creek project in Nevada. Samples collected include the 1.82-meter vein and 1.5 meters of wall rock on either side. Grade boundaries are sharp, with assays falling to below 3 g/t in the peripheral samples. The banded vein structure that the company encountered is identical to the A-vein structure identified in the 5400-ACC crosscut to the south. Klondex believes the two intersect and plans to continue sampling. As well, it also recently restarted its underground in-fill drilling program in the area.
Homestake Resource (TSXV:HSR) closed its previously announced non-brokered private placement of flow-through units. In all, the company issued 4.9 million units for gross proceeds of $970,500. It also closed the first tranche of a non-flow-through private placement by issuing 4.2 million non-flow-through units to raise $626,850. Homestake will use the proceeds to pay for exploration costs at its Kinskuch property in British Columbia, Canada.
Oil and gas
Imperial Oil (TSX:IMO) is now weeks away from starting production at its Kearl oil sands project. The company jointly owns Kearl with ExxonMobil (NYSE:XOM), which, in turn, owns 70 percent of Imperial. The $10.9-billion project was supposed to start up at the end of December, but bad weather delayed those plans. Kearl's initial production capacity will be 110,000 barrels a day, rising to 345,000 when all of its phases are complete. Imperial expects the project's 4.6 billion barrels of reserves to last over 40 years.
Transocean (NYSE:RIG) will pay $1.4 billion relating to the explosion and sinking of the Deepwater Horizon oil well in the Gulf of Mexico in April 2010. The incident killed 11 workers and caused a massive oil spill. The company will pay $1 billion to settle civil penalties and $400 million to resolve criminal penalties. Transocean leased the rig to BP (NYSE:BP,LSE:BP), which recently agreed to a $4.5-billion settlement with the US government.
Copper
Candente Copper (TSX:DNT) recommenced exploration and feasibility drilling at its Canariaco project in Northern Peru. Candente now has two drills working on the property.
The company received the last permit it needed for drilling to start at the site on December 7. It has approximately 11,000 meters of feasibility drilling planned at Canariaco Norte and 2,500 meters at the adjacent Canariaco Sur porphyry. Canariaco Norte contains a measured and indicated 7.533 billion pounds of copper, 1.7 million ounces of gold and 45.2 million ounces of silver.
Gold Reach Resources (TSXV:GRV) reported assay results from the final eight holes it drilled on the Ox porphyry, which is located on the company's 100-percent-owned Ootsa property, south of Smithers, British Columbia.
Highlights include hole Ox12-38, which intersected 107.4 meters grading 0.3 percent copper and 0.026 percent molybdenum, including 54 meters grading 0.41 percent copper and 0.033 percent molybdenum. The company also reported higher grades near the surface and said it had traced mineralization for 750 meters along strike to depths of 150 to 230 meters and over widths of 100 to 150 meters.
Securities Disclosure: I, Chad Fraser, hold no positions in any of the companies mentioned in this article.