Top 5 Gainers on the TSX Venture Last Week
Helio Resource, Kazax Minerals, Castle Resources, Euromax Resources and Colorado Resources were the five junior resource companies that had the best stock price gains last week.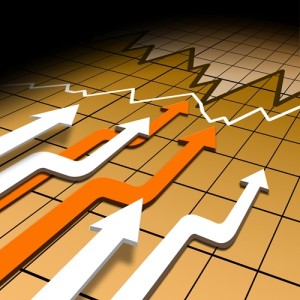 Last week saw a number of junior resource companies on the Toronto Venture Stock Exchange gain in share prices.
Below are the five with the greatest increases.
Helio Resource (TSXV:HRC)
Helio Resource, headquartered in Vancouver, is a gold exploration company with projects in Tanzania and Namibia. Its stock price rose 111.11 percent last week. The company explores for copper, zinc, lead and silver ores as well as gold. Helio intends to advance its project in Tanzania to production as soon as possible, while still accomplishing exploration there and at its project in Namibia. Metallurgical testwork on mineralization from the SMP project indicates the company can expect a recovery of 96 percent using traditional methods. On Oct. 18, Helio Resources announced a drill program at a new area at SMP, promising yet more exploration and another step to eventual production.
Kazax Minerals (TSXV:KZX)
Kazax Minerals rose 42.31 percent last week. It is a mineral exploration company focusing on projects in Kazakhstan. Its Lomonosovskoye iron ore project is located in the northwest corner of the country, in the Kostanay Region, near the country's capital of Astana and the regional capital of Kostanay. Kazax has a 75 percent interest in the Lomonosovskoye Limited Liability Partnership. The area underwent an extensive drilling program during the Soviet era that showed great promise, and a validation of those results was accomplished in 2011. The company hopes to acquire other iron ore properties for exploration, development and production.
Castle Resources (TSXV:CRI)
Castle Resources rose 40 percent last week. Based in Toronto, Castle has exploration and development projects in British Columbia and New Brunswick. Its main project is the Granduc Project in BC, which is a copper volcanogenic massive sulphides deposit. It was mined between 1970 and 1984, but closed when copper prices dropped too low for it to be sustainable. In 2010, Castle Resources acquired the project and owns it entirely. Castle has discovered the resource includes 1.8 billion pounds of copper, along with gold, silver and magnetite.
Euromax Resources (TSXV:EOX)
Euromax Resources rose 30 percent last week. The company explores and develops properties with gold as well as gold in combination with other metals. The company has projects in Macedonia, Bulgaria and Serbia. Together, these locations are known as the Carpathian Arc; they contain gold, copper and silver. The Macedonian project was recently updated with a new resource estimate; the Bulgarian project came out with a new inferred resource in the second quarter; and the Serbian project is currently undergoing exploration, as is a gold-only project in Bulgaria.
Colorado Resources (TSXV:CXO)
Colorado Resources rose 25.93 percent last week. Assets of the exploration company include the North ROK, Hit and Heart Peaks properties in British Columbia, an option to acquire up to a 75 percent interest in the Eldorado property in British Columbia, and an option to acquire a 100 percent interest in the Oro Property in the Yukon. Colorado is also seeking investment opportunities in the American southwest and Latin America. However, its current focus is on the North ROK and Eldorado Properties in British Columbia, which are adjacent to the Red Chris mine owned by Imperial Metals (TSX:III).