Weekly Round-Up: Gold Headed for Biggest Weekly Rise in Nearly 2 Years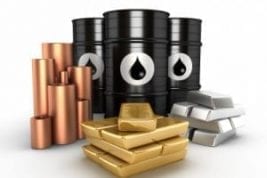 Gold is on track for its biggest weekly gain in nearly two years, with silver down slightly and oil hitting a snag on concerns over inflation.
The gold price ticked up significantly this week, gaining over $40 during the period.
It is on track for its biggest weekly gain in nearly two years, and was trading at $1,356.70 per ounce as of 9:20 a.m. EST on Friday (February 16).
The yellow metal rose against inflation concerns and a tumbling US dollar which, according to analysts, may lead to a new bull market for the precious metal.
The dollar index slid to a three-year low, and stronger-than-expected inflation data this week boosted interest in the metal as a hedge against price pressures.
Stephen Innes, head of trading APAC at foreign exchange OANDA, told Reuters that "[h]igher US inflation combined with the US dollar exhibiting zero correlation to higher interest rates amidst burdening duel deficits (trade and budget) should play out favorably for gold markets."
While silver did not experience the same fate as gold, falling slightly to $16.87 an ounce as of 9:32 a.m. EST on Friday, analysts believe that it is on course to catch up with gold.
According to Kitco, the gold/silver ratio is holding steady at 80, near a multi-year high. The historical average for the gold/silver ratio is thought to be around 60. Traditionally, silver is more volatile than gold, allowing it to outperform on the upside and underperform on the downside.
"Silver is not outperforming gold today because gold is being driven by technical factors," said John Weyer, director of commercial hedging at Walsh Trading. "But I don't think you should discount silver."
Rounding out the week in metals is copper, which saw a 6-percent increase for the week. As of 9:42 a.m. EST on Friday, copper was trading at $3.24 per pound.
Meanwhile, oil was up on Friday, sitting at $64.43 per barrel as of 9:55 a.m. EST, but down for the week. Oil prices have fallen 15 percent in the past three weeks amid concerns over inflation and fear that US output will flood the market.
Analysts have begun to predict that oil prices will continue to fall as concerns about oversupply and decreasing demand are negatively affecting the market.
Don't forget to follow us @INN_Resource for real-time news updates!
Securities Disclosure: I, Nicole Rashotte, hold no direct investment interest in any company mentioned in this article.