Many companies are looking at Turkey as a potential bonanza of natural resources with the exploration and development companies looking to uncover the country's untapped mining potential.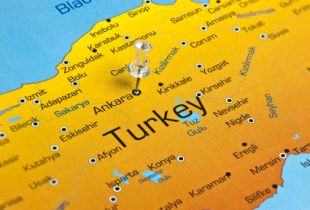 Mexico and Peru are widely known as silver investing hotspots with both countries producing the majority of the world's silver resources. However, untapped silver hotspots in countries with burgeoning economies, such as Turkey, add exciting new prospects to the silver market.
In 2010, Turkey was the 13th largest silver producing nation in the world, and hosted the 3rd largest silver mine in the world. Turkey is an attractive location for resource exploration due to its fast growing economy, its burgeoning desire to capitalize on its resources and the ease with which it allows mining companies to gain permits.
Turkish economy at a glance
Turkey is the world's 17th largest economy, and over the past decade it has become the 2nd fastest growing economy, surpassed only by China. Turkey's well-regulated financial markets and banking system fared well after the world economic collapse, growing 7.3 percent in 2010.
The country boasts a modern infrastructure even in remote areas and ranks in the top 20 in the world in roadways, electrical consumption and production. All of these attributes can reduce the cost of production over, other less developed countries.
Attitudes towards mining
Foreign direct investment was not allowed for the mining industry until 1993. Since then, the country has opened up to allowing and welcoming mining firms. As a result, there is believed to be large mineral reserves in the country.
Because of the Turkish economy's tremendous growth rates, many large companies are looking to invest in mining firms.
"Because the growth is so widespread, you have a lot of small and medium-sized groups appearing out of traditional emerging market activities like construction and textiles," stated Christopher Ecclestone, CEO and Director of Mediterranean Resources (TSX:MNR). These groups are interested in strategies to investing in Turkey across a broad array of markets, including the growing natural resource sector.
"In fact a Turkish textile group just signed an agreement with Mediterranean Resources to buy into our property. They are interested in having a stake in mining, but they don't see themselves as a mining company. It shows a new trend, that these groups in turkey have so much money that they are thinking laterally," stated Ecclestone.
Silver producers in turkey
Turkey's main resource comes from a copper belt that runs through the country. Turkey's silver mining operations are primarily polymetallic, with most deposits containing sizable amounts of copper, zinc, lead, and gold.
The Gumuskoy mine, owned by Turkish miner Eti Gumus A.S. was the 3rd highest producing silver mine in the world in 2010. Other companies are hoping to find similar deposits in Turkey, as the mineral resources are largely untapped.
Aldridge Minerals Inc. (TSXV:AGM) owns the Yenipazar gold-silver-zinc-lead property located in the center of Turkey. The deposit has a silver resource grading 38 g/t for a total of 26.6 million ounces, with 854,400 ounces of contained gold, and 167 million lbs of copper. The company is working on its feasibility study which is targeted for completion in November of next year.
Mediterranean Resources Ltd. (TSX:MNR) is working on their Red Mountain (Kizildag) property which is primarily a copper-lead-zinc deposit. The deposit also contains an indicated and inferred silver resource of 1.65 million ounces. Other minerals contained in the site include a total 1.87 million ounces gold indicated and inferred, as well as an indicated resource of 64 million lbs of copper, 141 million lbs of lead and 340 million lbs of zinc. The company is also exploring for gold reserves on their Celtik property
Eurasian Minerals Inc. (TSXV:EMX) is exploring multiple properties in Turkey for copper, gold and silver. One of their properties, the Golcuk property, has intercepted high grade silver targets of 38.1g/t and 41.9g/t. Another deposit, the Akarca gold-silver property, also shows high grade gold and silver targets.
There are other companies working towards gold deposits, as well as a whole host of minerals from manganese to iron ore. As Christopher Ecclestone stated, "Turkey is a virtual treasure trove of mineral resources." Turkey is quickly developing as an exciting growth market for natural resource companies.
Securities Disclosure: I, Michael Montgomery, have no interest in any of the companies mentioned.